Below are the ingredients
Flatbread: Flatbread is lovely for this recipe because it's incredibly soft and can become crunchy when toasted. You could use pita bread as well, but I find flatbread to be fluffier and better for these ingredients.
Lacinato Kale: Kale is a hearty and rough green. However, when massaged with a bit of olive oil, the texture softens, and the kale becomes more palatable. Try to slice the kale extra-thin for the optimal layering of the flatbread.
Olive Oil: The massaging of the kale is a crucial step in this recipe. You don't have to massage it for long, about 1-2 minutes, but it makes a huge difference. Without this step, it will be slightly harder for the eater to bite down and chew this raw medley. Because the olive oil is just a finishing agent in this recipe, and it is not being used to sauté or cook…top quality oil is recommended.
Beets: The beets add a beautiful pop of color, but need to be sliced super thin for this dish to be enjoyed at its fullest. The easiest way to do this is to use a mandolin. If you don't have a mandolin, you could try using a vegetable peeler to get thinly shaved pieces.
Carrots: Carrots are another hearty vegetable, but when broken down into thin shavings, are become smooth and crisp.
Eggs: A "jammy" egg yolk is absolute heaven to me! When the rich yolk drips onto the bread, it adds a decadent layer to this plant-based dish. You can cook the egg to your desired consistency if you prefer a firmer yolk. For this recipe, I recommend a six-minute boil for large eggs and a five-minute boil for regular-sized to medium eggs.
Sea Salt: Flaky sea salt is glorious when sprinkled on top of this egg yolk! I also like that it adds an extra crunch and texture to the dish.
Tahini: Tahini is a wonderfully diverse sesame paste that is thick, creamy, healthy, and oh so delicious! This spread takes minutes to make and makes this dish a bit more filling so that you'll stay satiated longer. You could also thin the spread out a bit more with hot water, and this will make an excellent salad dressing as well!
Boiling Water: The boiling water is used to thin the tahini spread and make it smooth. The heat loosens the paste. You can adjust your paste's consistency by adding a touch more water to make it thinner.
Lemon Juice: Lemon juice "cuts" the tahini's creaminess and gives the spread a needed brightness. In addition to the salt, the lemon juice helps to create a more rounded taste for the spread. Without lemon juice, the paste will taste quite flat.
Garlic: Raw garlic is quite potent, so it needs to be very finely minced for this recipe. I like to peel my garlic whole, and then use a Microplane to grate it into the spread. The garlic gives the spread a slight "heat," which again cuts the creaminess of the tahini and adds a nice little "spike in heat" to contrast the raw vegetables.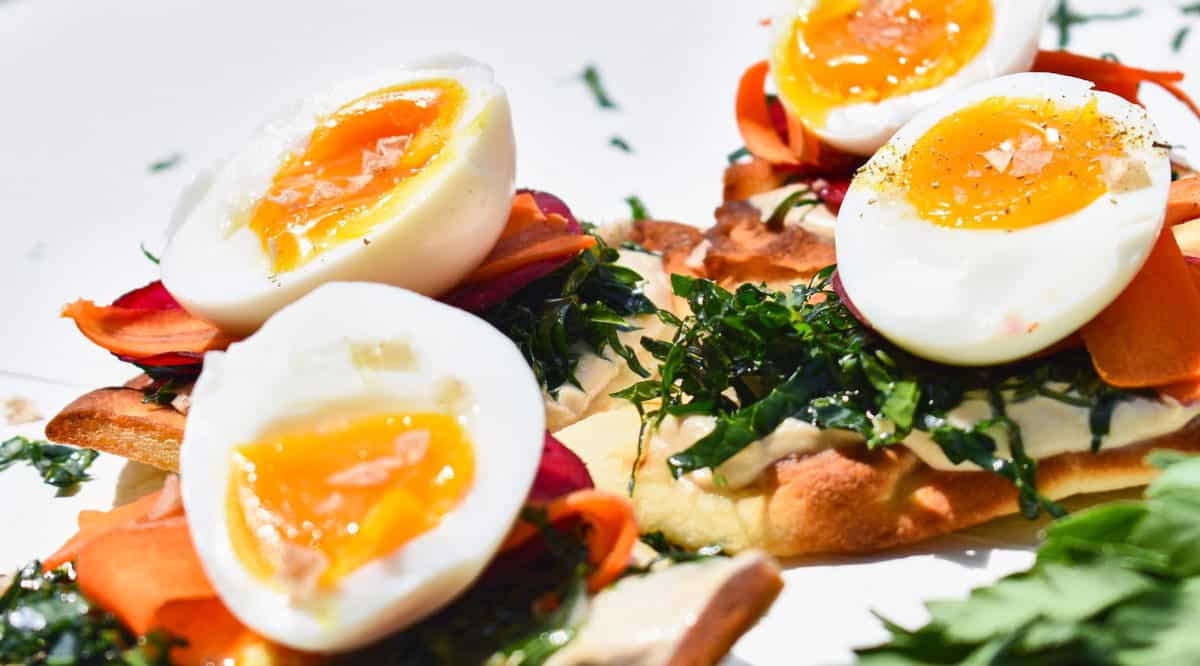 I used a rosemary flavored sea salt and I highly recommend it!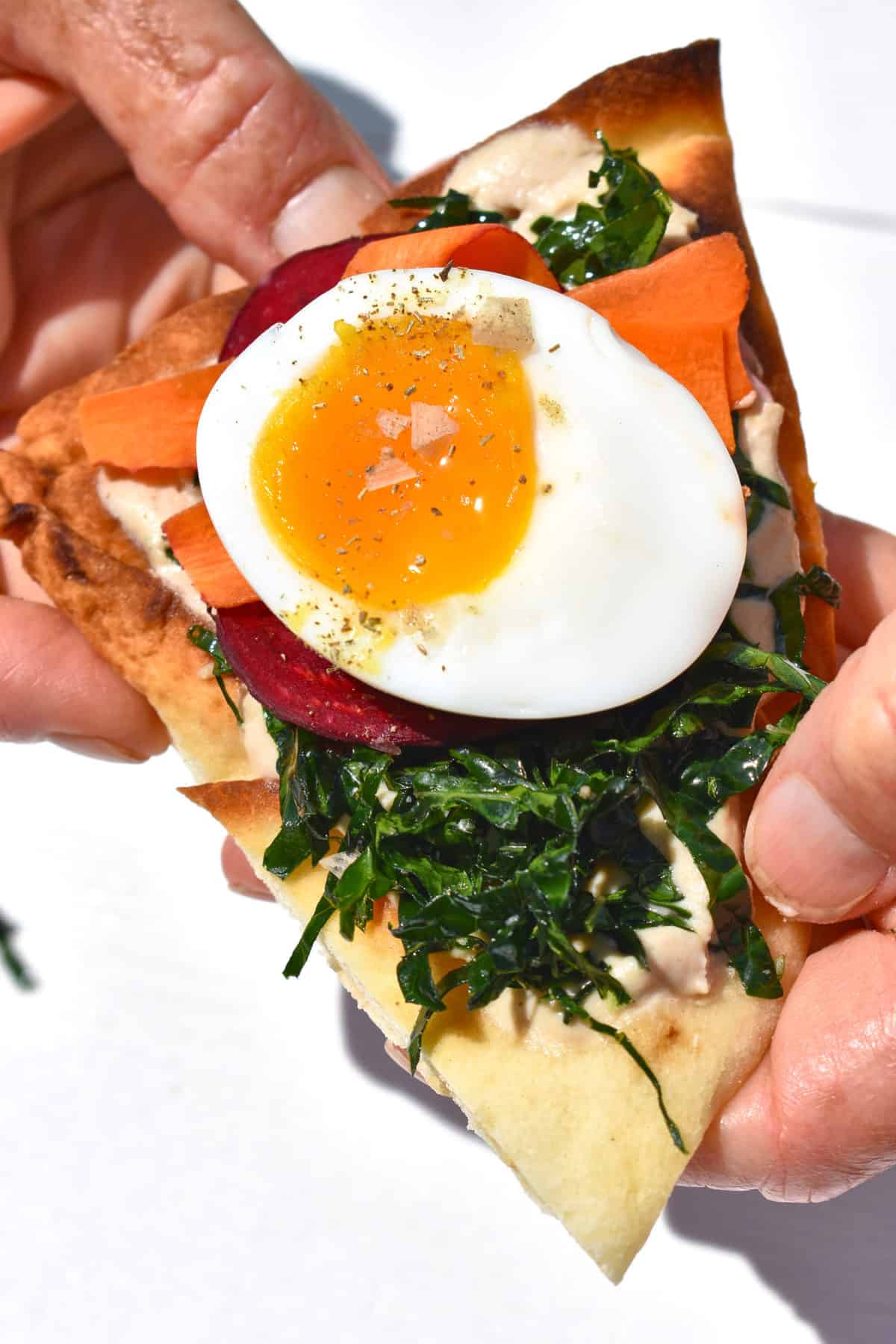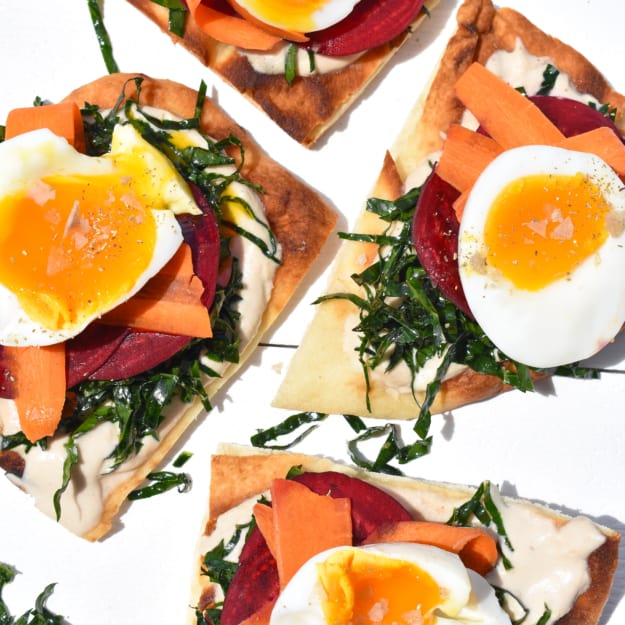 Raw Vegetable Tahini Egg Toast
I love this raw vegetable flatbread because it's creamy, crunchy, and rich all at the same time! These toasts come together in minutes and are a perfect quick lunch or snack that's loaded with healthy vitamins and nutrients.
Ingredients
Flatbread Toast
1

piece

flatbread

1

cup

Lacinato kale, thinly sliced

1 ½

tbsp

olive oil

1

raw beet

2

carrots

2

large farm eggs

Sea salt to taste
Tahini Spread
⅓

cup

tahini paste

⅓

cup

boiling water

2

tbsp

fresh lemon juice

2

cloves

garlic

Salt and pepper to taste
Instructions
Flatbread Toast
Toast flatbread until browned and crispy, and reserve.

Place kale in a small mixing bowl, and drizzle with olive oil. Massage the kale you're your hands to coat and tenderize and sprinkle with sea salt. Reserve.

Use a mandolin and slice the beets into paper think rounds. (If you do not have a mandolin, you can slice as thin as possible with a knife). Reserve.

Shave the carrots into long strips with a wide peeler and cut the strips in half. Reserve.

Place a small pot of water over moderate heat and bring to a boil.

Once water is at a rolling boil, carefully lower in the eggs and set a timer for 6 minutes.

After the timer goes off, take the eggs out of the water and immediately run them under cold water or place in an ice bath. This will stop the cooking process.

When the eggs are cool enough to handle, peel them, and slice in half lengthwise and reserve.

Assembly: Slather the toasted flatbread with the tahini spread and top with the kale, beets, carrots, and the egg on top. Sprinkle with sea salt.
Tahini Spread
Place the tahini in a medium-sized mixing bowl and pour in hot water. 

Whisk the mixture until smooth, and add the lemon juice and garlic. 

Season to taste with salt and pepper. 

Serve with the flatbread. 
Nutrition
Calories:
503
kcal
Carbohydrates:
33
g
Protein:
16
g
Fat:
36
g
Saturated Fat:
6
g
Trans Fat:
1
g
Cholesterol:
164
mg
Sodium:
265
mg
Potassium:
676
mg
Fiber:
5
g
Sugar:
6
g
Vitamin A:
11519
IU
Vitamin C:
27
mg
Calcium:
148
mg
Iron:
4
mg