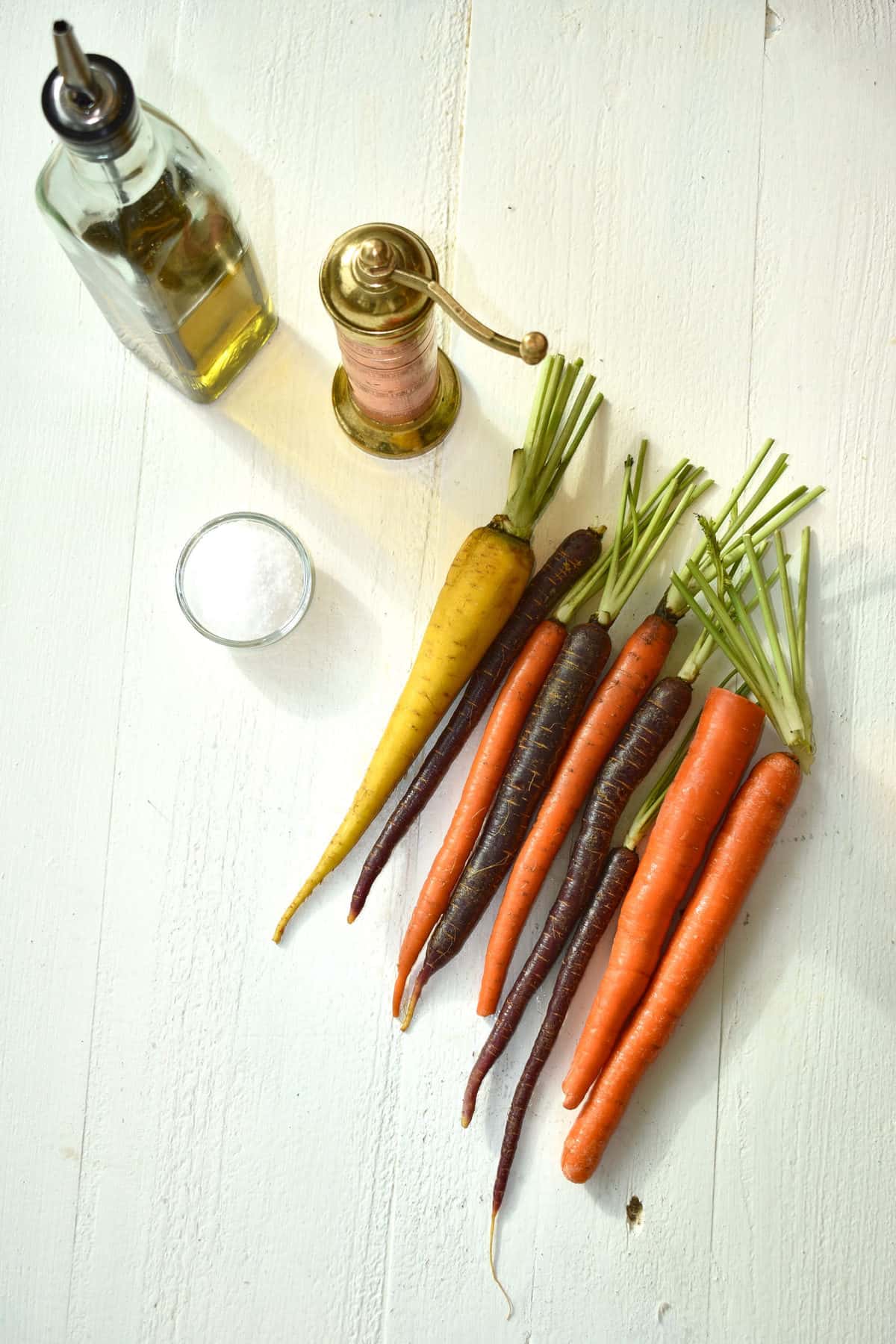 Ingredients are below
Carrots: I love making carrot chips because they are packed with natural sugars, and the chips come out slightly sweet. The only challenging part of using carrots is cutting them. However, if done slowly and with patience, they will pose no problem.
Olive Oil: Using high-quality Extra Virgin Olive oil is recommended for this recipe. I love the Italian brand, Lucini. For this recipe, I used the Premium Select Extra Virgin Olive Oil.
Kosher Salt: Using a high-quality Kosher salt is an absolute MUST for cooking! It will provide a better final product! In the recipe, I explain to season to taste with salt. The salt will act as a cooking agent, helping to cook the carrot chips from the inside out. The salt will also soak into the carrots' pores and help bring out their natural sweetness.
Freshly Cracked Black Pepper: The pepper in this recipe is optional. If you are making these chips for children, I would skip this pepper. The pepper will add a slight amount of heat to the chips to round out the sweetness.
USING A MANDOLIN VERSUS A KNIFE TO SLICE THE CARROTS
My Japanese mandolin is one of my absolute FAVORITE kitchen tools. I use it to slice my vegetables and make my salad almost every night. However, it takes practice and care to use it correctly. Because it is so sharp, fingers can get nipped if you are not paying attention.
A mandolin works phenomenally to slice the carrots and does so relatively quickly. If you are using a mandolin, just go SLOWLY and watch what you are doing.
If a mandolin scares you, a knife will work too. Your chips will probably not be as thin and uniform, but it will work.
ALLOWING YOUR CHIPS TO REST SLIGHTLY FOR THEM TO FIRM/CRISP UP
When you take your chips out of the oven, it is important to let them rest for about 7-10 minutes. This allows them to firm up and get a bit harder. Of course, you can eat the chips fresh out of the oven; they just might not be as crisp.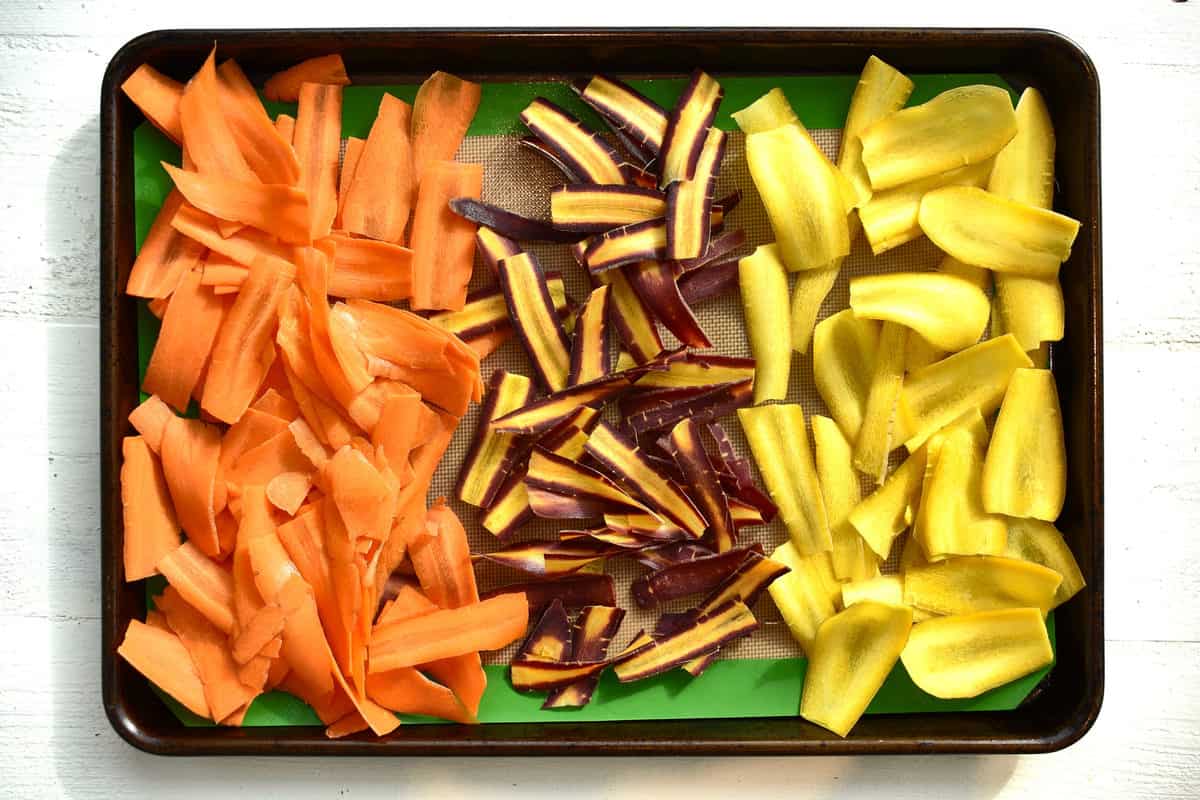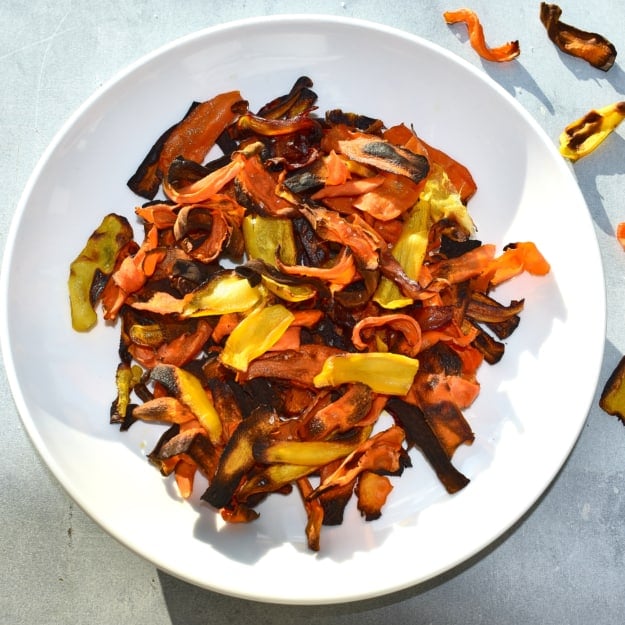 Baked Carrot Chips
I love these four-ingredient carrot chips because they are quick, healthy, salty, crunchy, and slightly sweet all in one! The best part, they only take minutes to prepare! They are fantastic on their own as a snack or wonderfully complement any dip or spread.
Ingredients
Carrot Chips
8-10

multi-colored carrots (any color will work)

2

tbsp

olive oil

Kosher salt

Fresh cracked black pepper
Instructions
Carrot Chips
Preheat the oven to 425 degrees Fahrenheit.

Line a baking tray with parchment paper or a silicone mat.

Slice the ends off the carrots and cut them into 2 ½ inch pieces.

Take each piece and slice super thin on a mandolin or with a knife.

Place the carrots in a medium-sized mixing bowl and toss with oil, and season with salt and pepper.

Lay the carrots in one layer on the baking sheet and place in the oven for 8-12 minutes until the carrots' edges are golden brown and crispy.
Nutrition
Calories:
224
kcal
Carbohydrates:
23
g
Protein:
2
g
Fat:
15
g
Saturated Fat:
2
g
Sodium:
169
mg
Potassium:
781
mg
Fiber:
7
g
Sugar:
12
g
Vitamin A:
40763
IU
Vitamin C:
14
mg
Calcium:
81
mg
Iron:
1
mg