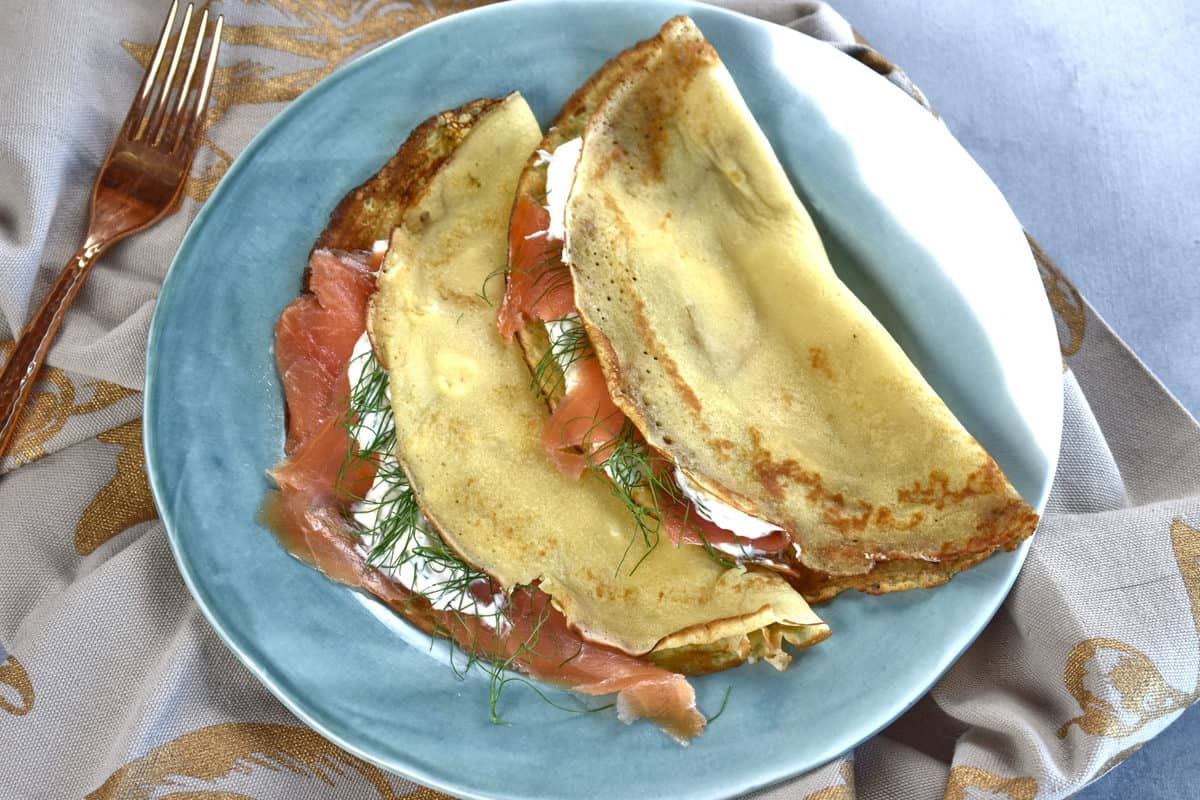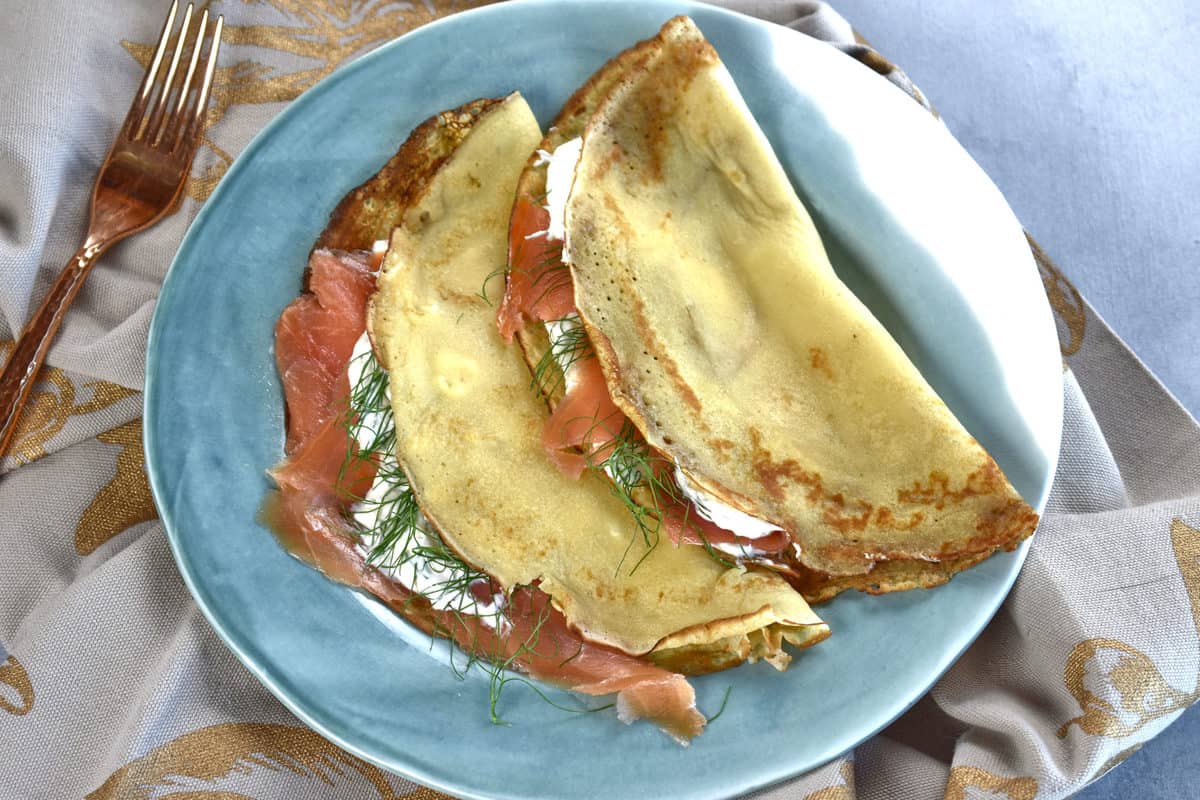 I chose to showcase my two absolute favorite fillings, one sweet and one savory. The Sweet, being Macerated Berries with powdered sugar, is a tried and true staple.

You can use any berries you have on hand and make a quick sauce in 10 minutes 🙂

The savory is smoked salmon with a crème fraîche mixture. Whether you're in the mood for sweet or savory, you will not be disappointed! And the best part, the base recipe for the crêpes is the same.
Below are the ingredients for the crêpe base.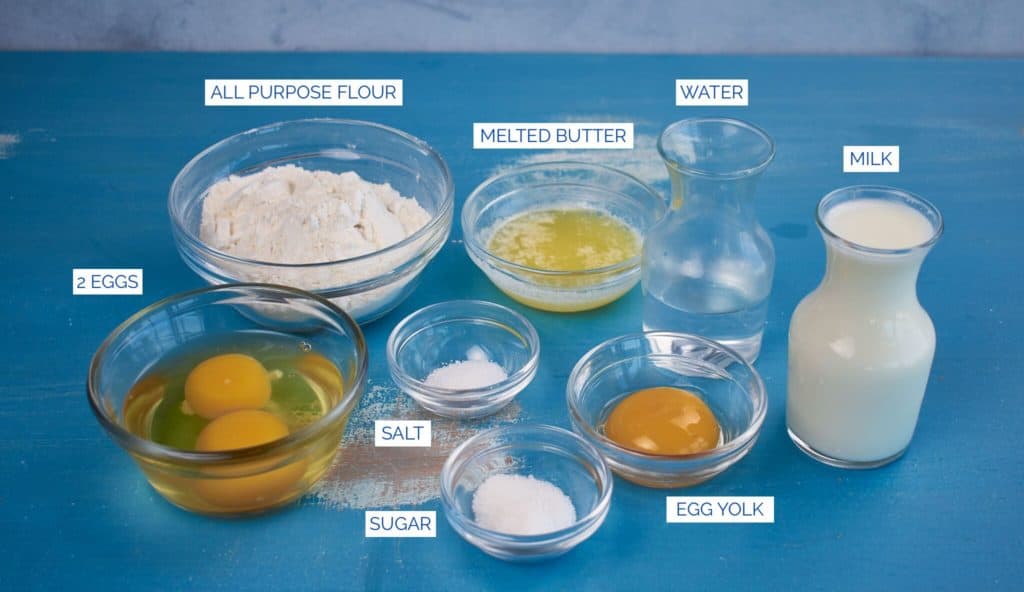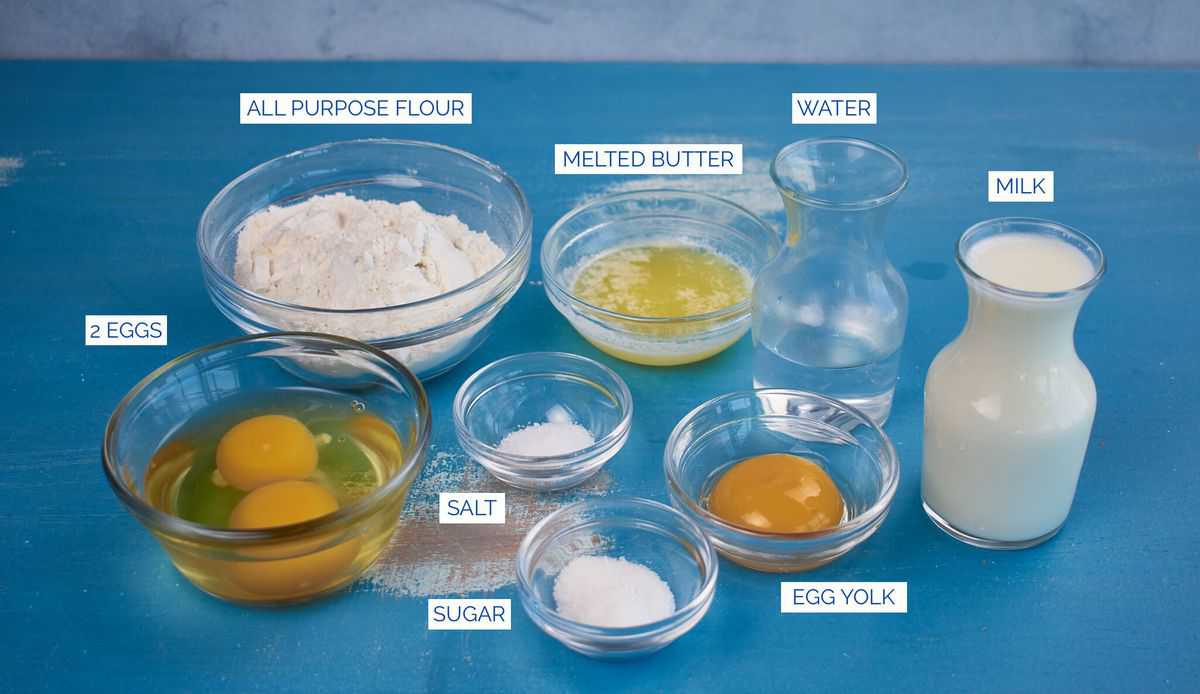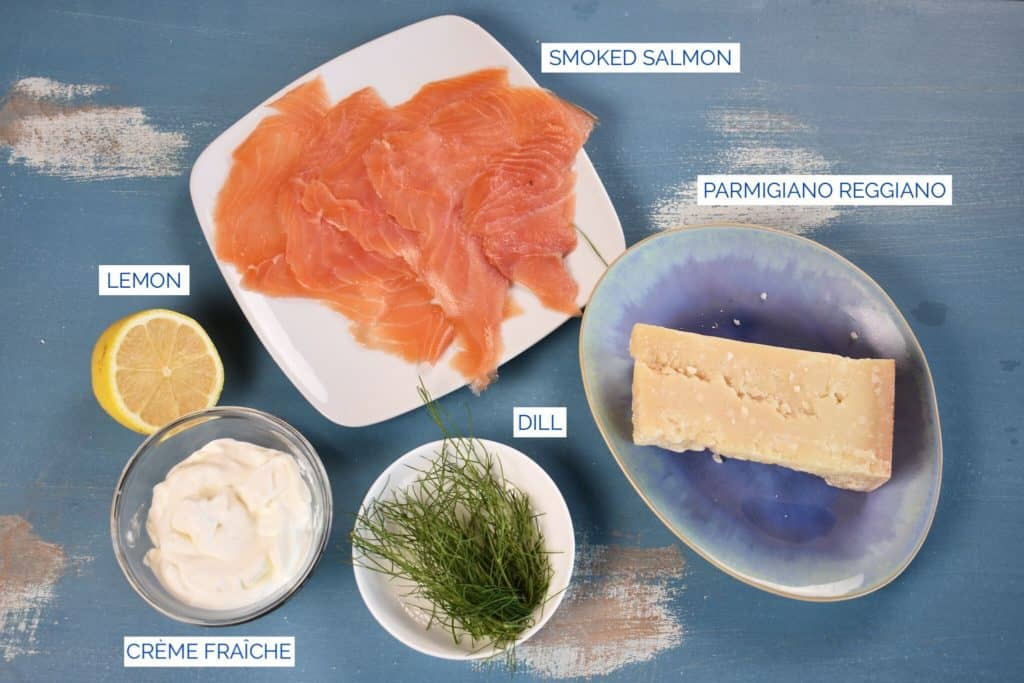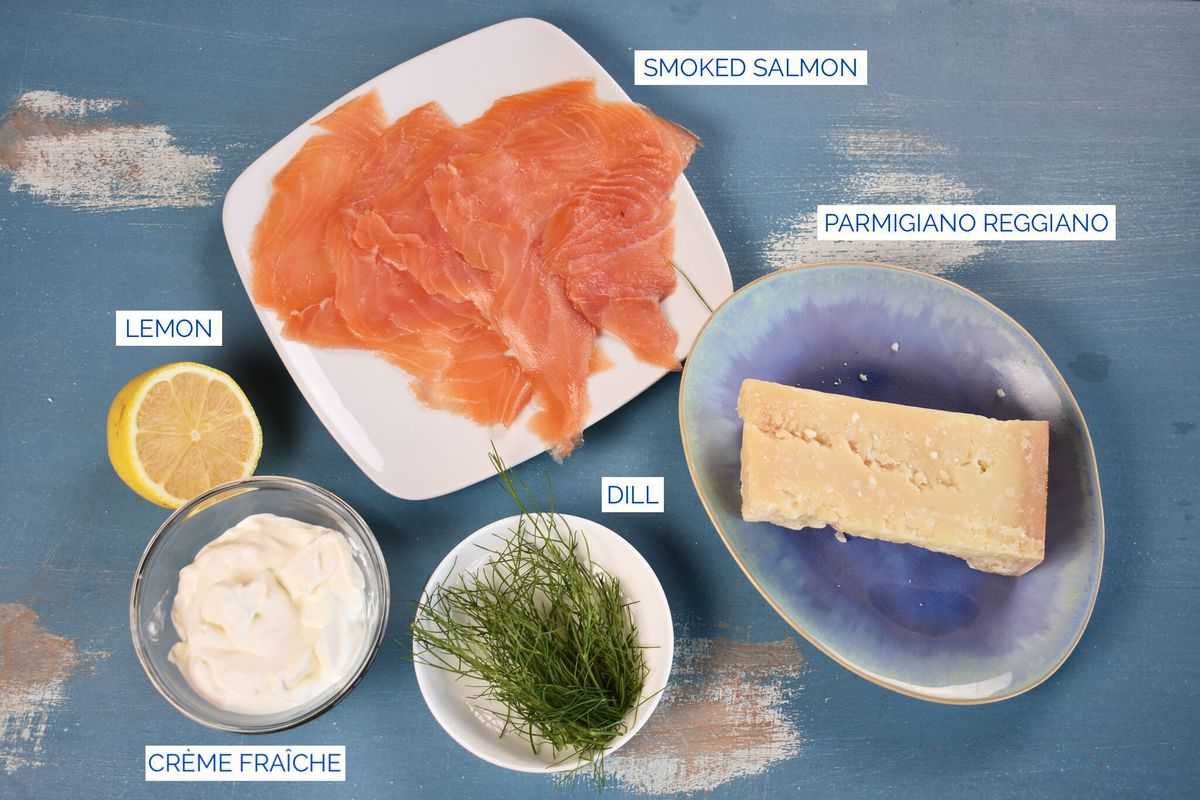 Above are the ingredients for the Smoked Salmon Crêpes.
Essential Steps for Making the Crêpe Base: 
It is paramount to treat your ingredients with care and attention while making this batter for the most optimal product to be achieved, thin pancakes.
Always mix your dry ingredients first, so they are correctly incorporated. By doing this, it will allow you to have an evenly distributed batter.
Make a well with the dry ingredients to slowly incorporate the wet elements. By doing this, it will allow you to achieve an even and smooth batter with few clumps.
Using a fork, slowly pull the flour into the wet ingredients and continuously mix and pull with the fork.
Keep pulling in the flour with your fork to your well, mixing the entire time.
Once you have blended most of the dry ingredients with the wet, you can switch from your fork to a whisk to finish incorporating the batter. You want to whisk until smooth, and you see little to no clumps.
The batter then needs to rest for at least 30 minutes to allow the gluten from the flour to subside. As you just spent time mixing and agitating the flour, it needs to rest for you to achieve a thin pancake instead of a puffed fluffy one from over-mixed gluten.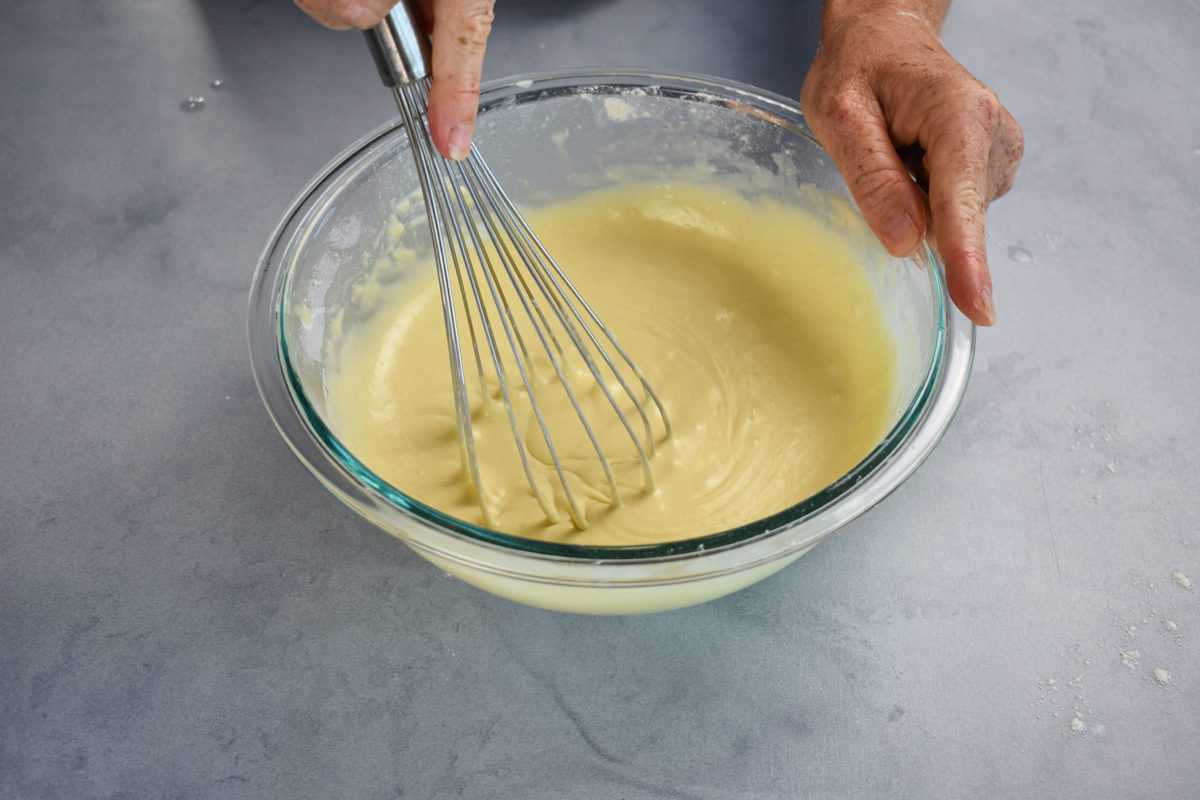 While the batter is resting, you can make your filings.
I like to start with the Macerated Berries, to allow for the lemon juice and sugar to draw out ample sweet liquid from the berries.
Something I learned in culinary school, meat and vegetables marinade, and fruit macerates. Once you combine all elements of the berry mixture, you can reserve, and move on to your crème fraîche filling that does not need any resting time.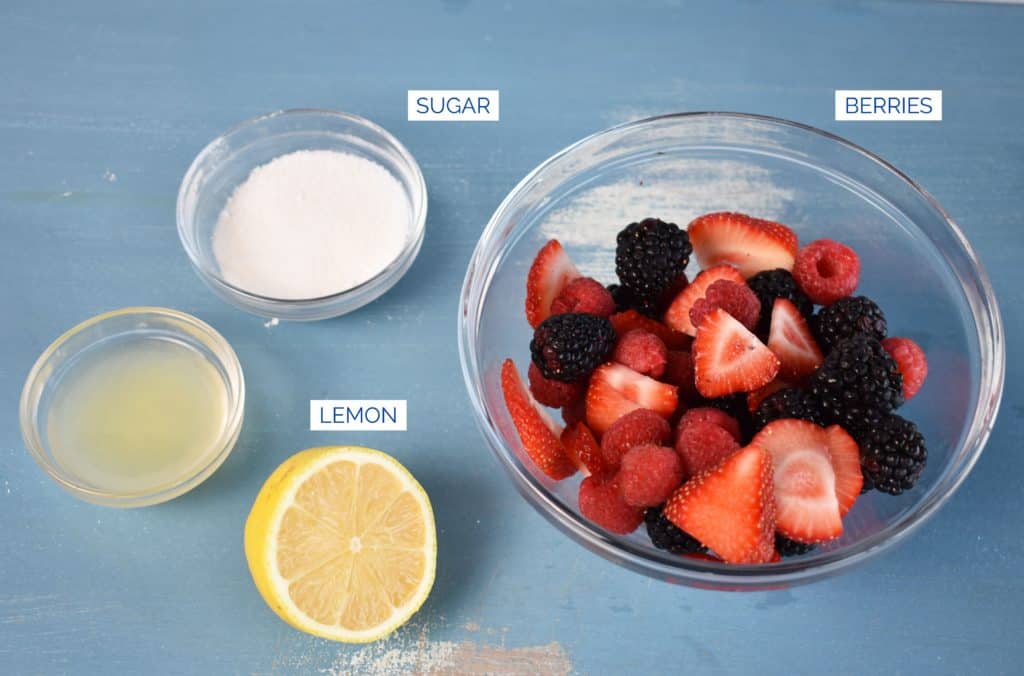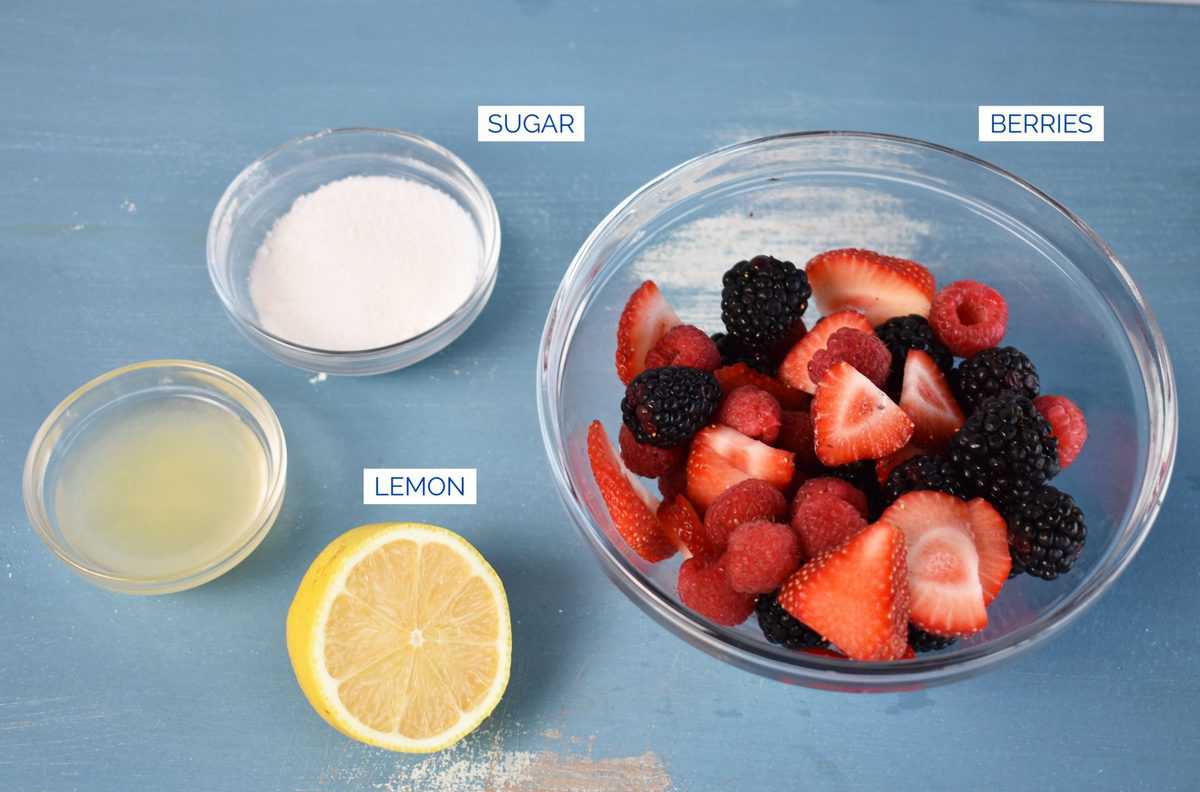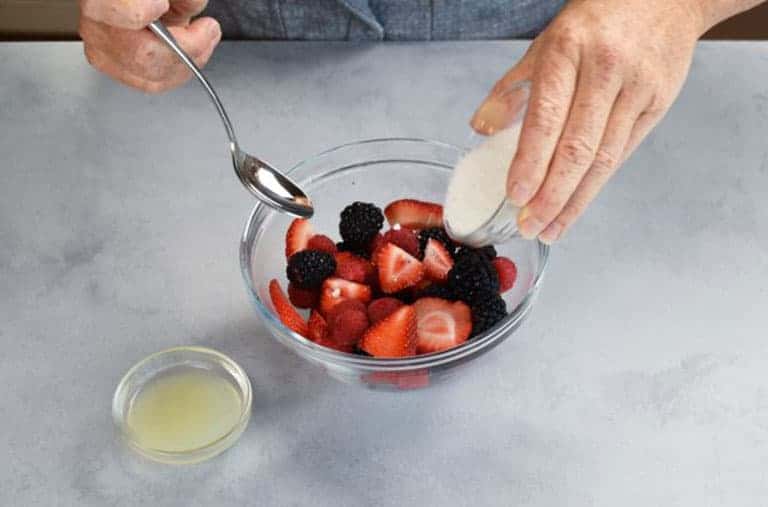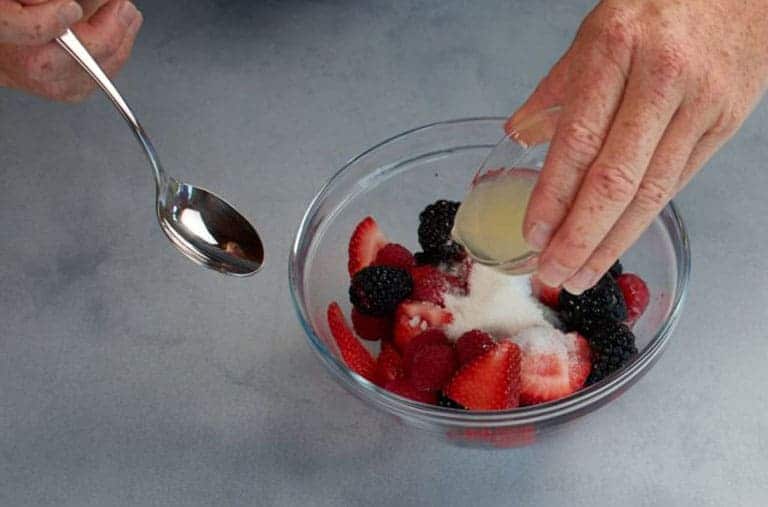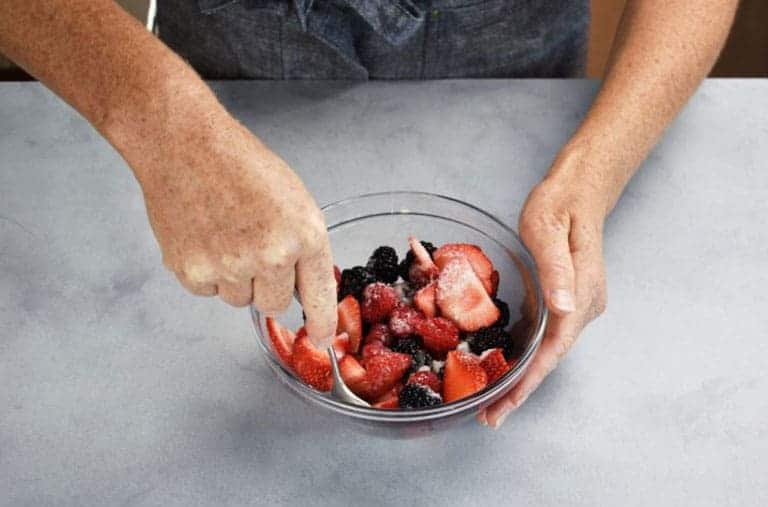 After you make the fillings, move on to making the crêpes.
Heat the crêpe pan and swirl a pat of butter around the pan to coat.
Pour one ladle of batter in the pan, swirl and tilt the liquid to reach the pan's entire circumference.
Do not touch the pan, allow it to engage with the heat source until you see slight browning on the sides.
Once you see the browned edges, flip the crêpe and cook it on the second side for about 30 seconds and then slide it onto a plate.
Repeat this process with all of the crêpe batter.
NOTE: The first crêpe always takes longer to cook, as the pan is still heating up. By the second or third crêpe, you should be able to get into a rhythm:)
Plate your crêpes with your filling of choice and enjoy!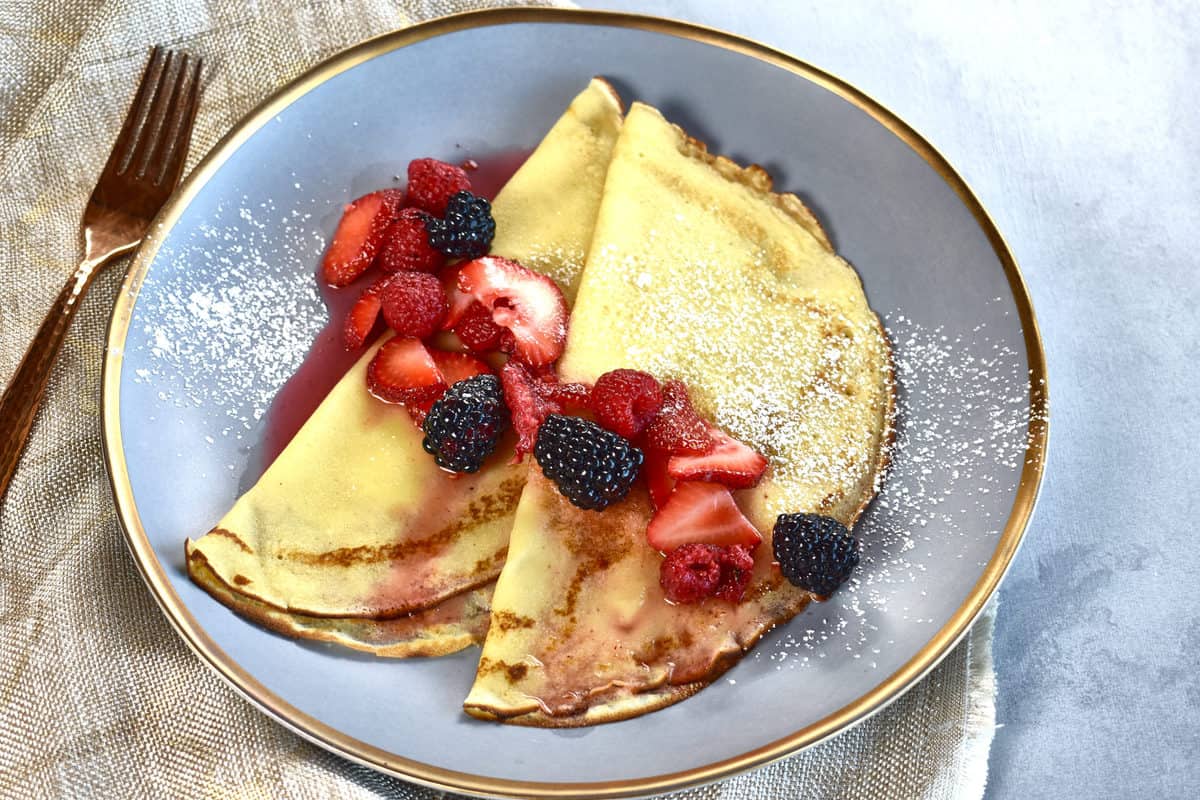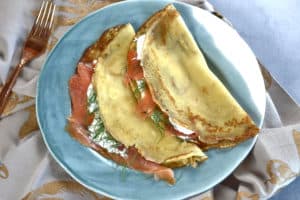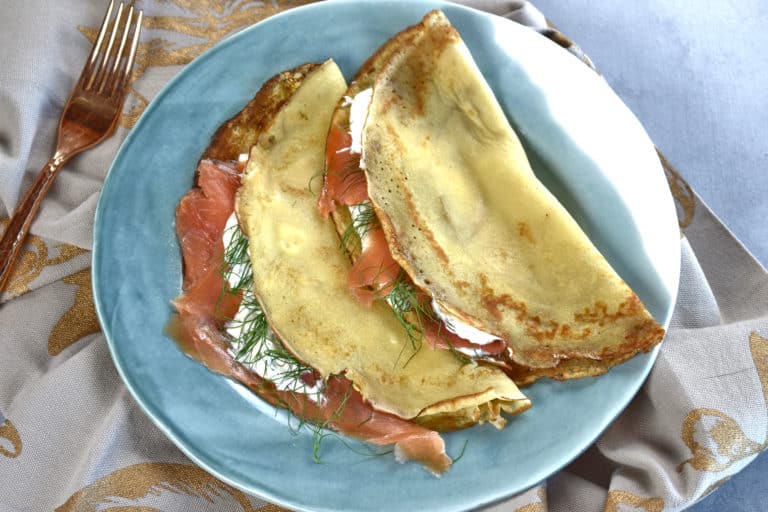 Author: Sarah Blair
Recipe Type: Breakfast, Brunch
Serves: 2
Crêpes are fabulous for brunch, a holiday spread, or simply a fun activity to do with your children. Crêpe making has become a tradition with my nieces and nephews, as they love flipping them in the air and concocting their fillings. Along with fillings below, Nutella and strawberries are usually their number one pick:)
Crêpe Base Ingredients
3/4 cup all purpose flour
1 tablespoon sugar

pinch of salt

2 eggs, plus one egg yolk, lightly beaten

2/3 cup whole milk

1/4 cup water

2 tablespoons butter, melted, plus more for cooking
Instructions
1. Sift flour into bowl and add sugar and salt.
2. Make a well in center of flour mixture.  Add eggs and extra yolk to center of well.  Using a whisk, gradually whisk all of the flour into the eggs.
3. Combine milk with water in a separate bowl, and gradually add to the flour mixture.
4. Add butter to flour mixture and beat until smooth.  Cover and set aside for 30 minutes.
5. Heat a little butter in a heavy-bottomed sauté pan or nonstick 6-inch crêpe pan.
6. Pour off any excess butter, leaving a thin coating on pan.  Pour a little batter into pan, swirling pan to create a thin layer.
7. Cook over medium heat for 1 – 2 minutes, or until the edges are light brown.
8. Loosen the edges with a small spatula and turn or flip crêpe. Cook on the second side for about 30 seconds and remove crêpe from pan.
 9. Repeat making crêpes until batter is gone, each time lightly coating pan with butter.
10. Spread crêpe with filling of choice.
Macerated Berries Ingredients
1 pounds strawberries, sliced
1 pint raspberries
1 pint blackberries
½ lemon, juiced
¼ cup sugar
Instructions
1. Combine all ingredients together in a mixing bowl and allow the berries to macerate for 10-15 minutes.
Smoked Salmon and Crème FraÎche Ingredients
½ cup crème fraîche
1 1/2 tablespoons lemon juice
2 tablespoons Parmigiano Reggiano, finely grated
1 1/2 tablespoons dill, minced
1 pound smoked salmon 
Instructions
1. Combine the crème fraîche, lemon juice, Parmigiano, and dill in a mixing bowl. Season to taste with salt and pepper. 
2. Spread about two tablespoons of mixture onto half of crêpe and top with smoked salmon. Fold and enjoy!