Ingredient Breakdown:
Napa Cabbage: Is also known as Chinese Cabbage. In Japanese, "Nappa" means leafy greens. In Chinese, it refers to "celery cabbage." This delicate cabbage tastes like a mixture of a turnip, cabbage, and Bok Choy.
Mung Bean Thread Noodles: These noodles are made from Mung bean starch. They are gluten-free and contain antioxidants, iron, manganese, potassium, magnesium, folate, copper, zinc, and various B vitamins.
Deboned Chicken: If you cannot comfortably debone your chicken, ask your local butcher to do it for you.
Coconut Palm Sugar: I like to use coconut palm sugar as my sweetening agent. This sugar has both a low glycemic index and low fructose levels. It contains antioxidants, minerals, is unrefined, and contains no chemical breakdown alterations or artificial ingredients. It is pure and simple!
Mirin: This is fermented Japanese rice wine. It is similar to sake but has a lower alcohol content and is much sweeter. It adds great depth of flavor and is a must to have as a cooking staple in your pantry.
Soy Sauce: I always use low-sodium soy sauce to be healthier. However, any soy sauce will work for this recipe.
Carrots: Carrots add the perfect crunch and pop of color to this filling. You can wash your carrots and leave on the skin to maximize the nutrients in this vegetable.
Ginger and Garlic: This combination adds the perfect amount of aromatics to go with the noodles and vegetables. They will permeate into the chicken and provide fantastic flavor and subtle heat.
Scallions: I also loved this green onion for its color and delicacy when added to the noodles. The white end is more substantial and will add body to the noodles, while the green ends are more delicate and will add a nice silky taste when cooked.
Sesame Oil: Always buy a toasted sesame oil with a dark brown color for a richer, nuttier flavor.
Eggs: The egg yolk is the binding agent of the filling, which holds it all together. They are essentially the glue that adds fat and richness to make the stuffing cohesive.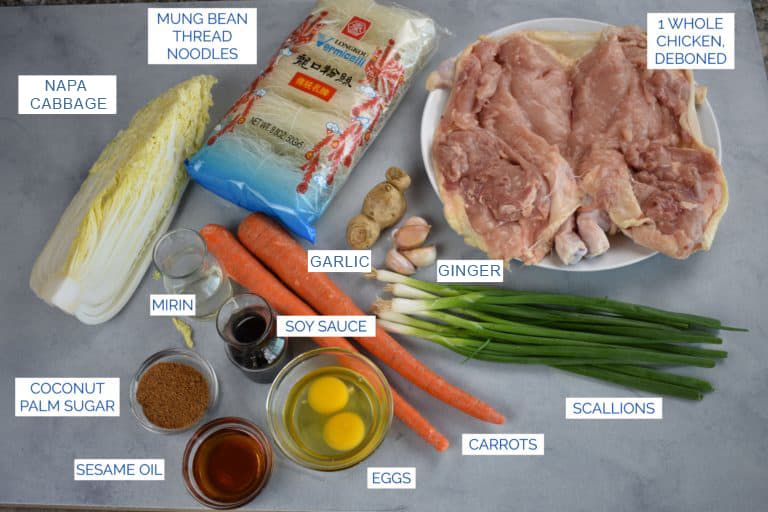 Mise en Place- In French, literally meaning "everything in its place."
This method means all components of your recipe need to be cut, sliced, and diced before the cooking begins.
I find the repetitive motion of chopping to be methodical and relaxing. Luckily in this recipe, you need to cut quite a few elements before the cooking process begins.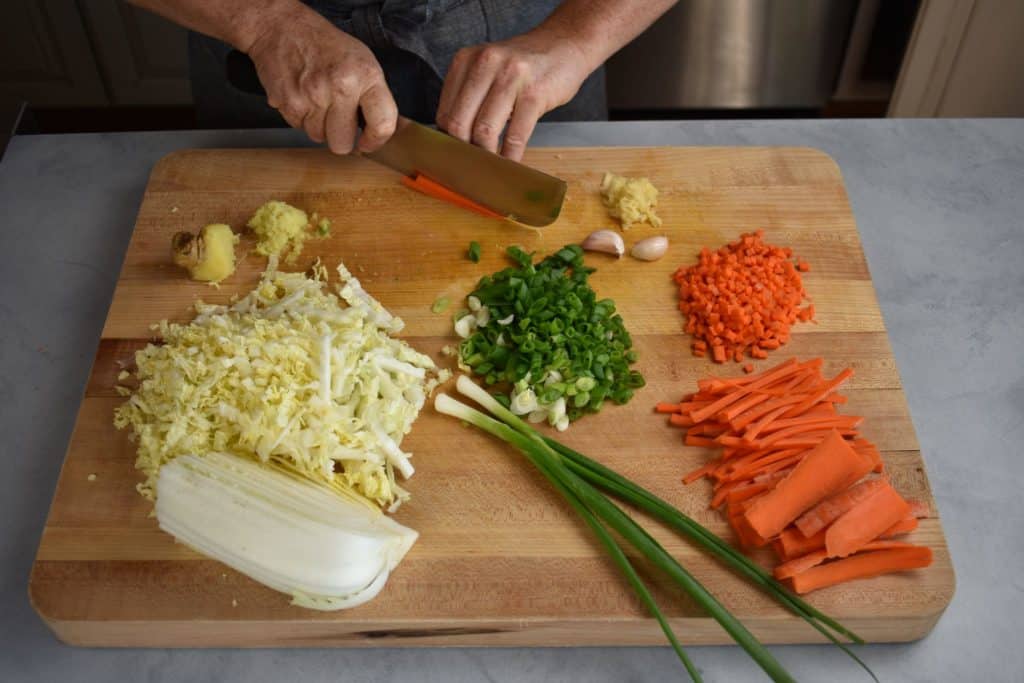 Once you break down all your vegetables, submerge the noodles in boiling water just until they are malleable and translucent.
After cooking, rinse the noodles in water to remove any excess starch and cut them into smaller one-inch size pieces with scissors.
Combine all the filling ingredients in a large bowl and thoroughly mix in the beaten eggs to evenly coat.
Season your chicken with salt and pepper.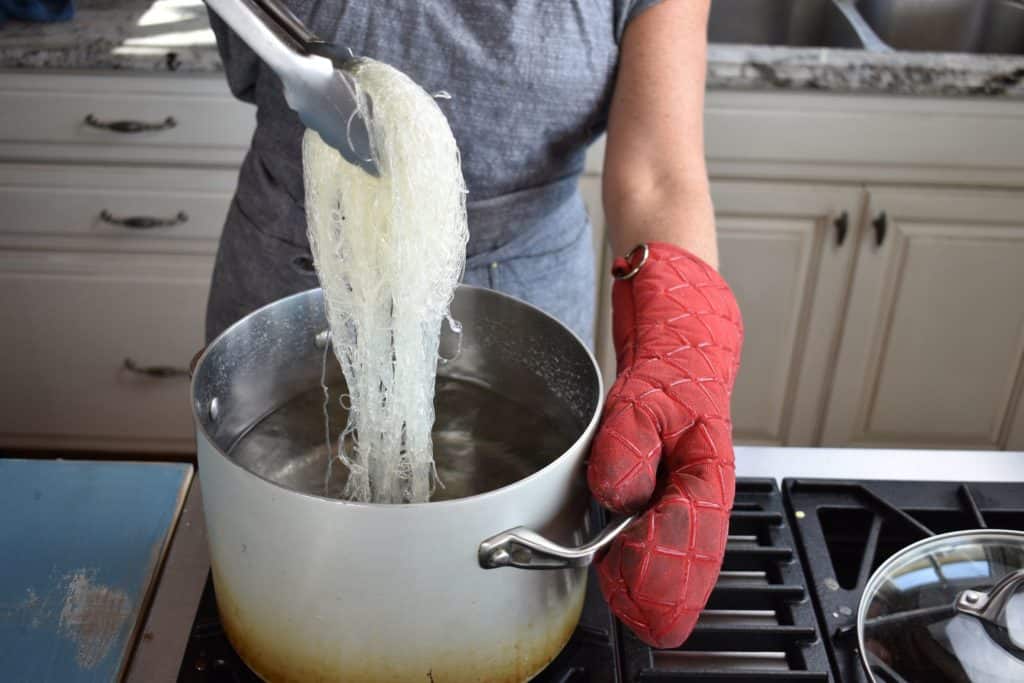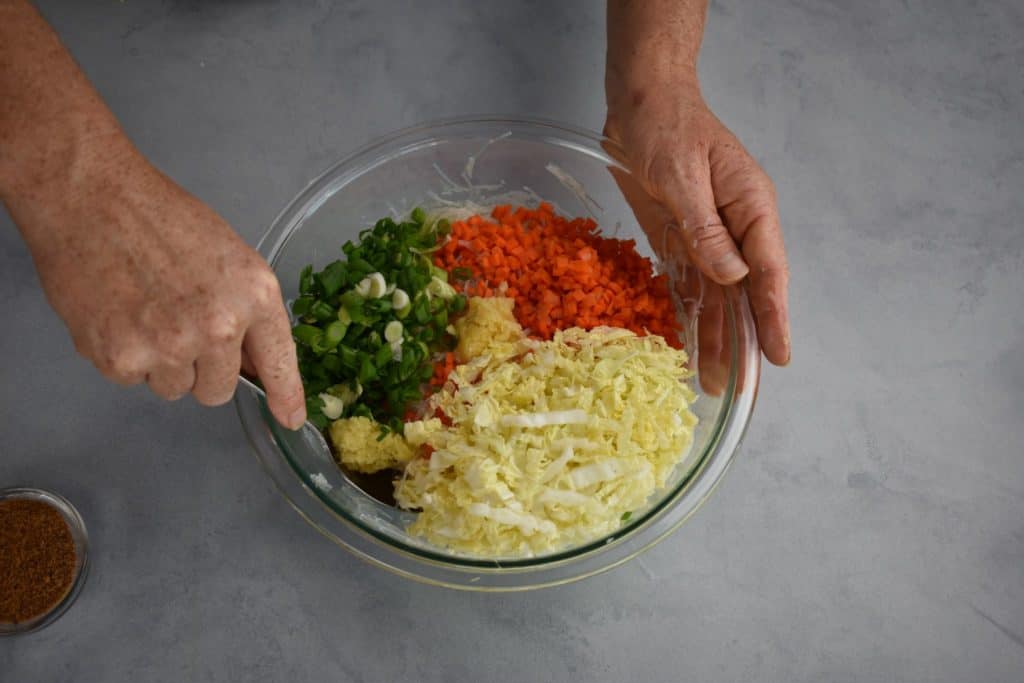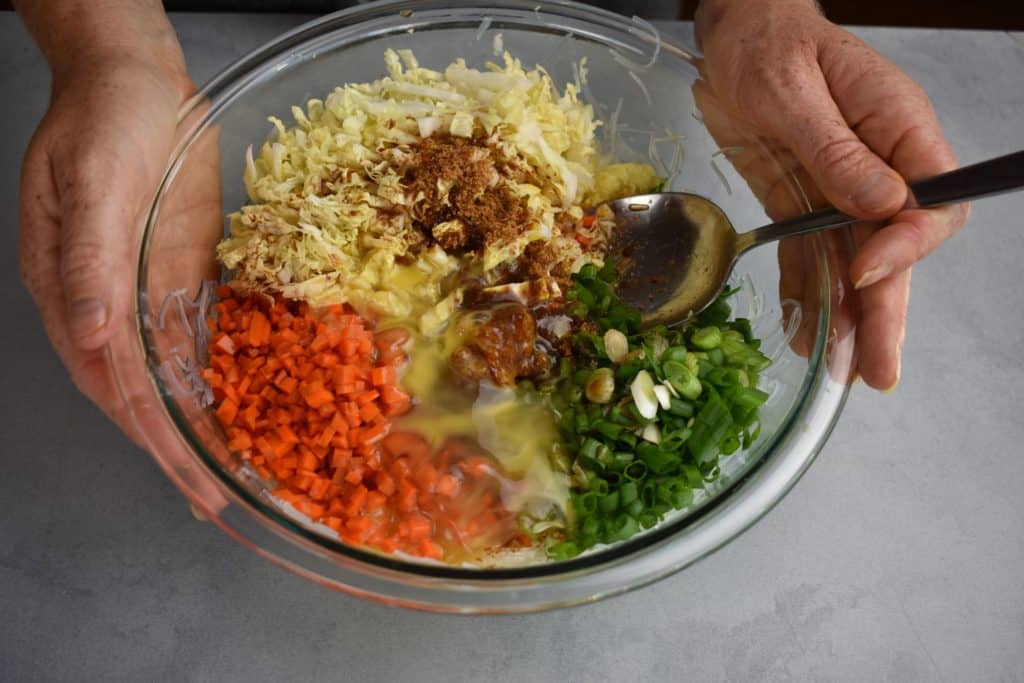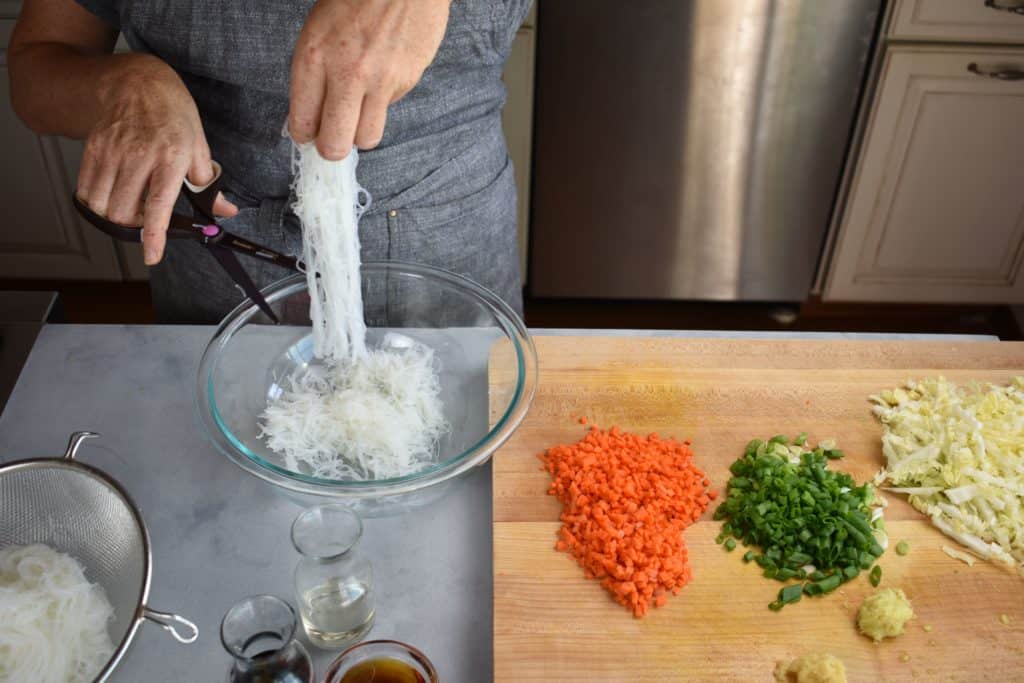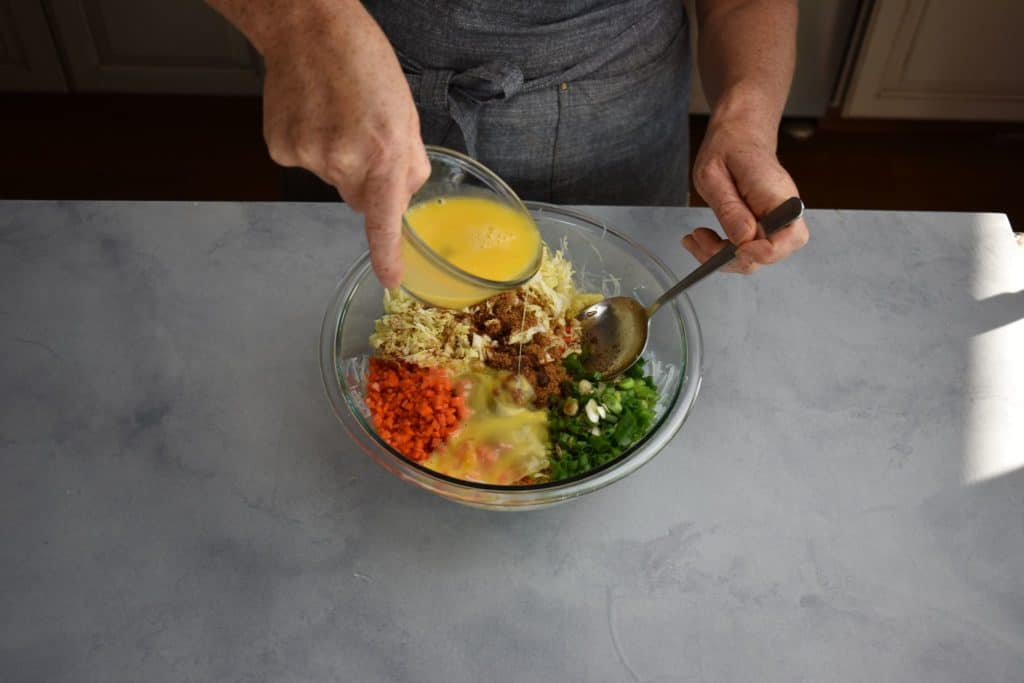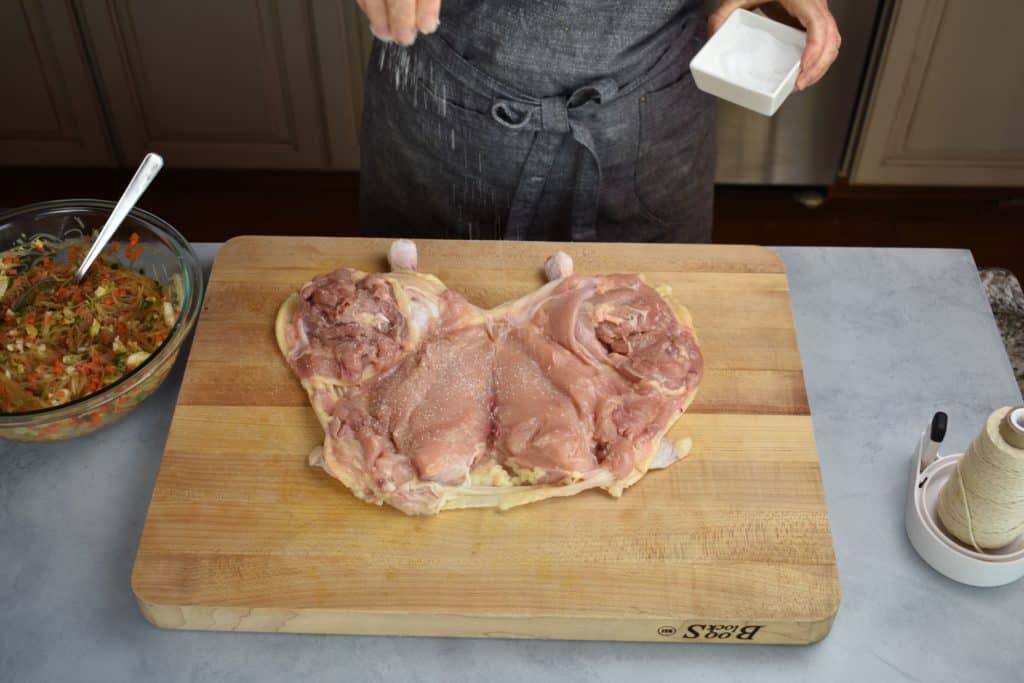 Evenly spread the filling onto the chicken and make sure to fill the legs and wing joints.
Depending on the size of your chicken, you will probably have some filling leftover (about a pint). You can keep this and cook it separately in a pan when eating leftovers.
Fold in both sides of the chicken and get ready to make a ballotine.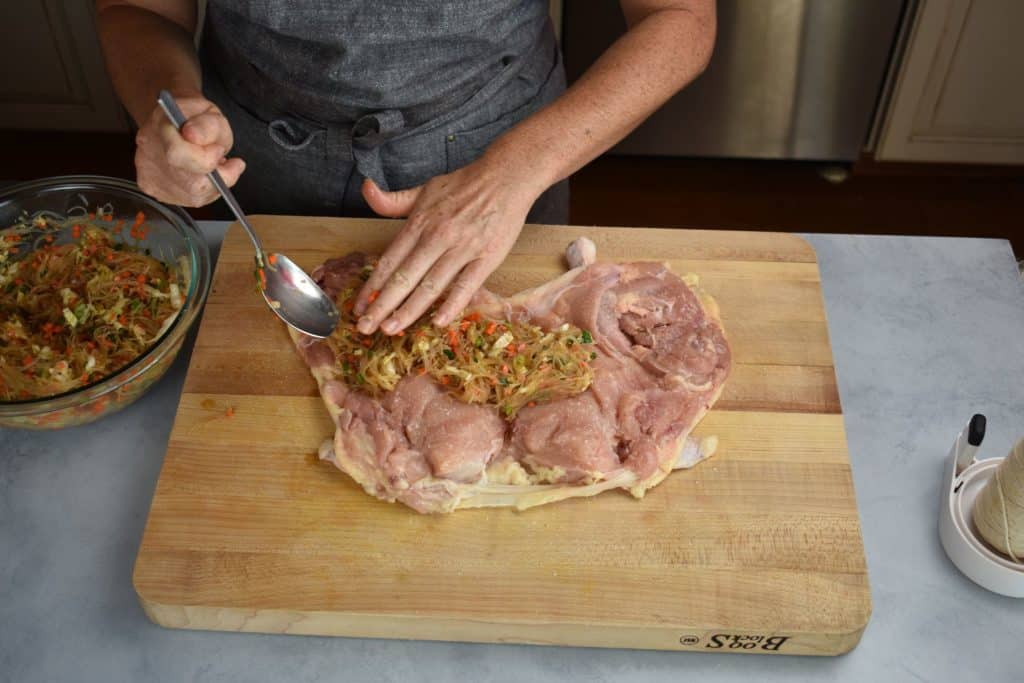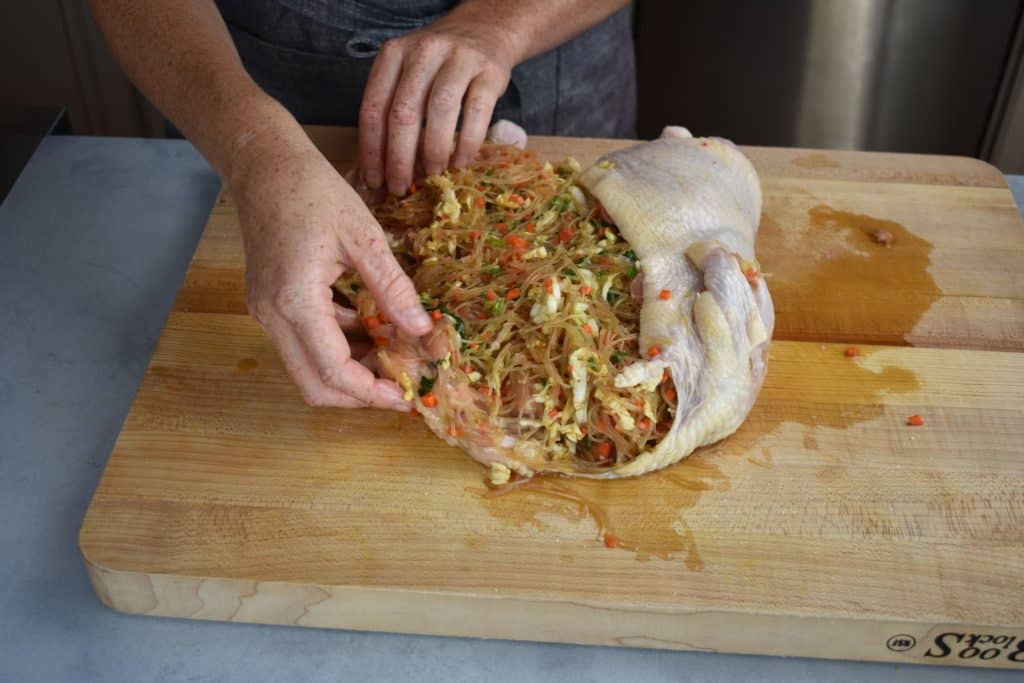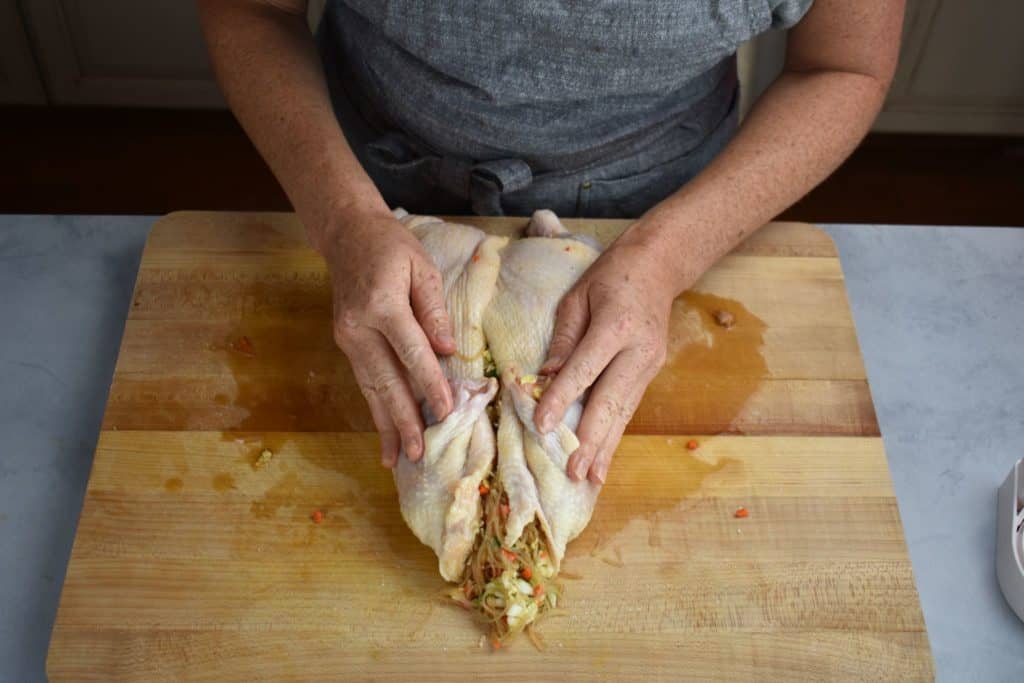 Chicken Ballotine: In French, "balle" means package. This dish is traditionally deboned and stuffed poultry held together with twine, (like a package) that is then roasted, braised, or poached.
How to Secure your Stuffed Chicken with Butcher's Twine:
Turn your chicken over and cross the legs.
Pull a large amount of Butcher's twine from the spool, but don't cut it.
Start by tying a knot around the legs, leaving yourself an adequate piece after tying the knot.
Pull the twine feed from the legs to the top of the chicken and make what is called a "half hitch loop."
Slide the loop down the chicken towards the legs.
Tighten the loop, and then continue this process by bringing the feed towards the top of the chicken.
Make another loop, sliding that loop down, tighten it, and then repeat until you have around 5-6 loops.
Once you secure all your loops and are at the top of the chicken, cut the twine from the spool leaving yourself a generous line.
Gently slide your chicken over.
Use the remaining long piece of twine, individually thread through each loop going under and then back over until you reach the legs.
Once you reach the legs, tie off your remaining piece of twine to the leftover piece at the legs.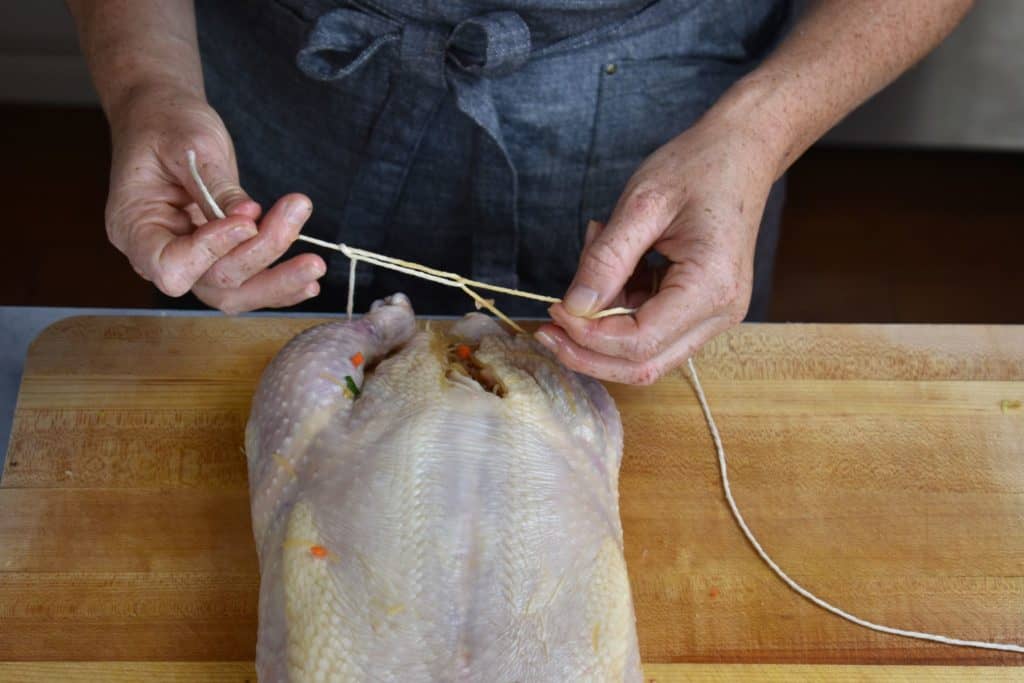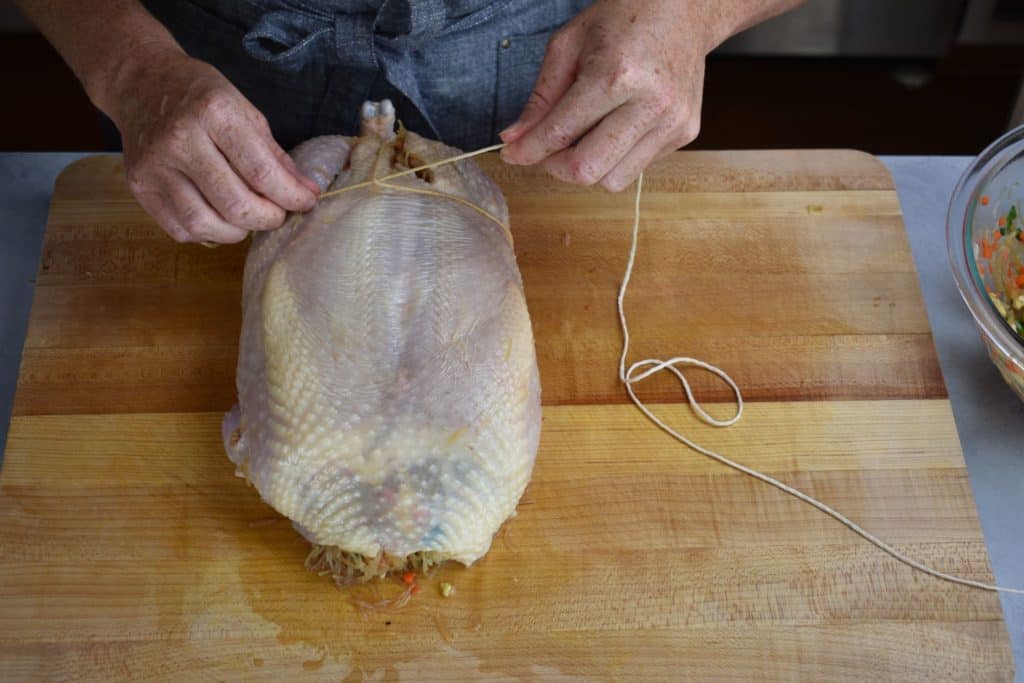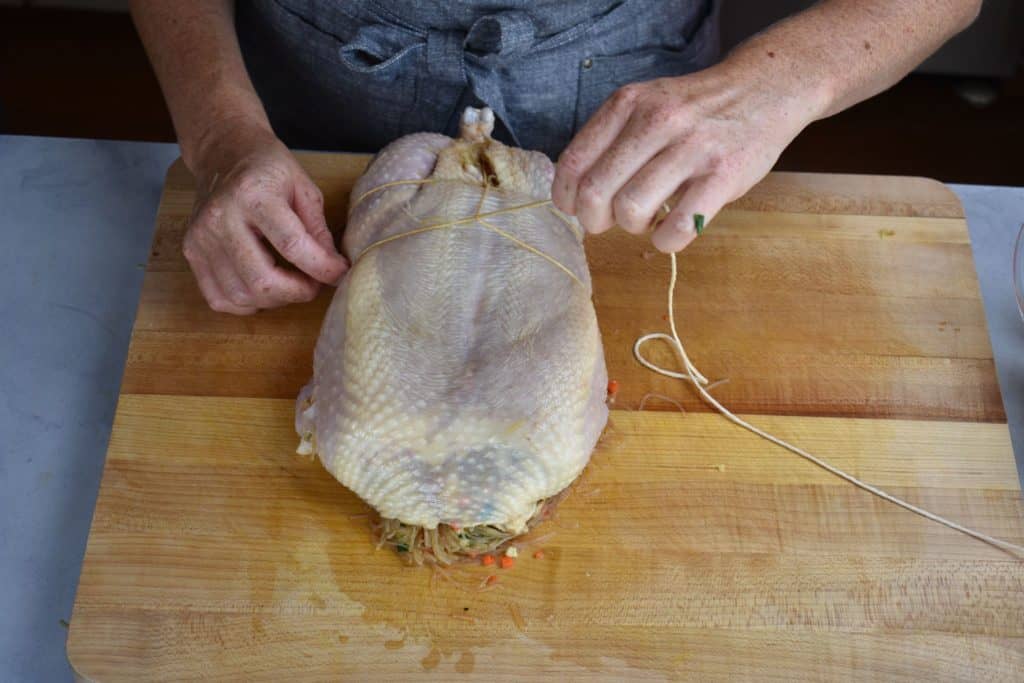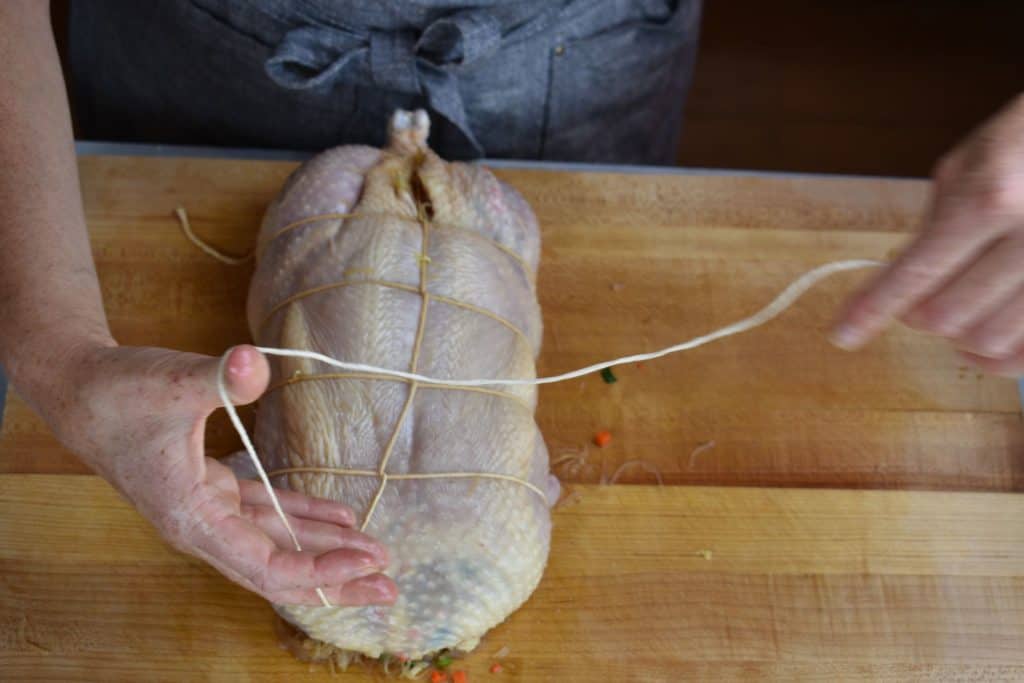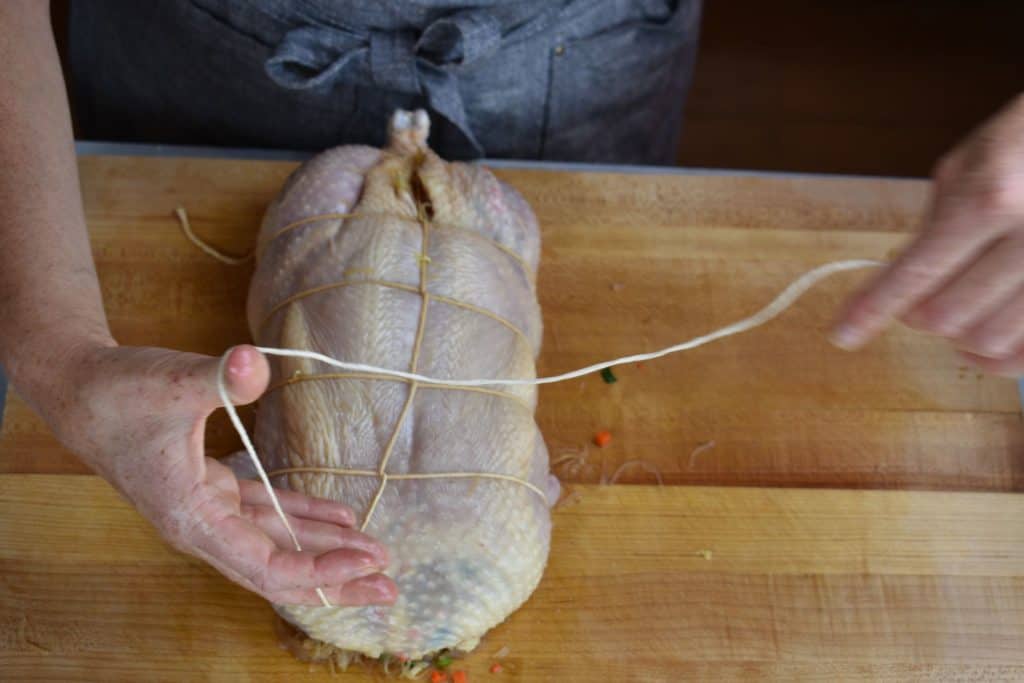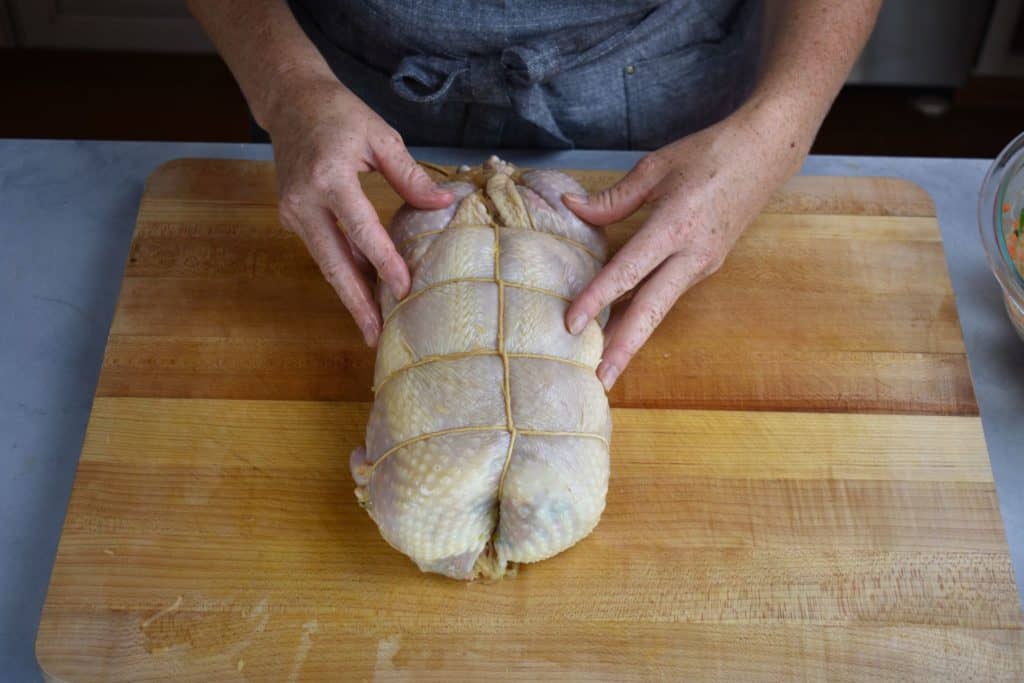 Searing the Chicken:
Generously season the skin of the chicken with salt and pepper.
Coat a large 12-inch cast-iron skillet with coconut oil and wait for the oil to shimmer.
Place the chicken in the pan, seam-side up.
Do not touch or move the chicken until it becomes golden brown and caramelized.
Then, use tongs to flip the chicken over carefully.
Repeat this process until all sides of the chicken are golden brown.
Place the chicken in the oven and cook for 1 hour.
NOTE: It is crucial to allow the chicken to rest for 20-30 minutes after it comes out of the oven before slicing. The resting time will keep the juices inside the chicken and allow the filling to set and firm up before slicing.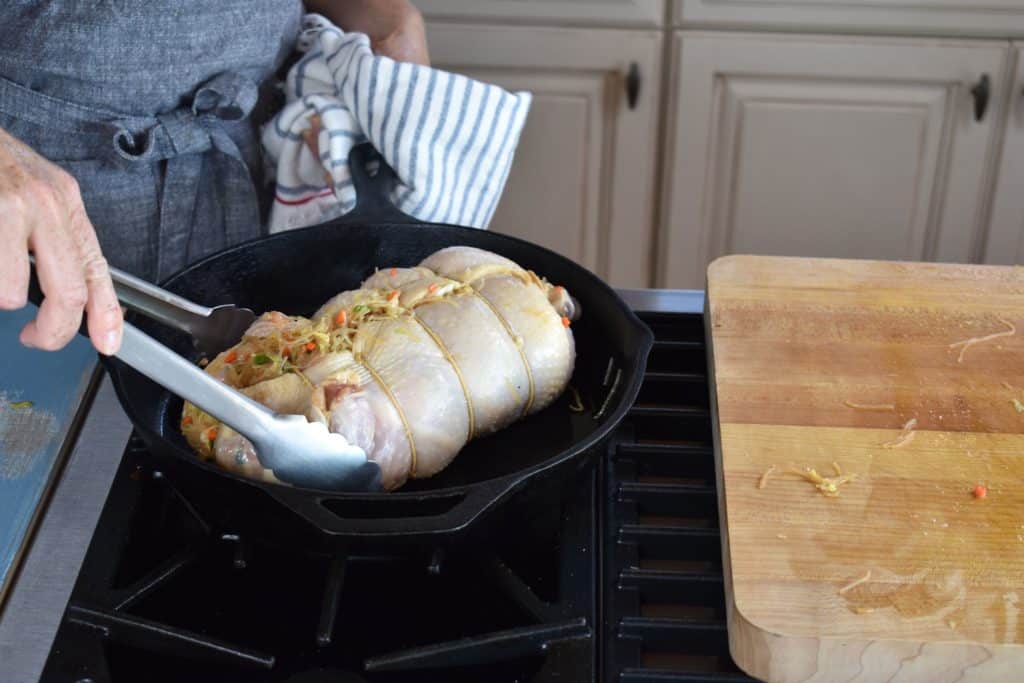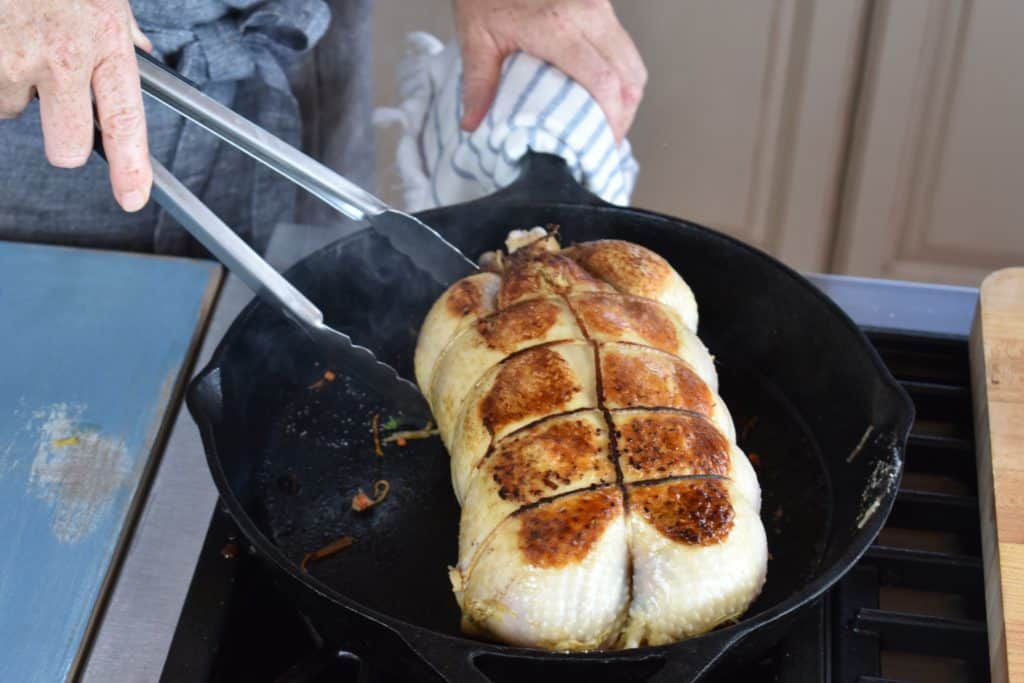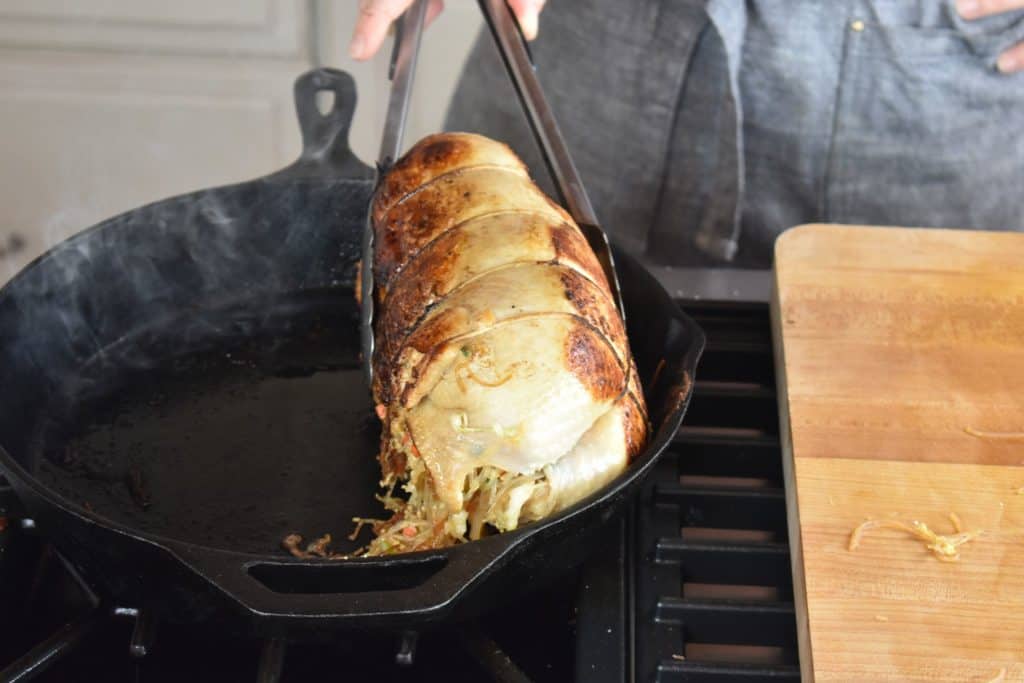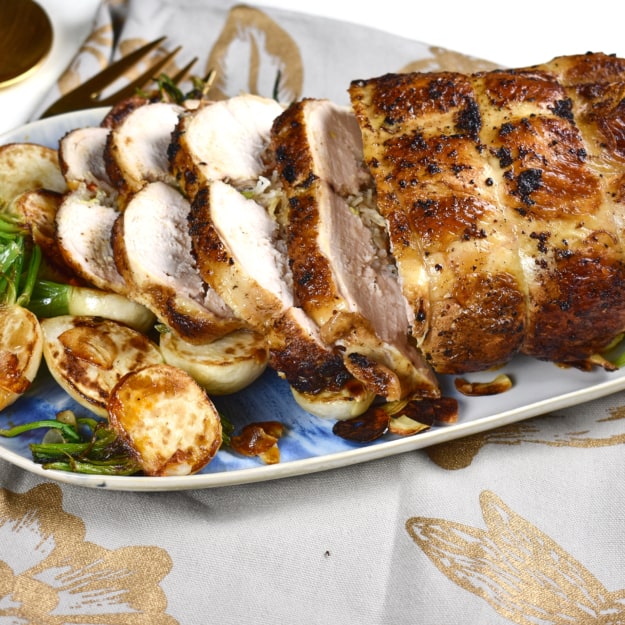 Japanese Stuffed Roast Chicken
This dish has just about everything I love; crispy roasted skin with succulent meat, noodles, and veggies, all with a sweet mirin soy blanket of flavor. What more do you need to dream about in life?! This chicken is slightly labor-intensive, so choose to make it on a Sunday, special occasion, or holiday when you can spend a bit more time and want to impress. It also pairs wonderfully with my Crispy Sesame Tokyo Turnips recipe or just about any vegetable side. If you make it once, trust me, it will become a fan favorite!
Ingredients
1

whole chicken, deboned

(you can also ask your butcher to do this step)

4

oz

Mung Bean thread noodles

1

bunch

about 5-6 scallions, minced

4

carrots, minced

½

Napa cabbage, finely chopped

1 ½

tbsp

garlic, minced

1

tbsp

ginger, minced

¼

cup

soy sauce

2

tbsp

sesame oil

1 ½

tbsp

mirin

2

tbsp

coconut palm sugar

2

eggs, lightly beaten
Instructions
Heat the oven to 350 degrees Fahrenheit.

In a large bowl, combine the scallions, carrots, cabbage, garlic, and ginger.

Add in the garlic, ginger, soy sauce, sesame oil, mirin, and palm sugar.

Fold in the beaten egg.

Heat a large pot of boiling water and cook the noodles for 1-2 minutes until tender.

Rinse the cooked noodles under cold water and use scissors to snip the noodles into small threads.

Add the noodles to the vegetables and mix thoroughly to combine.

Season your chicken with salt and pepper.

Spread about 1 cup of the stuffing evenly inside the chicken, making sure to fill all of the cavities.

Roll the chicken with the butcher's twine to secure.

Heat a 12" cast-iron pan and coat with coconut oil.

Sear the stuffed chicken on all sides until golden brown, about 2 minutes per side.

Place the chicken in the oven and cook for 1 hour.

Allow the chicken to rest at least 20-30 minutes before slicing.
Nutrition
Calories:
460
kcal
Carbohydrates:
30
g
Protein:
28
g
Fat:
25
g
Saturated Fat:
7
g
Cholesterol:
150
mg
Sodium:
728
mg
Potassium:
597
mg
Fiber:
2
g
Sugar:
7
g
Vitamin A:
7309
IU
Vitamin C:
26
mg
Calcium:
104
mg
Iron:
2
mg