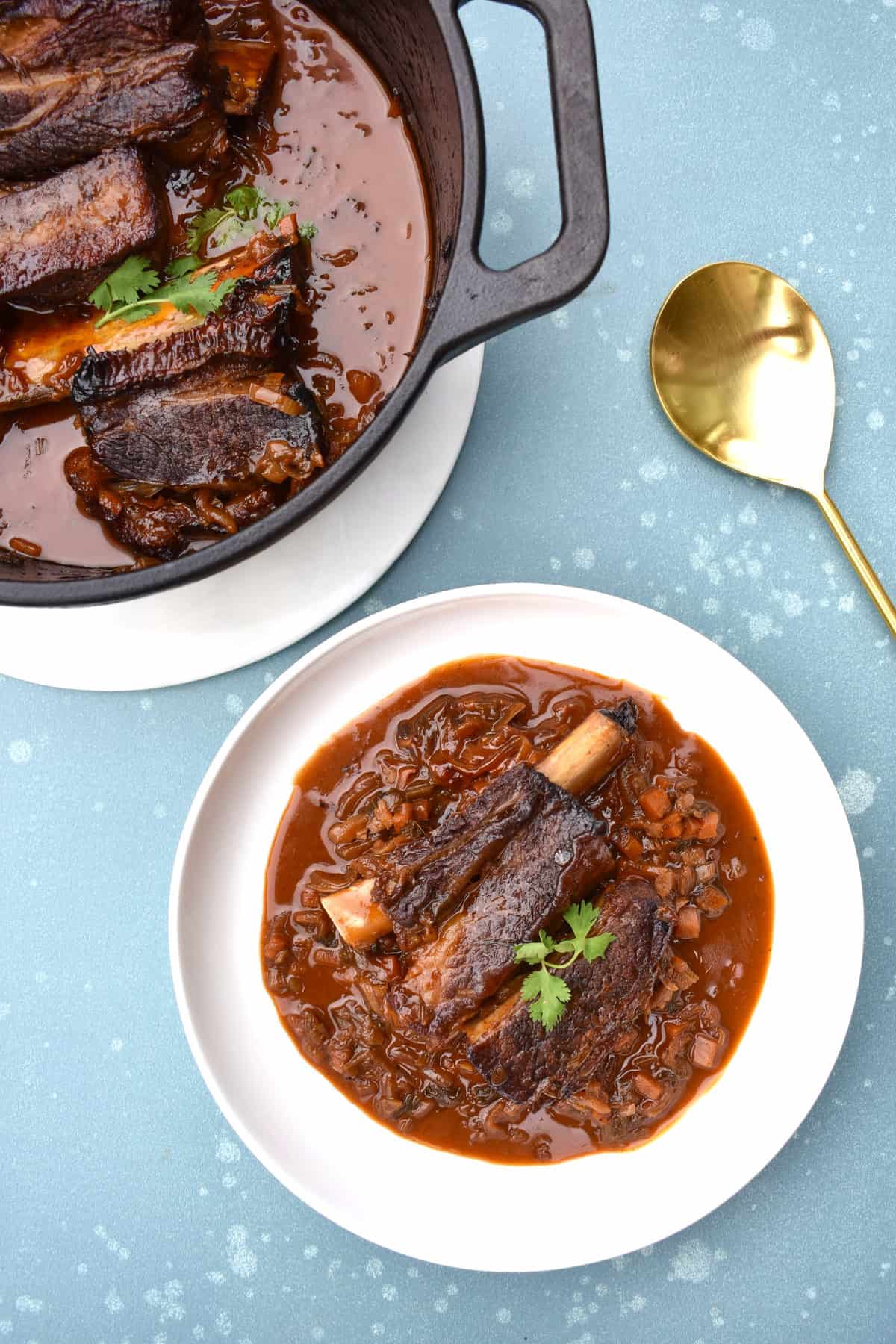 The Ingredients Are Below
Bone-in Short Ribs: I like to use a bone-in short rib for this recipe as the bone helps lock in moisture for the meat and makes it extra tender. I also like how the marrow inside the bones seeps out into the sauce, adding a bit of coagulation and thickness to the ragù.
Coconut Oil: I use coconut oil to sear the beef ribs because it has a high smoking point and adds additional sweetness to the dish. I like to buy unrefined coconut oil that is less processed.
Toasted Sesame Oil: Always buy a toasted sesame oil with a dark brown color for a richer, nuttier flavor. After the ribs have been seared, I add a spot of toasted sesame oil into the pan to sauté the vegetables. I like to impart a little bit of the sesame flavor into the dish, as it pairs wonderfully with the soy sauce and the Gochujang.
Garlic and Ginger: This combination adds the perfect amount of aromatics for the ragù. They provide fantastic flavor and subtle heat that permeates into the rest of the vegetables.
Carrot, Celery, and Onion: This is a classic vegetable combination that is the base and flavoring agent for many traditional ragù and sauces. In French terminology, this combination is called the mirepoix. The word was coined in France back in the eighteenth century when a French aristocrat's chef first used it. These vegetables are sautéed in butter/and or oil until tender, and then other ingredients are added to fuse with these flavors.
Scallions: I love using green onion for its color and delicacy. They add a nice sweet flavor when they are sautéed and add a silkiness to the ragù.
Red Apple: Traditionally, in Korean recipes, Asian pear is used as a sweetening agent in many marinades and sauces. Because of ease and access, I decided to use an apple that works fantastically as well. The grated apple breaks down into the vegetables and gives the ragù a subtle extra sweetness and thickening power to the sauce.
Palm Sugar: I like to use coconut palm sugar as my sweetening agent. This sugar has both a low glycemic index and low fructose levels. It contains antioxidants, minerals, is unrefined, and contains no chemical breakdown alterations or artificial ingredients. It is pure and simple!
Gochujang: This is a fermented Korean chili paste that adds depth, flavor, and heat to the braising liquid. It contains other ingredients such as fermented soybeans, salt, sweeteners, glutinous rice, and other stabilizers. I like to use the brand Mother in Law's, as it has no MSG and has pure discernible ingredients with no stabilizers. This paste is quite spicy, so use a little and taste. You can always add more if you can handle the heat!
BRAISING LIQUID
(Soy Sauce, White Wine, Chicken Stock)
Soy Sauce: I always use low-sodium soy sauce to be healthier. However, any soy sauce will work for this recipe. Tamari is also fantastic!
White Wine: White wine is used to deglaze the pot after the short ribs have been seared. I prefer white wine over red, as it is more subtle and softer. This recipe places a large focus on the key ingredients of the vegetables and meat, and the other ingredients are there to enhance their flavor. I tend to use a rounded Chardonnay when cooking with white wine. I don't like to use anything that is overwhelmingly sweet.
Chicken Stock: I like to use chicken stock for this recipe instead of beef stock, so the ragù does not get too intense. Chicken stock is a milder and lighter flavor. Beef stock will work as well; it will just make a more intense ragù.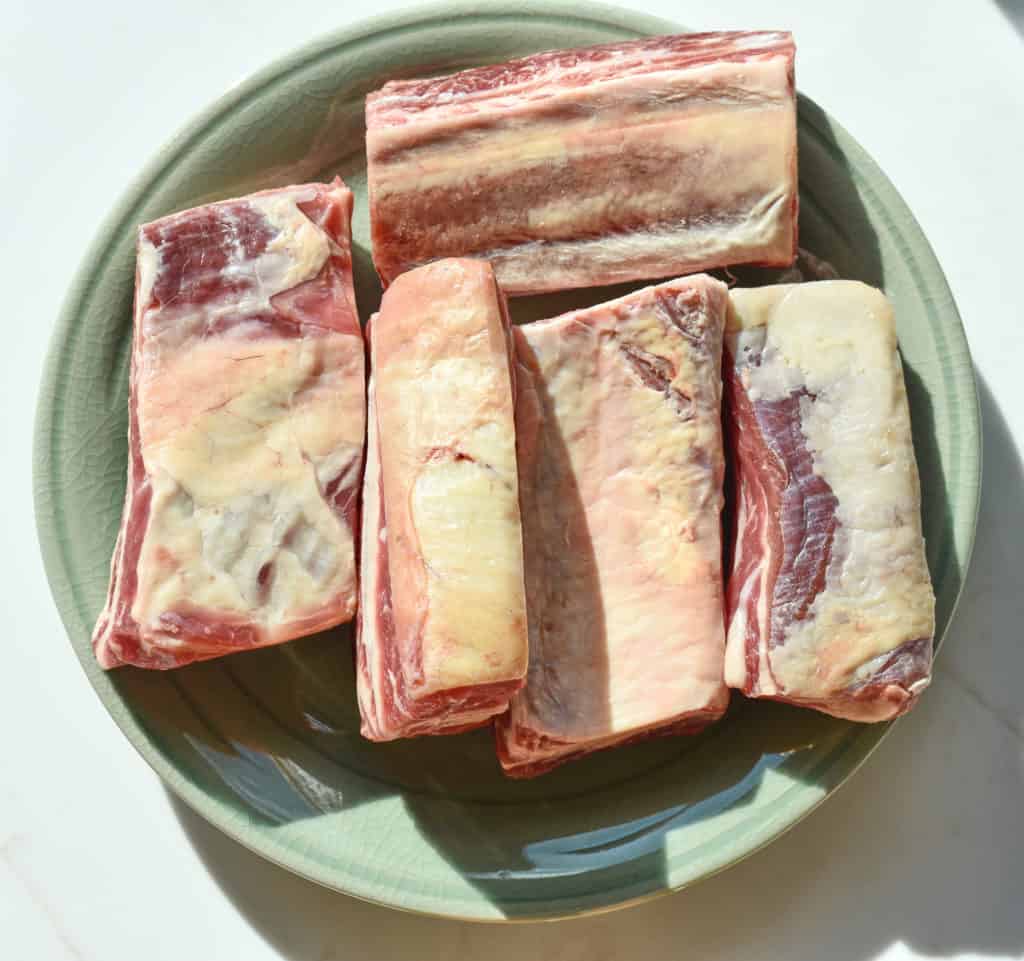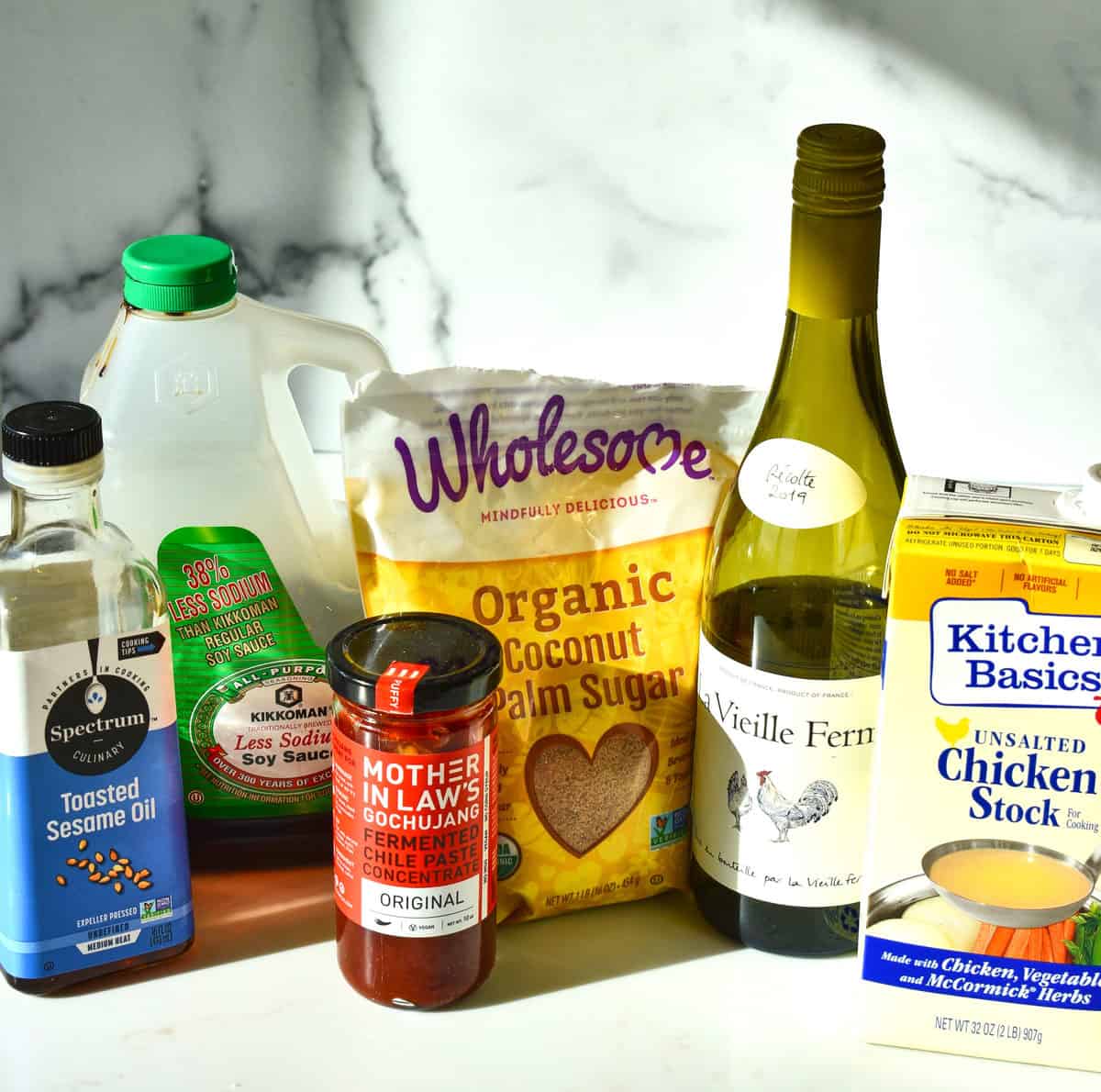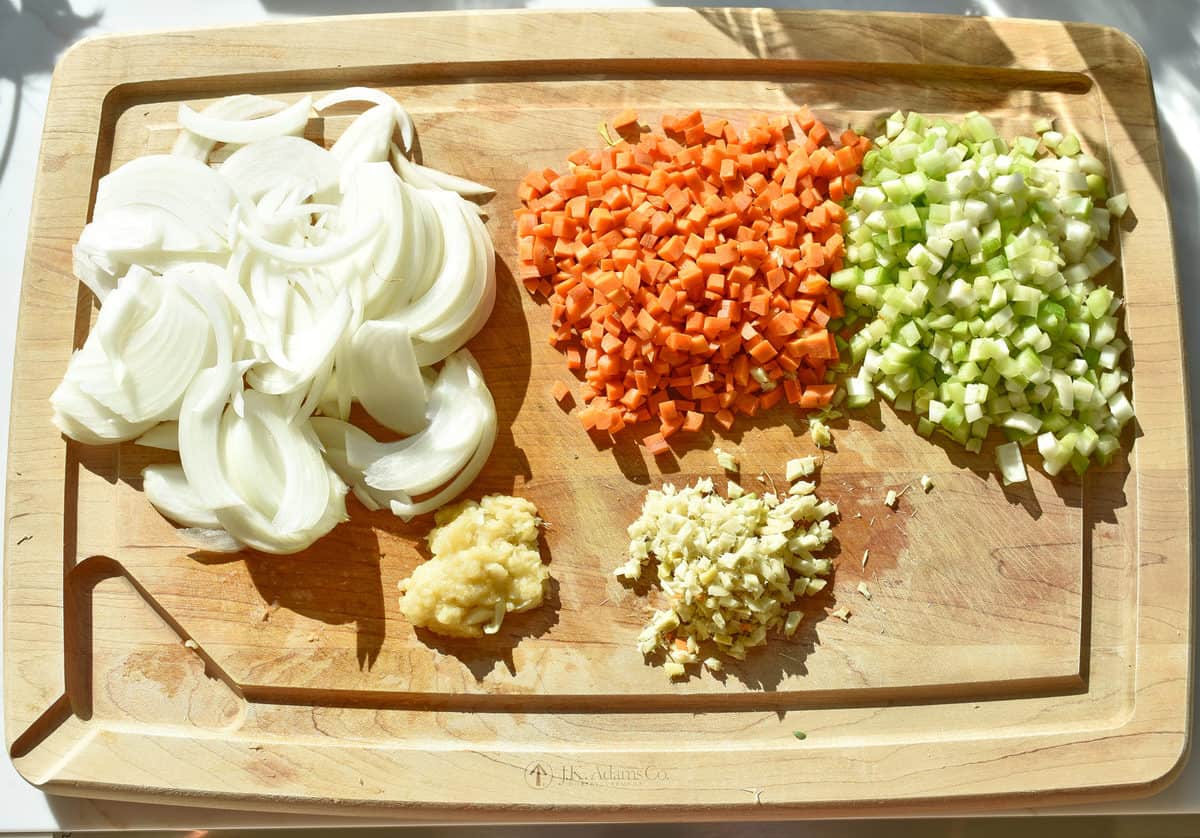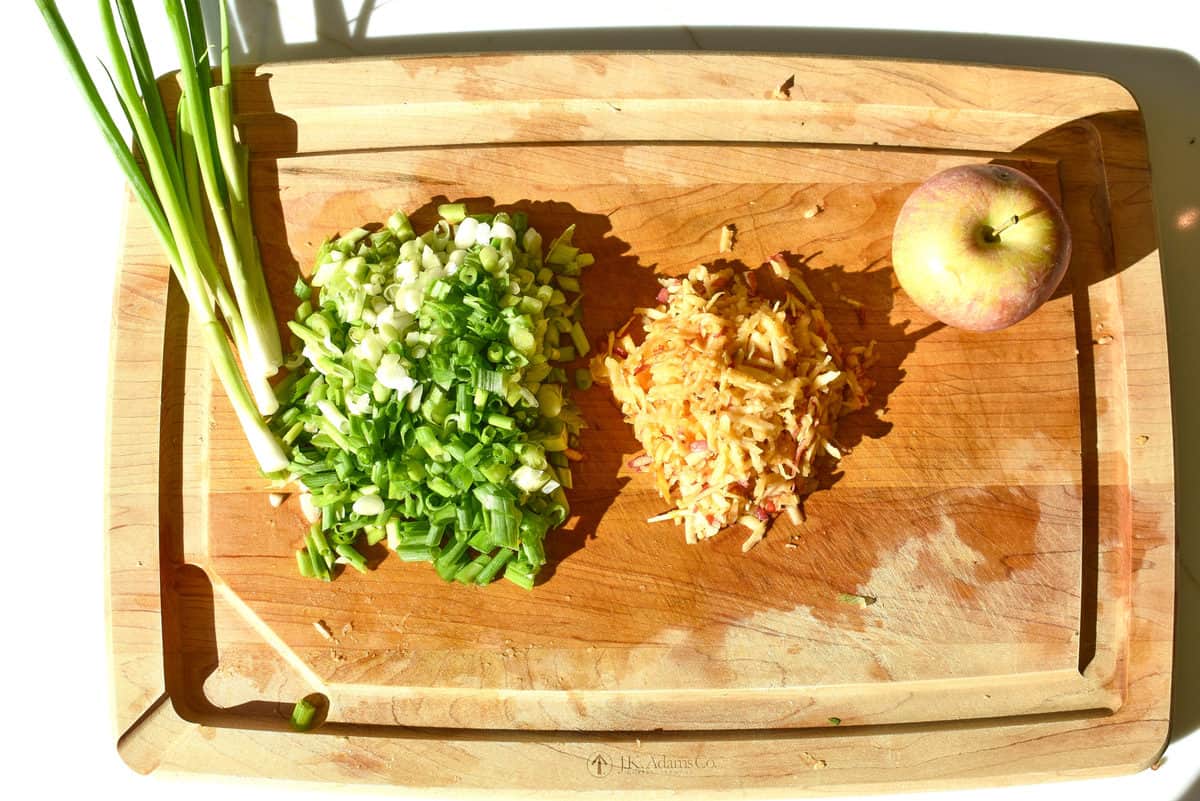 SEARING THE SHORT RIBS BEFORE BRAISING: Searing the short ribs before braising gives the ribs a lovely darkened exterior and crust and locks in moisture, making the meat much more tender. I love using cast iron to sear my meats. This recipe is perfect for any cast iron Dutch oven. This wrought iron is a fantastic conductor of heat and always gives my protein a beautifully caramelized crust. The key to perfectly searing your short ribs in the cast iron is NOT to TOUCH them! The short rib's first side is placed down into the smoking hot cast iron coated with coconut oil. If you move the ribs around or flip them, you will be disengaging them from the heat source. By doing this, you do not allow the heat to properly penetrate the short ribs through the heated cast iron to get a beautiful golden-brown crust. Once this color is achieved on the first side, flip the ribs, and the second side will take less than half the time to achieve the golden crust.
BRAISING: Braising is when you cook meat in liquid for a long time to add moisture and make it more tender. Usually, braised meats are for tougher cuts of meat that need more cooking time. Short ribs are a perfect example of a meat that needs to be braised. For the beef to fall off the bone, it needs to cook in the braising liquid for at least 3-31/2 hours.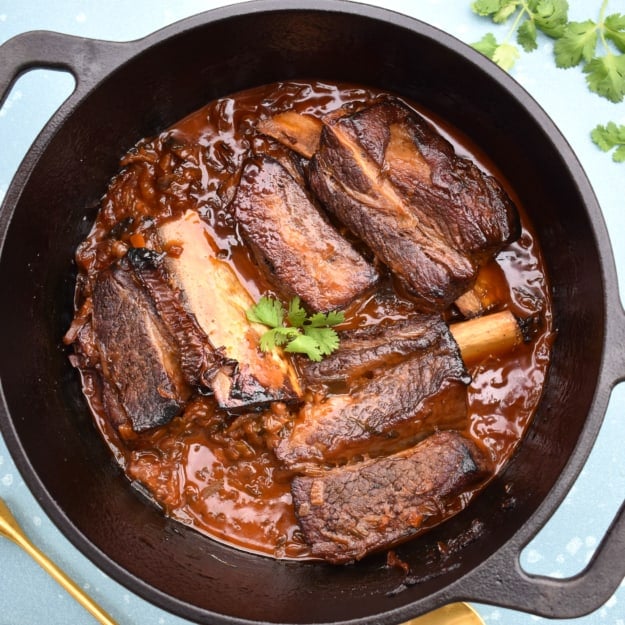 Korean Braised Short Ribs
These Korean braised short ribs are the perfect comforting bowl of tender braised meat and vegetables. The braising liquid is spiked with the Korean fermented chili paste, Gochujang, along with soy sauce, palm sugar, wine, and stock. The meat is braised for 3 ½ hours until the meat is so tender it falls off the bone, and the braising liquid becomes a beautifully thick and fragrant ragù.
Ingredients
Short Ribs
5

lbs

bone-in short ribs

1 ½

tbsp

toasted sesame oil

4

cloves

garlic, minced

1- inch

knob

ginger, peeled and minced

3

carrots, diced

2

celery stalks, diced

1

yellow onion, thinly sliced

6

scallions, minced

1

red apple, grated

3 ½

tbsp

palm sugar

1

tbsp

Gochujang

¼

cup

soy sauce

1

cup

white wine

2

quarts

64 ounces chicken stock

Coconut Oil for searing

Cilantro for garnish
Instructions
Short Ribs
Preheat the oven to 350 degrees Fahrenheit

Season the short ribs with salt on both sides.

Heat a cast-iron Dutch oven over moderate heat and coat with coconut oil.

Allow for the oil to glisten, and then place the short ribs in the pot. Cook for 3-4 minutes until a golden-brown crust is achieved.

Flip the short ribs and continue to cook until both sides are golden brown.

Remove the short ribs from the pot and reserve.

Add the sesame oil to the pot and allow for it to glisten. Add the garlic, ginger, carrots, celery, and onion. Season with salt and cook until the onion is translucent, and the vegetables are tender around 3-4 minutes.

Add the scallions, apple, palm sugar, and Gochujang and cook for an additional 2 minutes, allowing the sugar and Gochujang to caramelize.

Add the soy sauce, wine, and stock and cover the pot, and place in the oven.

Cook for 3 ½ hours until the meat is tender, and the braising liquid has reduced by half and turned into a thick ragù. Season to taste with salt. Serve with some cilantro sprigs.
Nutrition
Calories:
731
kcal
Carbohydrates:
30
g
Protein:
63
g
Fat:
36
g
Saturated Fat:
13
g
Cholesterol:
172
mg
Sodium:
1213
mg
Potassium:
1581
mg
Fiber:
2
g
Sugar:
16
g
Vitamin A:
5253
IU
Vitamin C:
9
mg
Calcium:
67
mg
Iron:
7
mg