Below are the ingredients
Cherries: This vibrant summer fruit is wonderfully sweet and has just the right hint of sourness to balance these cups. Many people don't know; cherries are a "superfood" because of their long list of health benefits. They contain the hormone melatonin, which helps your sleep cycle. They are touted to be an energy booster and help to balance your PH levels. Cherries are also low in calories, as compared to other fruit. They contain a good amount of Potassium and vitamins B, C, D, and an antioxidant called anthocyanins, which lowers cholesterol levels. This fruit also has wonderful anti-aging properties and seen in so many skincare products. So eat up, and you'll feel fantastic and look younger!
Lemon: Lemon is another ESSENTIAL in my kitchen. You will never find me without these babies. Citrus acts as a "brightening agent," we say in the chef world. It helps spike tastes, and "pick it up," so you have more complexity and a rounded finish. It cuts the sweetness of the cherries in this preserves, and the acid helps break down the fruit.
Palm Sugar: This is one of my preferred sweetening agents, as it is unrefined sugar. This sugar has both a low glycemic index and low fructose levels. It contains antioxidants, minerals, is unrefined, and contains no chemical breakdown alterations or artificial ingredients. It is pure and simple!
Chia Seeds: Chia seeds are miraculous, because you can add them to any liquid and place them in the refrigerator, and after several hours, you have pudding! These seeds are high in fiber and low in calories. They do contain carbohydrates, but practically all of the carbs in these seeds are fiber. This fiber helps you feel satiated longer and promotes a healthy gut and digestive system. Chia seeds are a wonderful plant source of protein, and ironically contain more Omega-3 fatty acids than a portion of salmon. These omegas are fantastic for your hair, skin, and nails, and have a myriad of other amazing health contributions like fighting inflammation, lowering anxiety and depression, improving eye health…and so many more.
Coconut Milk: This non-dairy milk is loaded with incredible amounts of vitamins and minerals. It is high in saturated "healthy" fats and is touted to reduce high cholesterol due to its high level of Potassium.
Yogurt: I used Ícelandic Provisions Vanilla yogurt in these cups, which is a favorite of mine. This yogurt contains 1.5% milk fat, and the vanilla flavor pairs wonderfully with the cherries and almond butter. We also know, yogurt is a sensational probiotic, which helps lead to a healthy gut and digestive system. It also contains a long list of other health benefits such as Calcium, Potassium, Magnesium, and Vitamin B.
NOTE: If you would like to make a dairy-free version of these cups, coconut yogurt would be perfect!
Almond Butter: This butter contains good-healthy fats, which can help sustain your appetite for hours. It is categorized as monounsaturated fat, which is noted to help control blood sugar levels and help reduce heart disease. Almond butter also contains Vitamins E, iron, Calcium, and a healthy dose of fiber.
Toasted Coconut: I added a little special pop of toasted coconut as a garnish because I love the texture and crunch that it adds. This is, of course, optional, but I highly recommend it!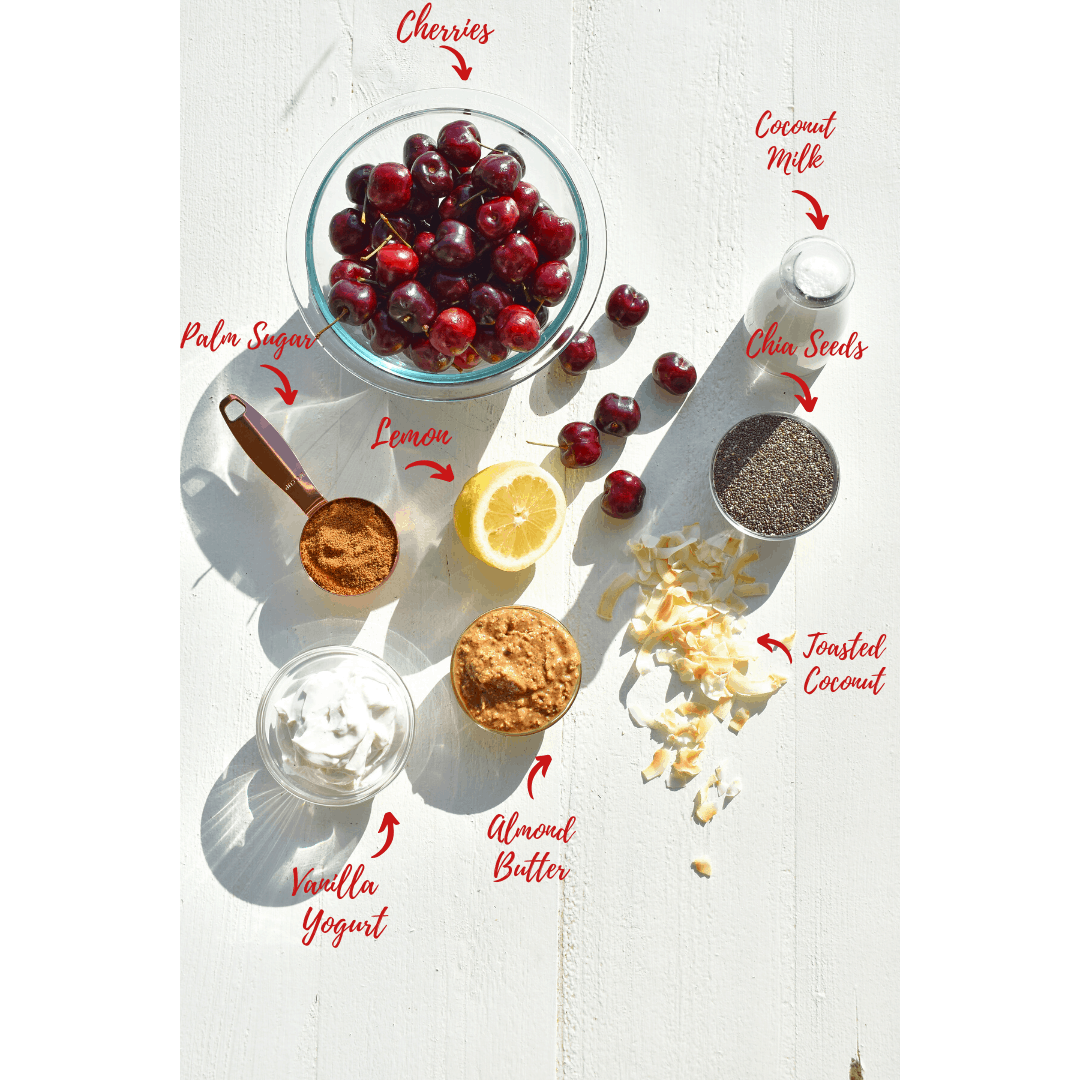 I like organic and natural almond butter. My favorite is getting it right out of the nut processing machines in healthy grocery stores. In doing this, I know that I'm only getting straight nuts and no other added preservatives or sugars.
Because this butter doesn't have any additives, I keep mine in the refrigerator. It helps preserve its shelf life.
Before making these cups, leave your butter out at room temperature for 30 minutes before layering. This will warm up the butter and make it easier to layer.
NOTE: You can mix in a tablespoon of coconut oil if your almond butter is hard and impossible to dollop. This will loosen the mixture and add a lovely sweet taste that compliments the other coconut flavors in this recipe. Also, coconut oil is another "healthy fat" that is wonderful for your body in moderation.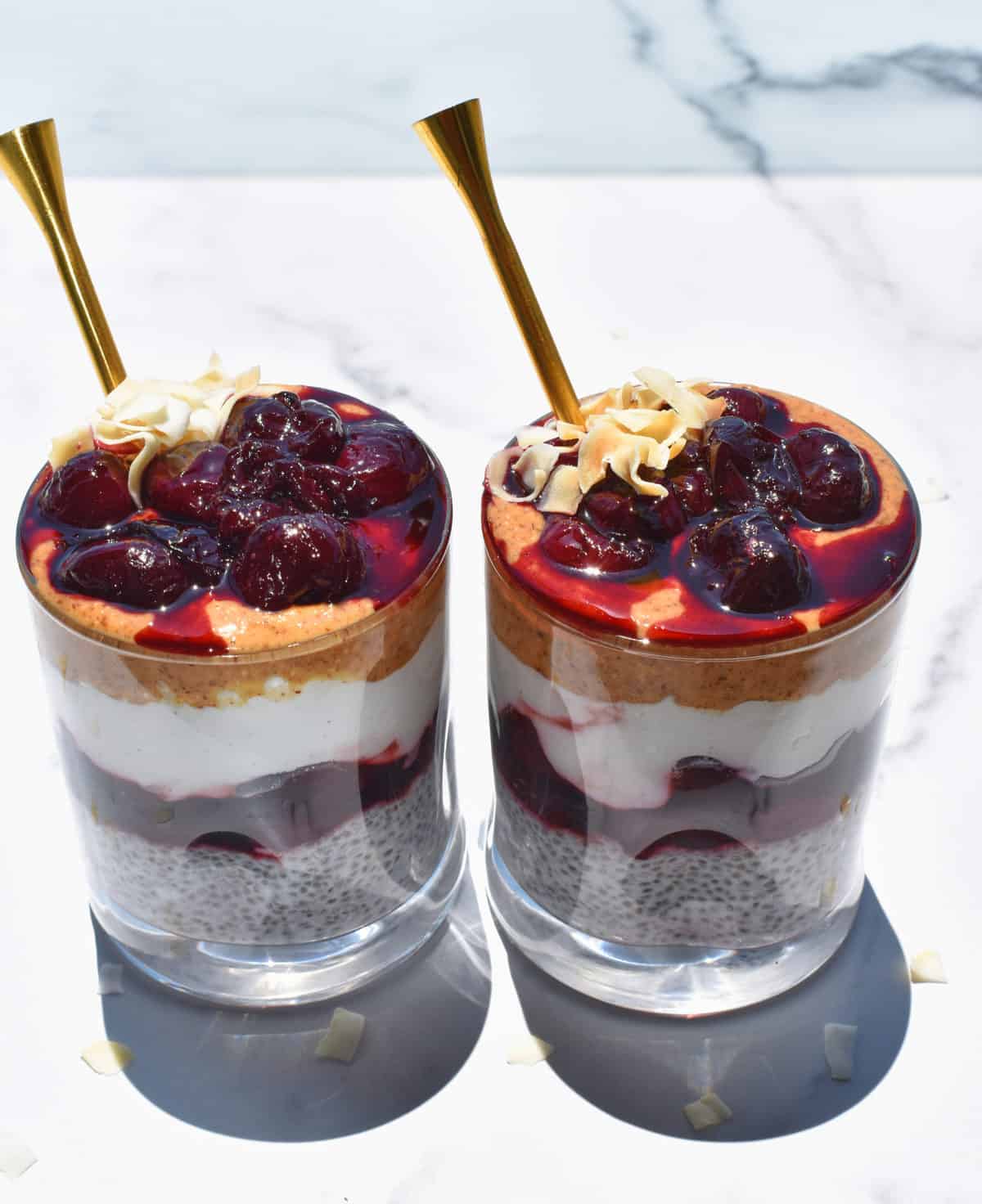 These cups will be an excellent brunch contribution if you can make a large batch of chia pudding! Your guests will thank you.
Or, have these cups for a healthy dessert. Either way, you won't be sorry.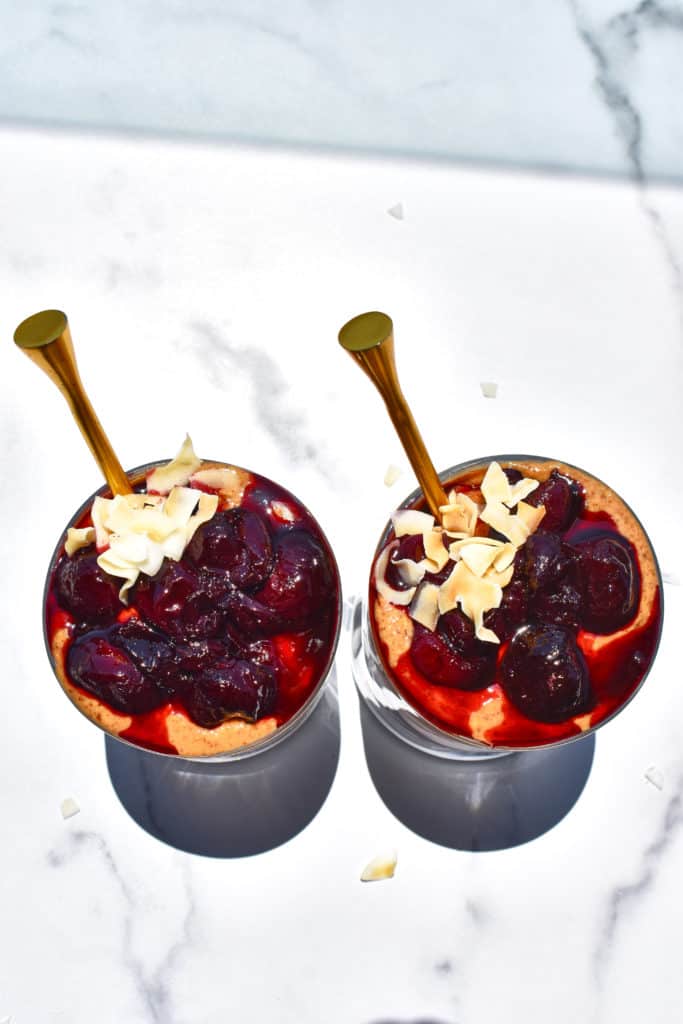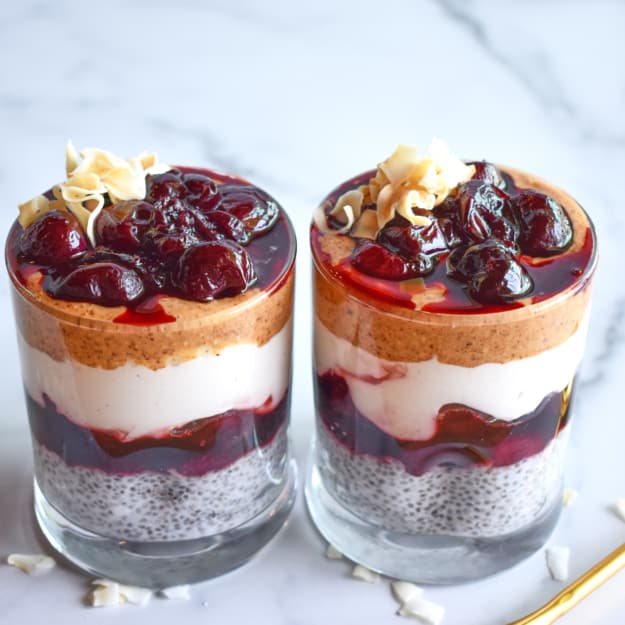 Coconut and Cherry Chia Pudding Cups
These glorious layered cups are perfect for breakfast or a healthy dessert. The cherries preserves are the ultimate standout and scream summer if you can get them fresh. You can use frozen cherries as well, but the cook time on the preserves will be slightly longer. Try your hand at layering and garnish with toasted coconut for a spectacular crunch!
Ingredients
Coconut Chia Pudding
¼

cup

chia seeds

1 ½

cups

coconut milk
Cherry Preserves
2

cups

cherries, pitted and stems removed

½

lemon, juiced

¼

cup

palm sugar
To Make Layered Cups
Vanilla Yogurt (if you want to bedairy-free, you can also use coconut yogurt!)

Almond butter

Toasted coconut
Instructions
Coconut Chia Pudding
Combine the chia and coconut milk and stir well to combine thoroughly.

Cover and refrigerate overnight. Reserve to make layered puddings.
 Cherry Preserves
Combine all ingredients in a small saucepan over moderate heat. Cook for 6-7 minutes until the cherries have broken down a bit, and the liquid has become thickened and syrupy.
To Make Layered Cups
Place about ½ cup of chia pudding in a glass jar or cup.

Top with a layer of cherry preserves, and then a layer of yogurt.

Finish with a layer of almond butter, another layer of cherry preserves, and sprinkle toasted coconut flakes on top.
Nutrition
Calories:
597
kcal
Carbohydrates:
56
g
Protein:
9
g
Fat:
43
g
Saturated Fat:
33
g
Trans Fat:
1
g
Sodium:
65
mg
Potassium:
803
mg
Fiber:
11
g
Sugar:
31
g
Vitamin A:
106
IU
Vitamin C:
26
mg
Calcium:
190
mg
Iron:
8
mg