The Ingredients Are Below
Eggs: I like to use the most organic eggs or fresh farm eggs that I can find. This recipe is all about the eggs, obviously…so quality is super important. You can tell if an egg is fresh if the yolk sits super high on the white and it is a bright orange/yellow.
Crème Fraîche: This is the secret ingredient in this recipe! The key to a perfect frittata is to have a little bit of either dairy to make the eggs a bit creamier and create the perfect base to hold your vegetables and cheese. I love crème fraîche because it is tart and pairs wonderfully with the goat cheese.
Shallots: Shallots are wonderful in this recipe because they become quite sweet when they are sauteed and add a lovely pop of color.
Baby Summer Squash and Baby Zucchini: If you have ever had these two straight out of the garden when they are small and petite, you know that they are incredibly tender and sweet. They are so delicate and delicious when picked young; they barely need any time to cook. For this recipe, I like to add them to the sauté pan after the shallots have achieved a translucent color, and only cook these vegetables until they are tender but still hold a crunch. If you overcook the Summer squash and zucchini, they will be limp and soggy in this frittata. So, make sure you only cook them one minute or two before adding the egg mixture.
Squash Blossoms: These are beautiful blossoms that produce zucchini, spaghetti squash, and other varieties of squash. You will find squash blossoms sold, either male or female. The female squash blossoms have a thicker, more engorged stem. The male squash blossoms have a thinner stem. Only the female blossoms will eventually produce squash, but both blossoms can be eaten. Whether you're preparing the male or female blossoms, the inner stamen should be removed before they are filled.
Goat Cheese: I love how the goat cheese just delicately melts into this frittata. It's lovely because you can dollop it over the frittata, and it holds its place with little cheese pockets.
Fresh Basil: The basil adds a lovely herbaceous quality and freshness that cuts through the frittata' richness and adds a lovely "pop" as a garnish.
Olive Oil: I use a bit of olive oil to sauté the vegetables and a bit of olive oil as a finishing drizzle over the frittata to serve. Often, I have several different olive oils in my pantry. I use virgin olive oil of decent quality for sautéing and more expensive olive oil for finishing. In this case, I would use for this recipe.
Kosher Salt: Using a high-quality Kosher salt is an absolute MUST for cooking! It will provide a better final product! As stated above, the salt acts as a "cooking agent," helping to cook the beets from the inside out.
THE EGG TO DAIRY RATIO FOR THE BASE OF THE FRITTATA
Generally, I use a ratio of six eggs to every ¼ cup of dairy for all my frittatas.
In this recipe, I use crème fraîche, but milk, sour cream, or yogurt will all work as well.
The dairy helps create a lusciousness to the eggs that produce an excellent thick base to hold the vegetables and cheese.
Be careful not to use too much dairy; your frittata will be too liquidy and not have enough strength to make an egg base. If you don't use enough dairy, the frittata will not have that creamy lusciousness that it deserves.
CLEANING THE SQUASH BLOSSOMS
Whether your squash blossoms are male (thinner stem) or female (thicker and more engorged stem), it is essential to clean the stamen or stigma out of the inside of the blossom before cooking.
The male squash blossoms have a single pollen-covered stamen, and the female blossoms have a stigma inside, which is more of a flowered cluster inside the blossom.
The blossoms are quite delicate and can be easily ripped, so I use tweezers to pick out the stamen and stigma.
Both male and female blossoms are equally as delicious; just make sure they are prepped properly and ready to cook.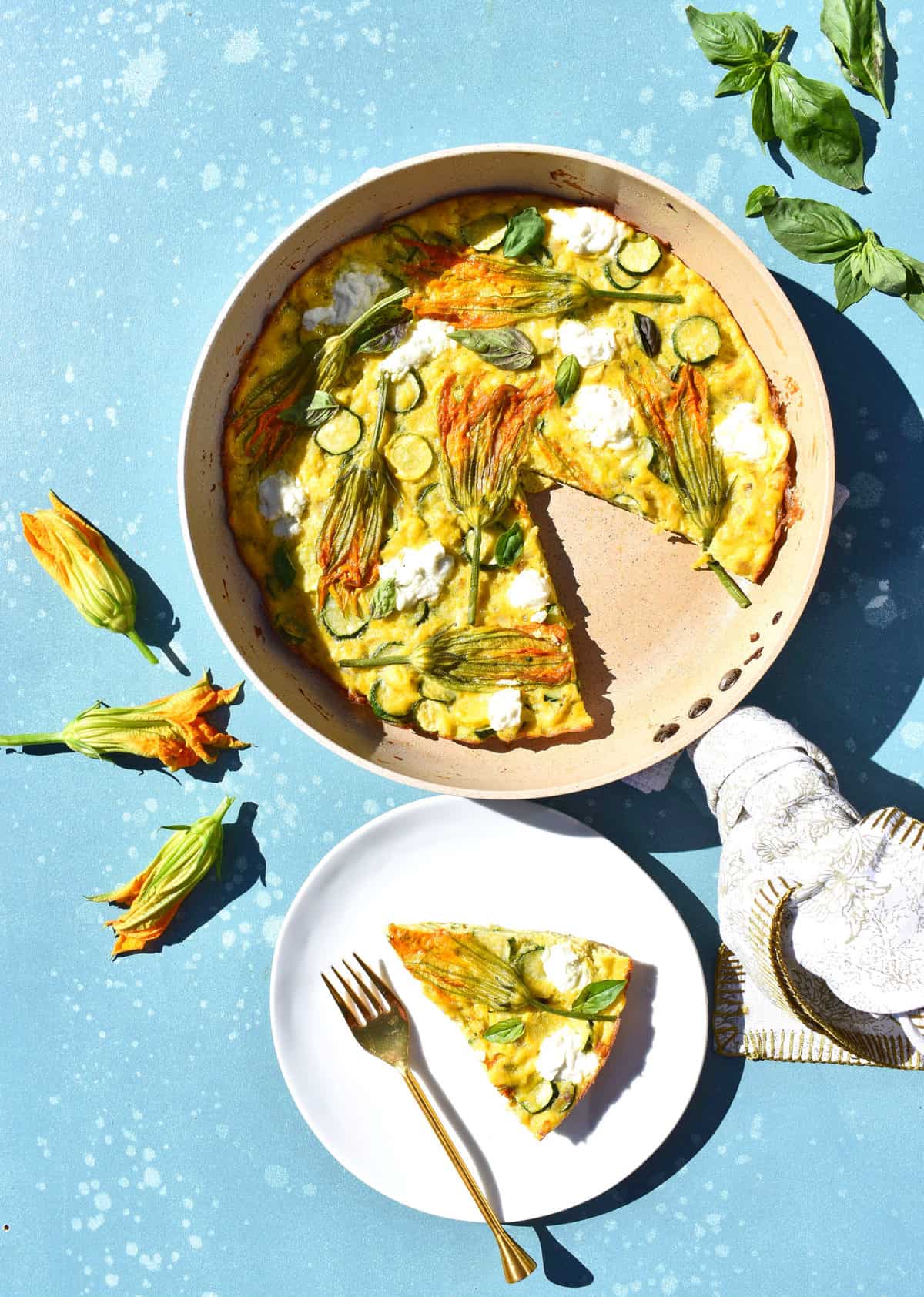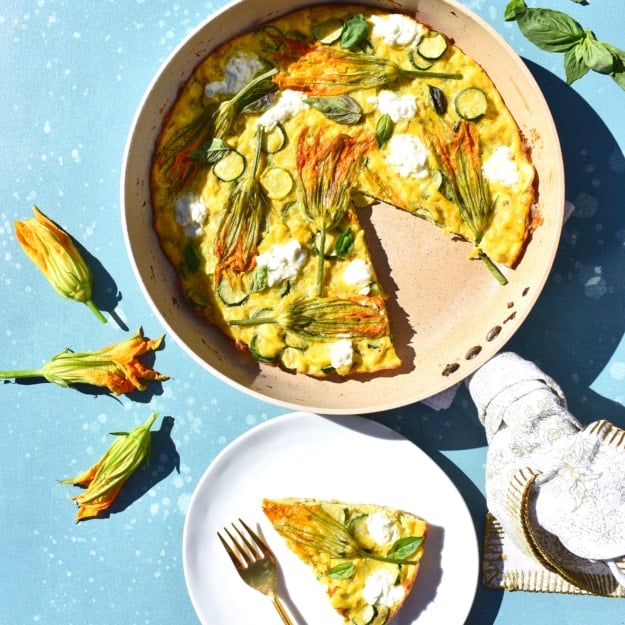 Squash Blossom and Goat Cheese Frittata
This frittata has such a gorgeous presentation that sometimes it's a shame to slice into it! Summer squash, zucchini, and shallots are sauteed and then folded into the egg base that is leavened with crème fraîche. The squash blossoms and goat cheese are dotted over the egg/vegetable base, and the dish is garnished with fresh basil. The result is not only beautiful but outrageously delicious! The whole dish can be made in under 45 minutes and will indeed become a household favorite!
Ingredients
Frittata
6

eggs

¼

cup

crème fraîche

2

shallots, minced

3

baby Summer squash, or 1 standard size, cut into ¼ inch rounds

3

baby zucchini, or 1 standard size, cut into ¼ inch rounds

7 to 8

squash blossoms, cleaned (stamen removed)

¼

cup

goat cheese

Fresh basil for garnish

Kosher salt

Freshly cracked black pepper
Instructions
 Frittata
Preheat oven to 350 degrees Fahrenheit.

Crack the eggs in a medium-sized mixing bowl and add the crème fraîche.

Lightly beat, and season to taste with a pinch of salt and pepper.

Heat a large sauté pan over moderate heat and coat with olive oil.

When the oil is simmering, add the shallots with a pinch of salt. Sauté the shallot until translucent, around 3-4 minutes.

Add the Summer squash and zucchini to the pan and cook for an additional 2-3 minutes, until the vegetables have softened.

Reduce the heat to low and add the egg mixture. With a silicone spatula, constantly stir for 3- 4 minutes, moving the egg base around the vegetables and around the pan to create egg threads.

Turn the heat off and lay in the squash blossoms and dollop the goat cheese around the pan.

Place the pan in the oven and cook for 15-20 minutes until the edges are slightly golden and the eggs have set.

Garnish the dish with fresh torn basil and a drizzle of olive oil.
Nutrition
Calories:
223
kcal
Carbohydrates:
13
g
Protein:
17
g
Fat:
13
g
Saturated Fat:
6
g
Trans Fat:
1
g
Cholesterol:
260
mg
Sodium:
166
mg
Potassium:
1223
mg
Fiber:
4
g
Sugar:
5
g
Vitamin A:
1675
IU
Vitamin C:
77
mg
Calcium:
132
mg
Iron:
3
mg