Below are the ingredients
Rice Vermicelli Noodles: The beauty of these noodles is that they are made of rice flour and are completely gluten-free. Thus, they are perfect for any dinner party or soirée, as they are safe to eat under just about any dietary restriction. They also have a slightly lower carbohydrate and calorie count than wheat or egg noodles.
Tofu: Medium-to firm tofu is best for this recipe, as it is seared and will hold its shape. The marinade is so delicious on this tofu; picky eaters won't even know you're serving them a vegan option. Tofu is high in protein and contains nine essential amino acids and is packed with vitamins and minerals.
Garlic: The garlic in the tofu marinade adds the perfect amount of heat that pairs well with the pungency of the fish sauce and the sweetness of the palm sugar.
Fish sauce: This is a liquid that is made from salted and fermented fish. It is a staple in Southeast Asia that provides salted pungency to dishes. The flavor comes from the fermentation process and is so pungent; it's usually not eaten alone. Instead, it's most always paired with sweet and acidic flavors.
Palm Sugar: This is one of my preferred sweetening agents, as it is unrefined sugar. This sugar has both a low glycemic index and low fructose levels. It contains antioxidants, minerals, is unrefined, and contains no chemical breakdown alterations or artificial ingredients. It is pure and simple!
Lime: The lime is crucial in this recipe to offset the pungency of the fish sauce and the sweetness of the palm sugar. Citrus is a "brightening agent" and adds depth and vibrancy to this dish.
Basil: Traditionally, this dish is made with Thai basil, but regular basil is just as delicious! The basil adds a lovely herbaceous quality to the salad that rounds out the palate.
Bee Balm: This beautiful red flower is actually an herb and is completely edible! It's in the mint family and is loaded with other health benefits such as treating nausea, indigestion, and inflammation. Regular mint is obviously a suitable substitute.
Cucumber: Cucumbers are crisp, refreshing, and delightful in this salad. There are many different varieties of cucumbers, but my favorites are the Persian, Japanese, and cucumbers straight out of a garden! I always look for the best crunch and texture.
Carrots: Carrots are quite fibrous, and a bit hard to chew, so making them into shaved ribbons is best for this salad. It makes them most palatable and desirable for eaters.
Green Beans: I added green beans to this salad because they were fresh and ready to pick from the garden. I love the crunch that they add when eaten raw! Again, make sure to chop them into small pieces.
Beets: Beets add fantastic color to this salad. The best way to eat them raw is to use a mandolin to achieve paper-thin slices. If you don't have a mandolin, you can use a vegetable peeler.
Snap Peas: Snap peas are one of my most favorite summer vegetables. They add a sweet crunch that is absolutely sensational in this salad.
Peppers: I chose to use green bell peppers, but any color will work. It's best to slice them into thin strips.
Tomatoes: I love tomatoes in this salad because they mesh so wonderfully with the noodles and sauce and add another element of natural sweetness to the dish.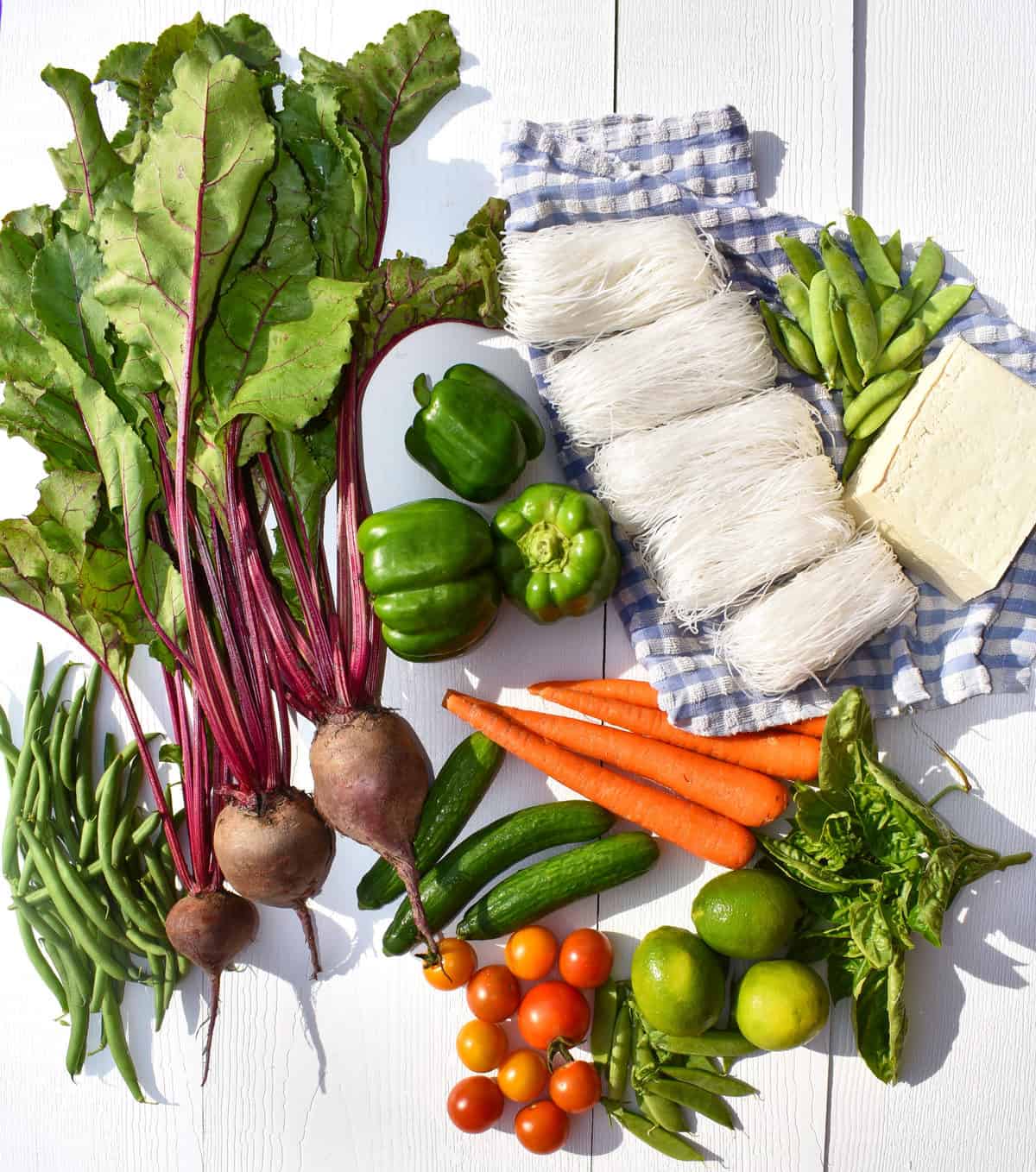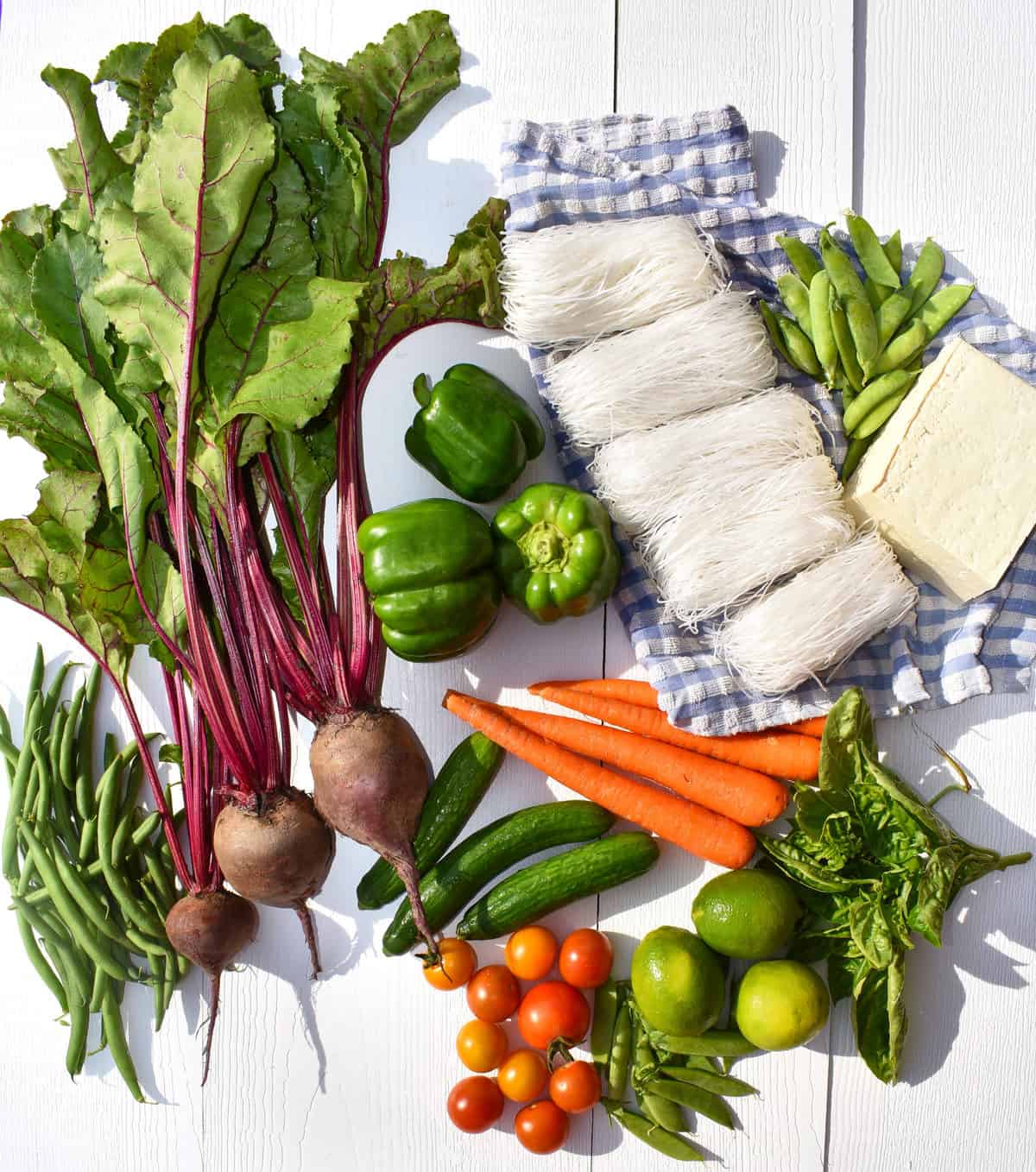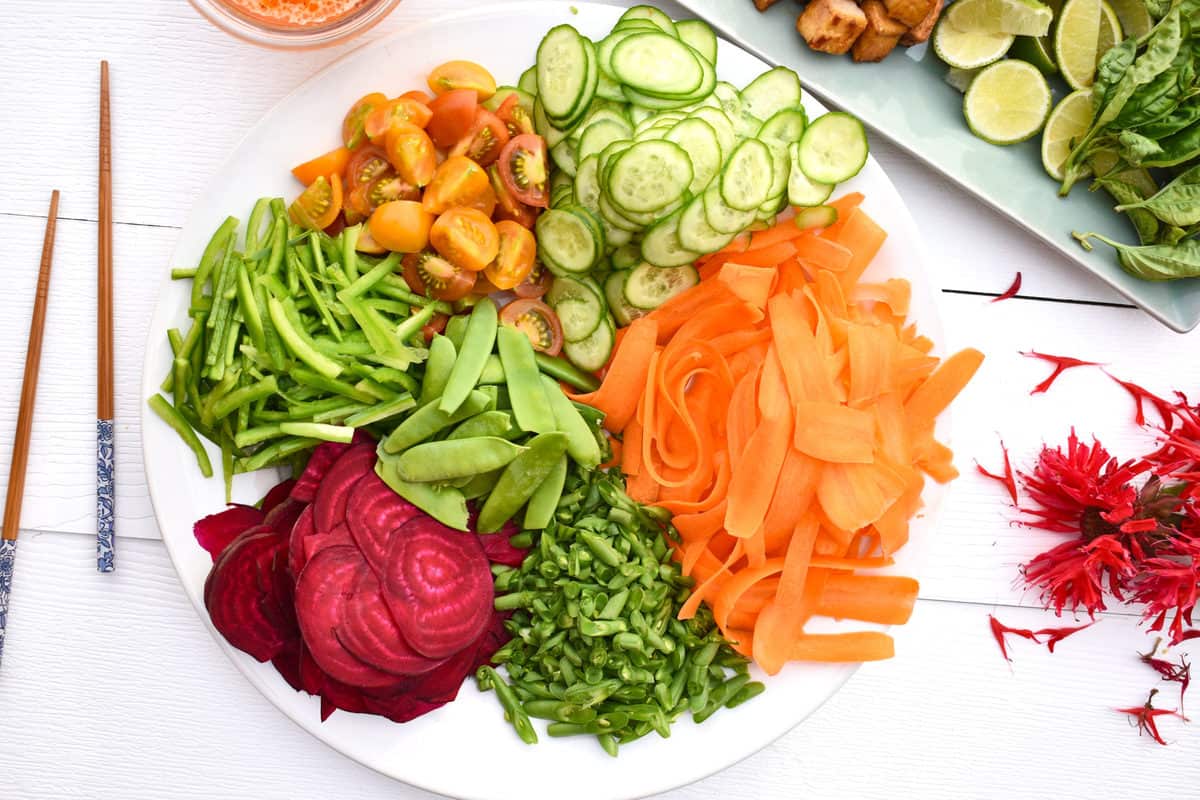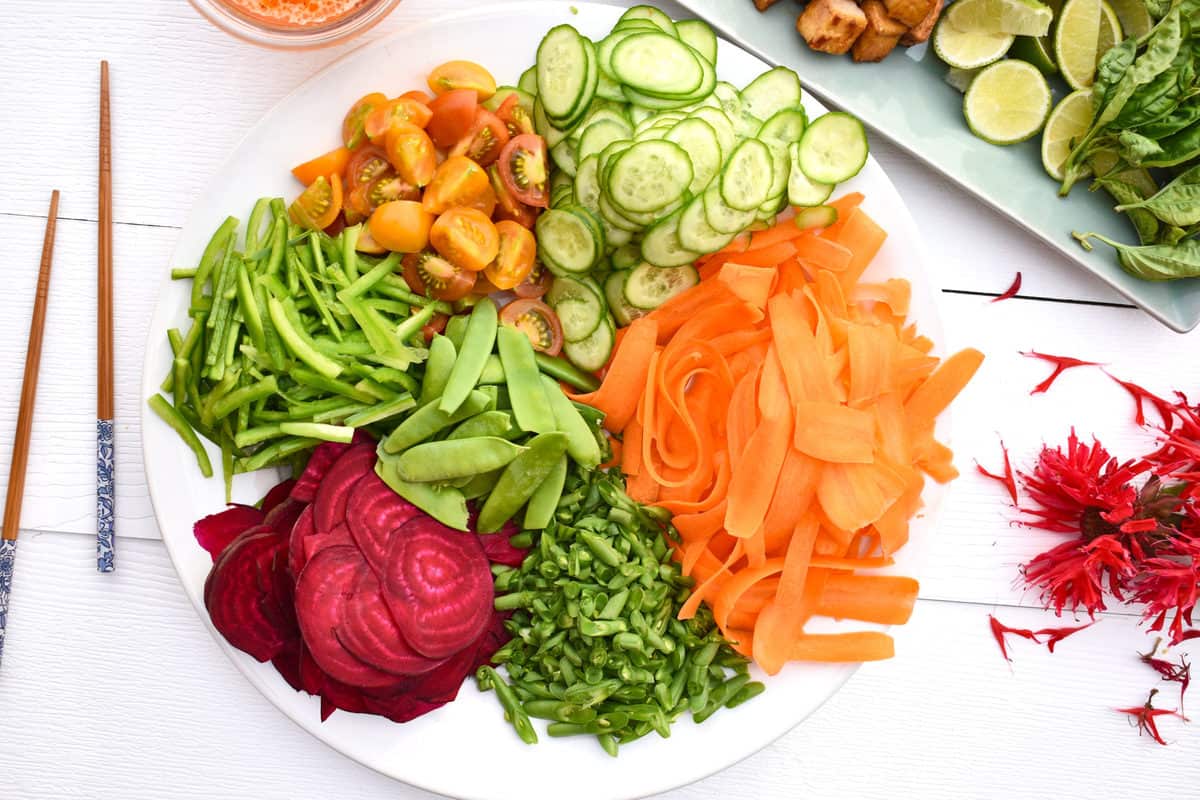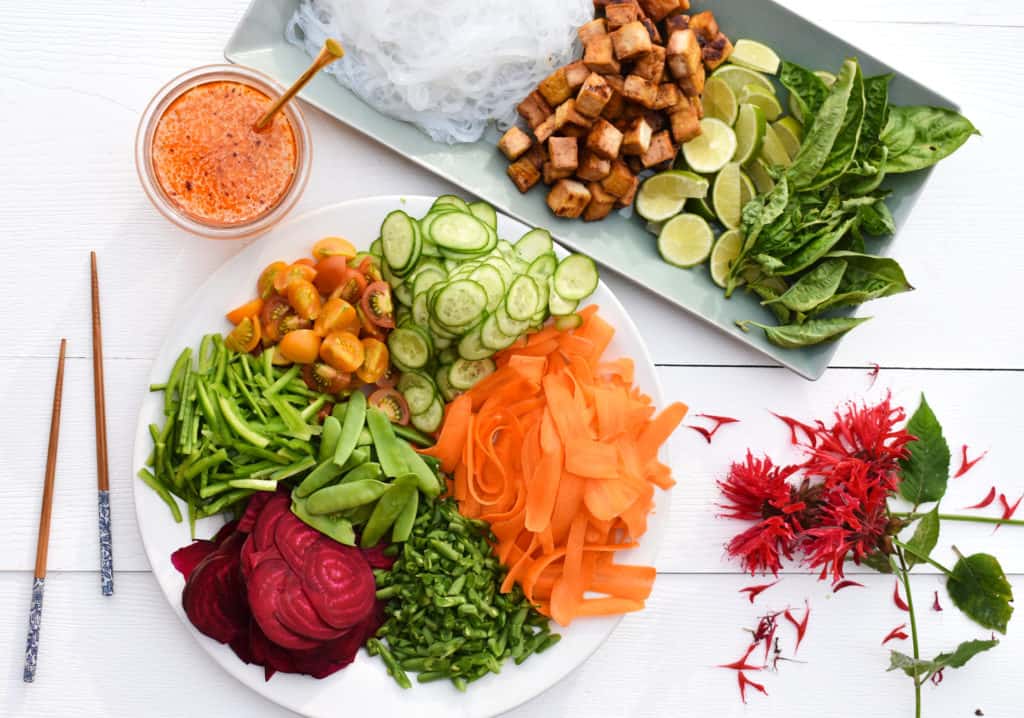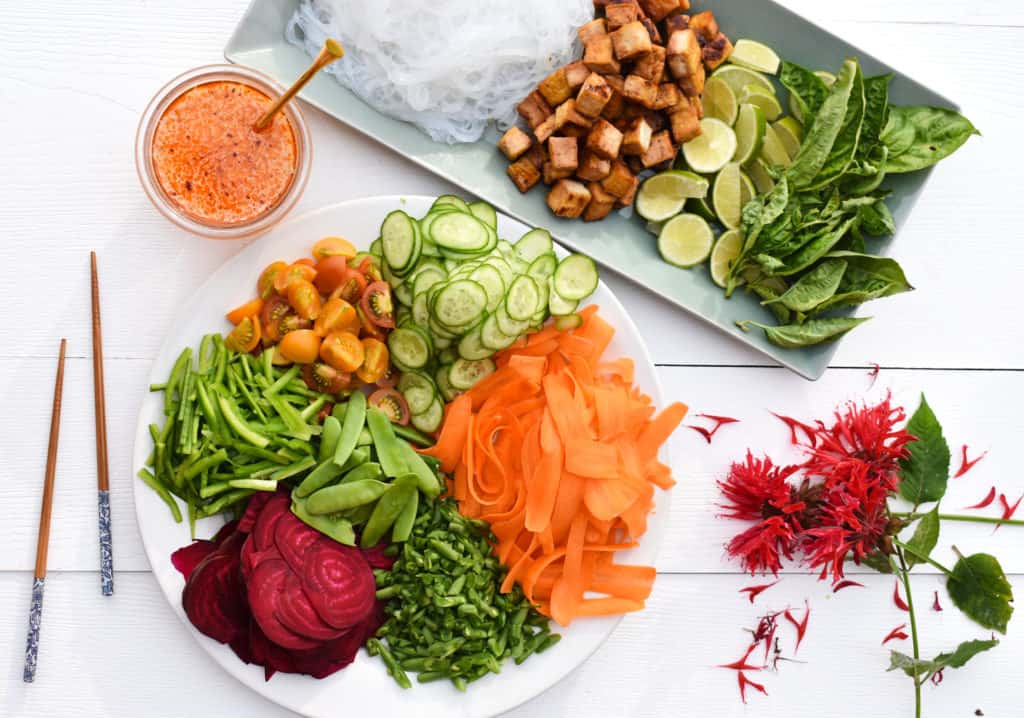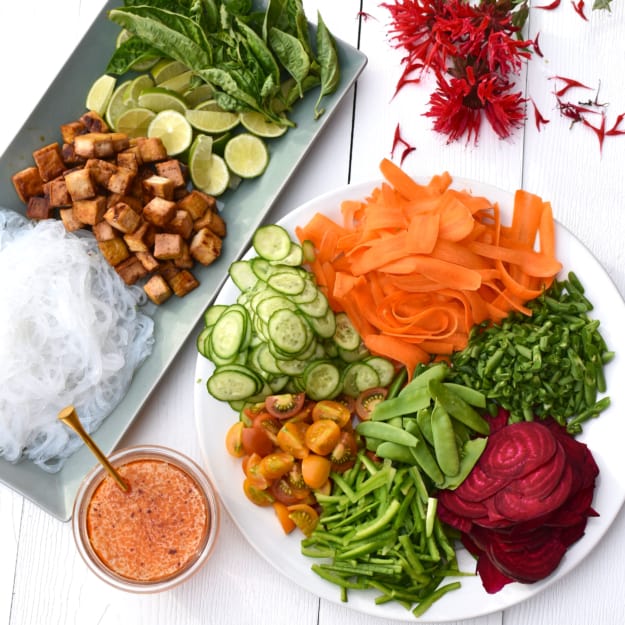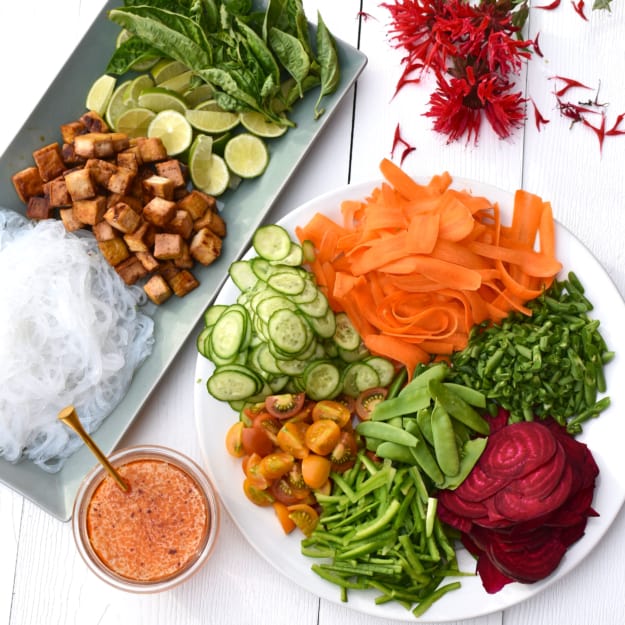 Vegan Vietnamese Bún Bowls
These sweet and spicy vegan, gluten-free, noodles bowls area perfect in the summer heat when you're craving a healthy and satiating cold noodle salad! I have outlined an array of raw vegetables below, but these noodles and sauce taste delicious with any vegetables you have in your kitchen! The marinated and seared tofu adds the perfect amount of protein to keep you satiated and is so yummy even meat-eaters will ask for more. I love to display all the ingredients separately, creating a colorful presentation for guests to pick and design their bowls.
Ingredients
Bún Bowls
1

16 oz package

vermicelli noodles

1

14 oz block

medium-firm tofu, cut into ½ inch cubes

3

cloves

garlic, sliced

1/4

cup

fish sauce

4

tbsp

palm sugar

1

lime, juiced (plus extra limes cut into wedges for garnish)

½

cup

basil leaves, chiffonade

½

cup

bee balm or mint

3

Persian cucumbers, thinly sliced into rounds

4

carrots, sliced into ribbons with a vegetable peeler

1

cup

green beans, chopped

3

red beets, thinly sliced into rounds (using a mandolin or vegetable peeler)

1

snap peas, chopped

3

green Bell peppers, thinly sliced

1

cup

cherry tomatoes, cut into quarters

Coconut oil

Lime wedges for garnish
Nuoc Cham Sauce
2

cloves

garlic, minced

1/2

cup

cold water

3

tbsp

palm sugar

3

tbsp

rice vinegar

2

limes, juiced

1

Thai chili, minced (or one teaspoon hot chili sauce) 
Instructions
Bún Bowls
Boil water in a pot or hot water kettle and submerge the noodles for 3-5 minutes, until the noodles are slightly transparent and tender.

Drain them and rinse thoroughly under cold water. Reserve for plating.

In a medium-sized bowl, combine the tofu, garlic, fish sauce, palm sugar, and lime. Allow this mixture to marinate for 30 minutes to 1 hour. (This can also be done ahead of time and marinate overnight).

Take the tofu out of the marinade, dry on paper towels, and reserve the liquid.

Heat a large sauté pan over moderate heat and coat with coconut oil.

When the oil glistens, add the tofu to the pan in a single layer.

Do not touch or move the tofu, allow to cook for 3-5 minutes on this side, until you start to see a golden browned color peeking around the edges.

Flip the tofu and continue to cook until all sides are golden brown, about 3-5 more minutes.

Add the reserved marinated liquid to the tofu and toss to combine. All the tofu should be coated in the sauce. Cook for an additional 1-2 minutes until little no liquid remains.

Serve the tofu with the chopped vegetables, cold noodles, Nuoc Cham sauce, and extra lime wedges for garnish.
Nuoc Cham Sauce
Combine all ingredients in a medium-sized mixing bowl.

Reserve for noodles and vegetables. 
Nutrition
Calories:
131
kcal
Carbohydrates:
32
g
Protein:
3
g
Fat:
1
g
Saturated Fat:
1
g
Sodium:
857
mg
Potassium:
603
mg
Fiber:
5
g
Sugar:
18
g
Vitamin A:
7595
IU
Vitamin C:
74
mg
Calcium:
74
mg
Iron:
2
mg