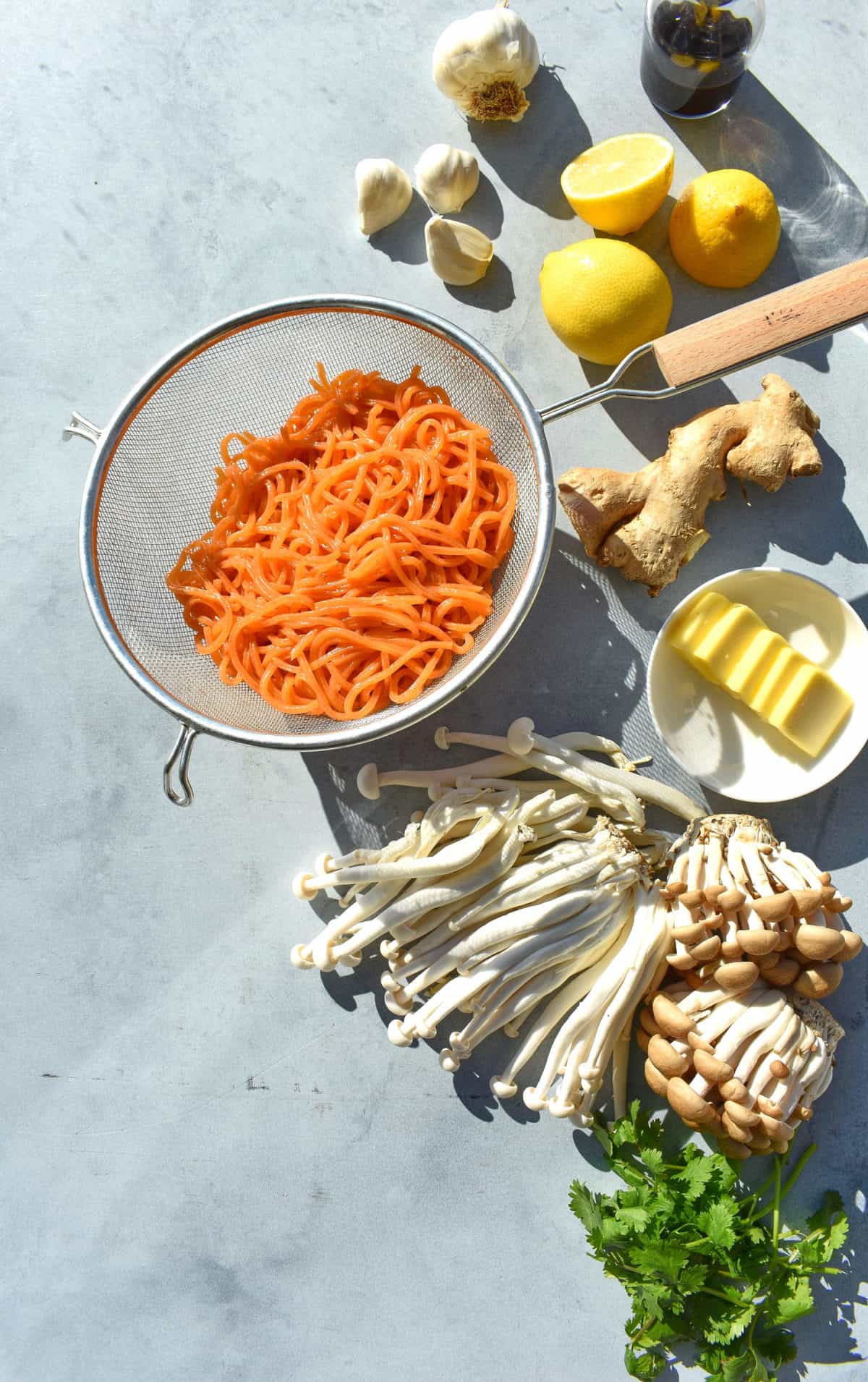 Ingredients are below
Carrot Noodles: These are a kind of shirataki noodles that are made from the Japanese, Konjac plant. In addition to the Konjac, carrot, and millet are added to these particular noodles. The addition of carrots is what gives these noodles their beautiful orange color.
Unsalted Butter: The butter in this recipe adds a lovely glossiness and fat to the noodles and mushrooms. The butter melts into the garlic, ginger, and soy sauce, creating a richer sauce for the noodles. I only use unsalted butter for baking and cooking! Don't get me wrong; salted butter is quite delicious. However, I only use it for already baked and cooked items like a warm scone or a perfect piece of toast. In the baking and cooking process, you want FULL control over your salt addition, and it needs to be added in the correct place for optimal results.
Garlic and Ginger: This combination adds the perfect amount of aromatics to permeate the noodles to provide fantastic flavor and subtle heat.
Bunashimeji Mushrooms: These are popular mushrooms in Japan and are often called "Beech" mushrooms because they grow under Beech trees. They come in brown and white varieties and have a delicate, smooth, and squishy body when cooked, making them a delicious textural addition to the noodles. They can be found in most Japanese markets. If you cannot find these mushrooms, Shiitake or Cremini are great substitutes.
Seafood Mushrooms: These are long slender white Japanese mushrooms that are in the Enoki mushroom family. They are also referred to as "Golden Needle" mushrooms or "Winter" mushrooms. They also have a fabulous texture when cooked and can be found in most Japanese markets. Again, Shiitake would probably be the closest substitute, which would work just as well in this recipe.
Soy Sauce: I always use low-sodium soy sauce to be healthier. However, any soy sauce will work for this recipe. Tamari is also fantastic! The soy sauce provides the noodles' sauce as it is paired with the garlic, ginger, butter, and lemon.
Lemon Juice and Lemon Zest: The lemon works as a brightening agent, helping lift the sauce and give it a nice acidic "punch." The lemon and zest provide these noodles with more depth and create a fantastic flavor with the other sauce elements. Trust me, the lemon in this recipe is the secret ingredient that makes these noodles downright addictive!
Cilantro: The cilantro sprigs for garnish gives these noodles a lovely freshness and herbaceous quality. It is entirely optional.
THE MIRACLE POWER OF SHIRATAKI NOODLES
Shirataki noodles can be found plain or in flavors such as spinach, carrot, or pumpkin.
Regardless of the flavor, they are all somewhat translucent, slippery, and incredibly healthy.
The word shirataki means "waterfall" in Japanese due to their texture and appearance.
You can find them in most Japanese markets in the refrigerated section in small packages held with water. They are also found in organic grocery stores located by the tofu.
These noodles are often referred to as "miracle noodles" because they are practically calorie and carbohydrate free! They are also gluten-free and vegan. They have become widely popular with the Keto diet surge in America but have been popular throughout Japan for hundreds of years.
HOW ARE THESE NOODLES CALORIE AND CARBOHYDRATE FREE?
These noodles are made from the Konjac plant, which is common throughout Japan. This plant has a tuber-like corm (this is the swollen part of an underground stem) made of glucomannan starch.
The starch extracted from this corm is what is used to make the Shirataki noodles. It is known to be soluble dietary fiber.
All fibers pass through your immune system without being digested or broken down. Soluble fibers dissolve in water and create a gel that can improve your digestion.
The high fiber levels of the Konjac plant helps to lower cholesterol and glucose levels and regulate digestion.
These noodles are made of roughly 3% of the glucomannan fiber and 97% water.
Essentially, they pass through the digestive system quite slowly and make you feel satiated longer. The gel-like fiber of glucomannan retains water and slows down digestion.
Your body takes the glucomannan fiber, turns it into fatty acids, and produces one calorie per one gram of fiber, a one-to-one calorie-to-fiber ratio.
A four-ounce serving of shirataki noodles contains roughly 1-3 grams of glucomannan fiber. This ratio means that your body will break down this fiber faster than it can produce calories.
Thus, this is how these noodles become calorie and carbohydrate free!
They are also completely gluten-free and vegan.
WHY DO THES NOODLES HAVE AN ODOR AND ARE THEY MADE FROM YAMS?
The Konjac plant is also known as "devil's tongue" or "elephant yam."
As stated above, the Konjac plant has a corm or swollen tuber-like bulb that grows under the ground.
The nicknames are derived from the putrid odor that the plant gives off and the shape of the umbrella leaves that resemble elephant ears.
The plant has a natural odor that attracts insects and aids in the pollination process.
The glucomannan starch derived from the corm retains some of this odor and smells somewhat "fishy."
These noodles are packaged in water, and the water absorbs the glucomannan starch odor.
However, this smell can easily be eliminated if the noodles are drained from their packaged and thoroughly rinsed!
Do not be off-put. The noodles have not soured or gone bad…it is just the starch you are smelling.
Because these noodles are made from the starch of the corm, they are not technically yams.
The corm of the Konjac plant is colloquially called a yam because it resembles this vegetable. Thus, they are not in the potato/yam family and do not possess the same genetic makeup or nutritional background.
WHAT DO SHIRATAKI NOODLES TASTE LIKE AND HOW DO YOU COOK THEM?
Because these noodles are made up of 97% water and only 3% starch, as stated above, they have minimal flavor on their own.
Instead, they absorb any flavor of the dish they are cooked in.
These noodles should be THOROUGHLY rinsed from their package to remove the Konjac plant's odor. They are ready to be added to any hot liquid for soup or sautéed with any vegetables and ingredients for any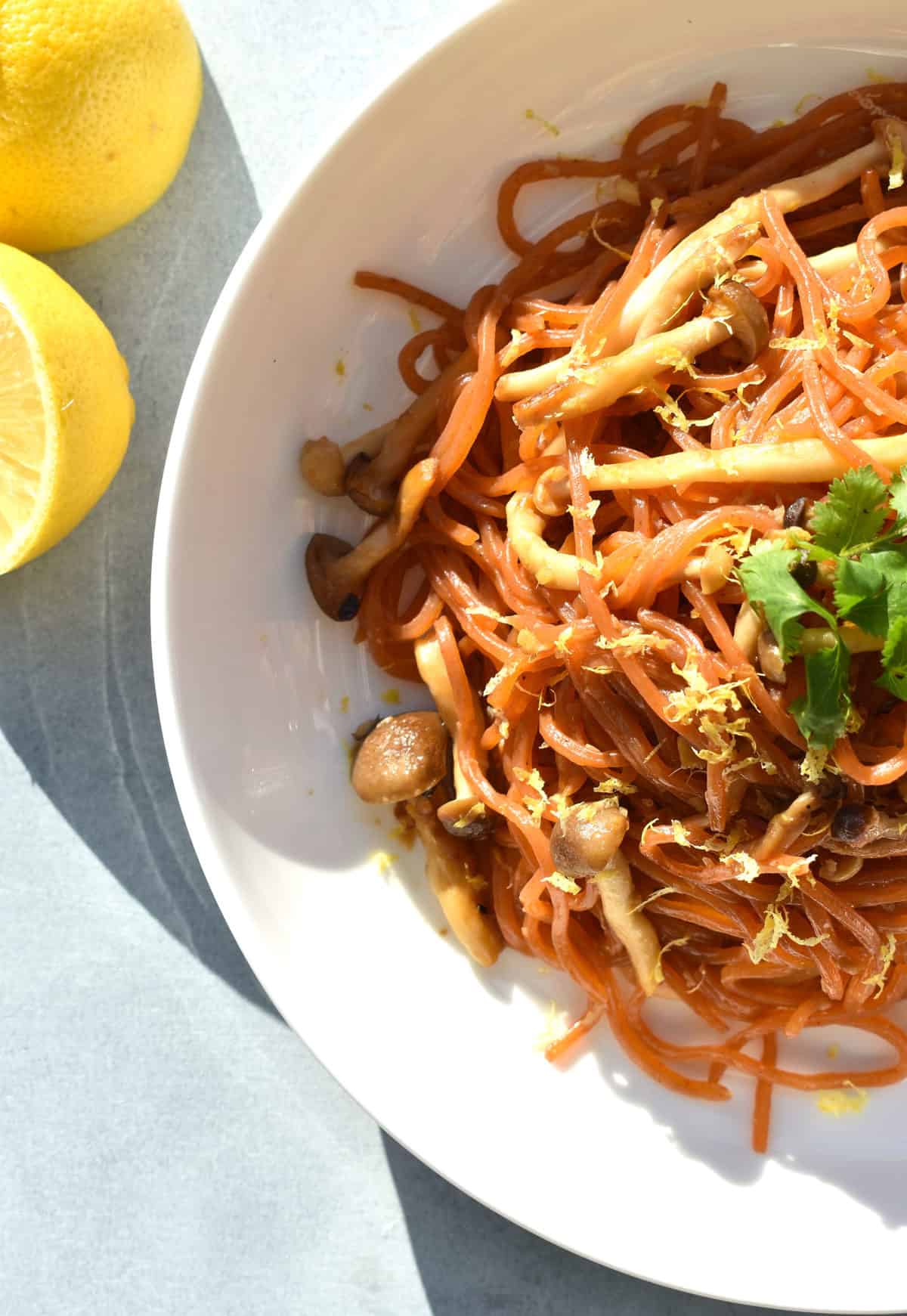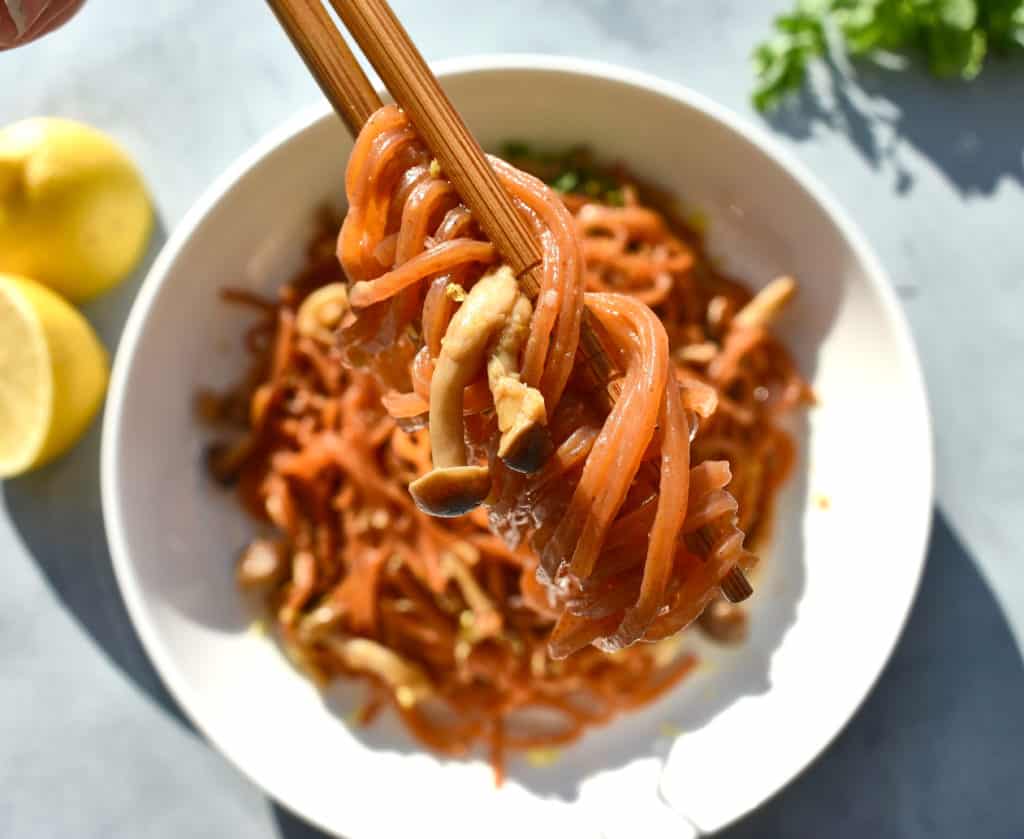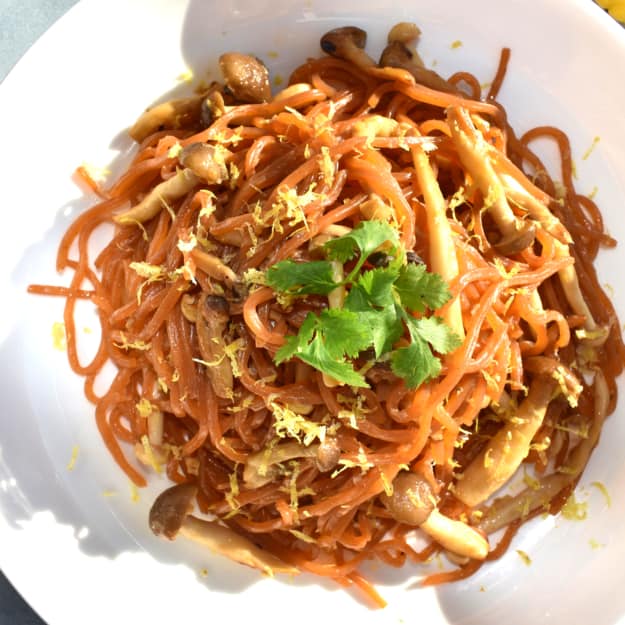 Soy-Butter Carrot Noodles with Mushrooms
This dish is made with incredibly healthy shirataki noodles. The noodles are tossed with golden brown mushrooms and tossed in an amazingly addictive soy garlic butter. Lemon juice and zest add an acidic pop with a freshness of cilantro as the final garnish. The whole dish can be made in less than thirty minutes, and your waistline will thank you, as these noodles are practically devoid of calories and carbohydrates. So, get slurping!
Ingredients
Soy Butter Noodles
2

packages

carrot Shirataki noodles

4

tbsp

unsalted butter

3

large cloves

garlic, minced

1-

inch

piece ginger, peeled and minced

1

3.5 oz package

Bunashimeji mushrooms, (brown or white), fibrous end of stems removed

1

5 oz package

Seafood mushrooms, ibrous end of stems removed

¼

cup

soy sauce

2 ½

tbsp

fresh lemon juice and zest of 1 lemon

Cilantro sprigs for garnish
Instructions
 Soy Butter Noodles
Drain the noodles in a fine-mesh strainer and rinse thoroughly under cold water. Reserve.

Heat 2 tablespoons of butter in a large sauté pan over moderate heat. Add the garlic and ginger and sauté for 1-2 minutes to allow the flavors to infuse into the butter.

Add both kinds of mushrooms and continue to cook until the mushrooms have softened and caramelized a bit, about 2-3 minutes.

Add the drained noodles, additional 2 tablespoons of butter, soy sauce, and lemon juice, zest, and toss to combine. Cook for 2-3 more minutes until the noodles are heated, and all elements are thoroughly combined.

Serve with cilantro sprigs.
Nutrition
Calories:
234
kcal
Carbohydrates:
6
g
Protein:
4
g
Fat:
23
g
Saturated Fat:
14
g
Trans Fat:
1
g
Cholesterol:
60
mg
Sodium:
1625
mg
Potassium:
130
mg
Fiber:
1
g
Sugar:
1
g
Vitamin A:
704
IU
Vitamin C:
11
mg
Calcium:
26
mg
Iron:
1
mg