Below are the ingredients.
Raspberries: Using fresh raspberries makes these bars magical. You can really taste the natural berry in every bite and control the amount of sugar you are using by making this homemade jam. These bars do include the seeds from the berries as they are all-natural. However, if you don't prefer seeds, you can pass the jam through a fine-mesh strainer to take the seeds out.
Lemon: A bit of lemon juice is used in the jam to round out the berries' sweetness. The citrus acts as a "brightening agent," bringing out the natural flavors from the berries and elevating the jam.
Palm Sugar: This is one of my preferred sweetening agents, as it is unrefined sugar. This sugar has both a low glycemic index and low fructose levels. It contains antioxidants, minerals, is unrefined, and contains no chemical breakdown alterations or artificial ingredients. It's just pure and simple!
Pectin: Pectin is used to thicken the jam. This ingredient helps round out the jam and make it spreadable and not as liquidy over the oat mixture.
AP Flour: I always use a high-quality flour such as King Arthur for baking. The results are always fantastic!
Extra Thick Rolled Oats: The extra thick rolled oats give these bars more body and texture. They help make a thicker crust for the jam to sit on and provide a better and more rounded "mouth feel" with every bite. My preferred brand for this is Bob's Red Mills.
Kosher Salt: Kosher salt is a must for all baking and cooking! It is iodine-free and is of higher quality than regular table salt. Also, the coarseness of the grain creates a better platform for the baking and cooking process.
Unsalted Butter: I only use unsalted butter for baking and cooking! Don't get me wrong; salted butter is quite delicious. However, I only use it for already baked and cooked items. In the baking process, you want FULL control over your addition of salt, and it needs to added in the correct place for optimal results.
Toasted Coconut Granola: I am pretty obsessed with toasted coconut. The flavor profile goes marvelously with the other elements in these bars and adds an extra special pop of flavor. Additionally, most good granola has delicious seeds to add texture on top of the bars. One of my all-time favorite granolas is Backyards Toasted Coconut Granola. Get it and use it for this recipe…you can thank me later.
Cooking Spray: I try to buy an organic brand and use this only for baking and NEVER for sautéing. It's easy and efficient for quickly spraying baking pans or trays. However, I would never use it in the cooking process to replace the needed flavor profiles of liquid oil or butter.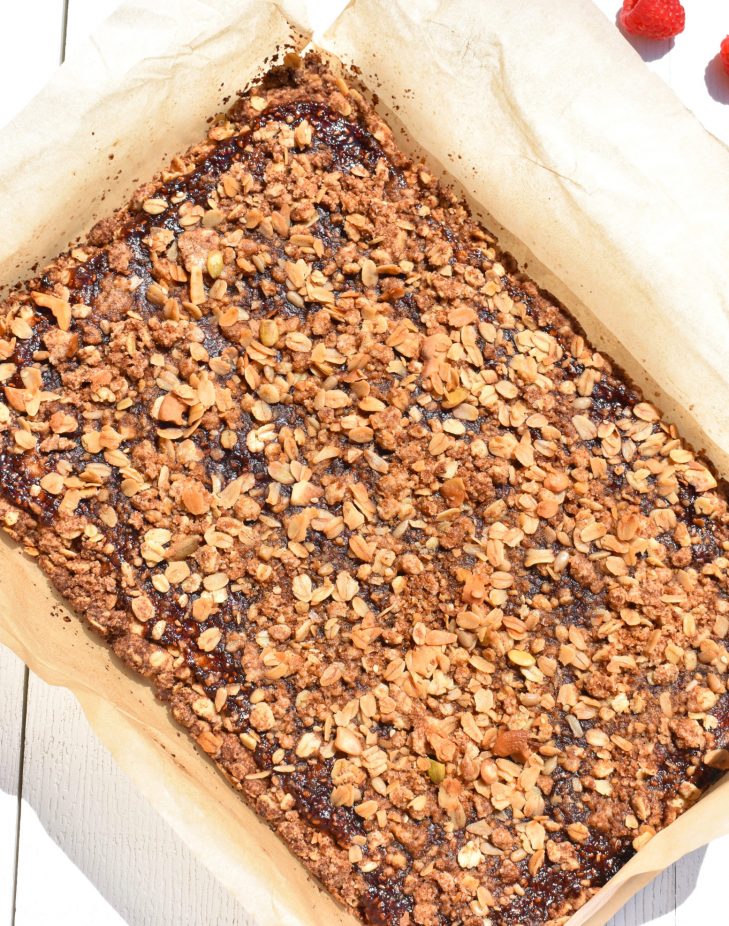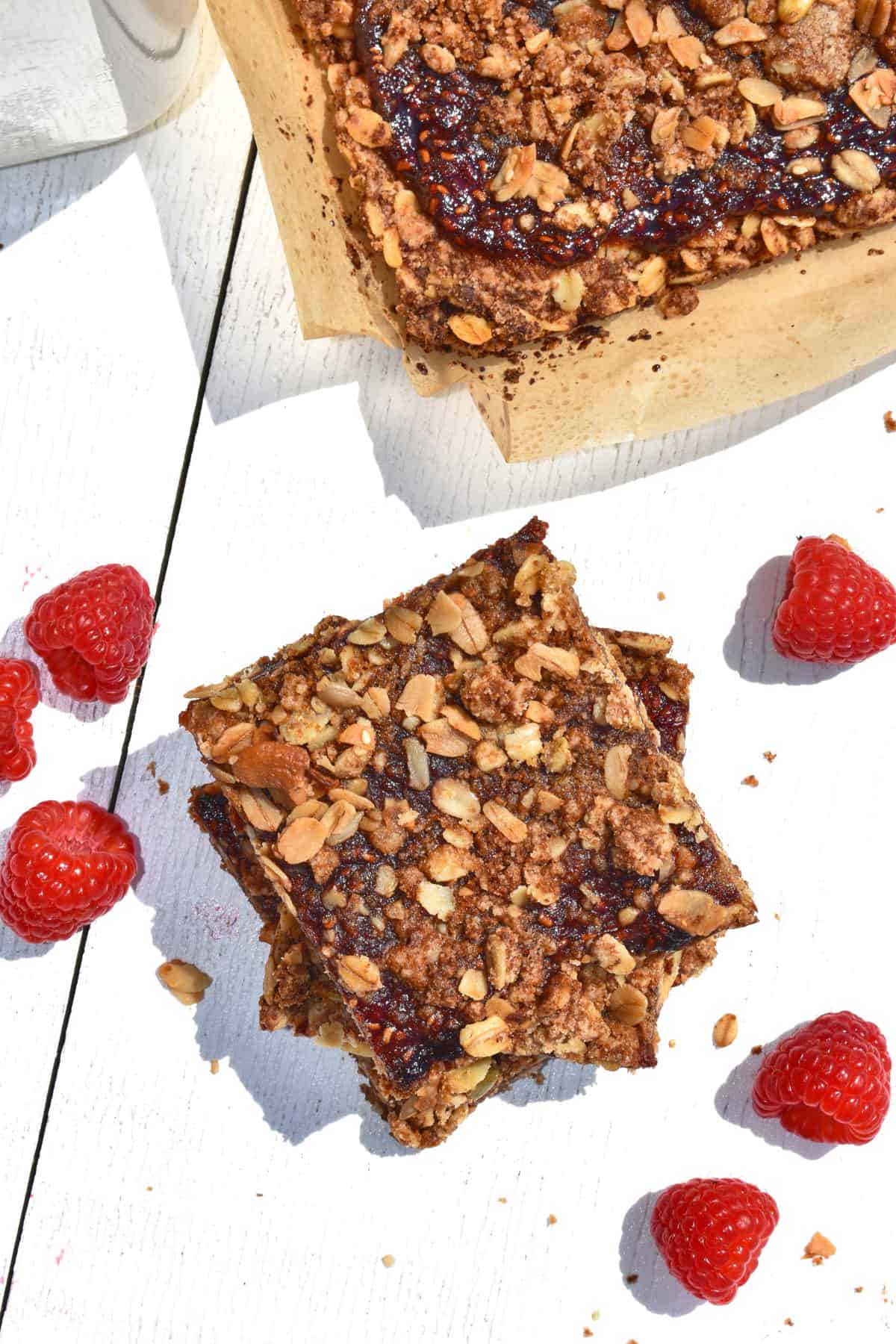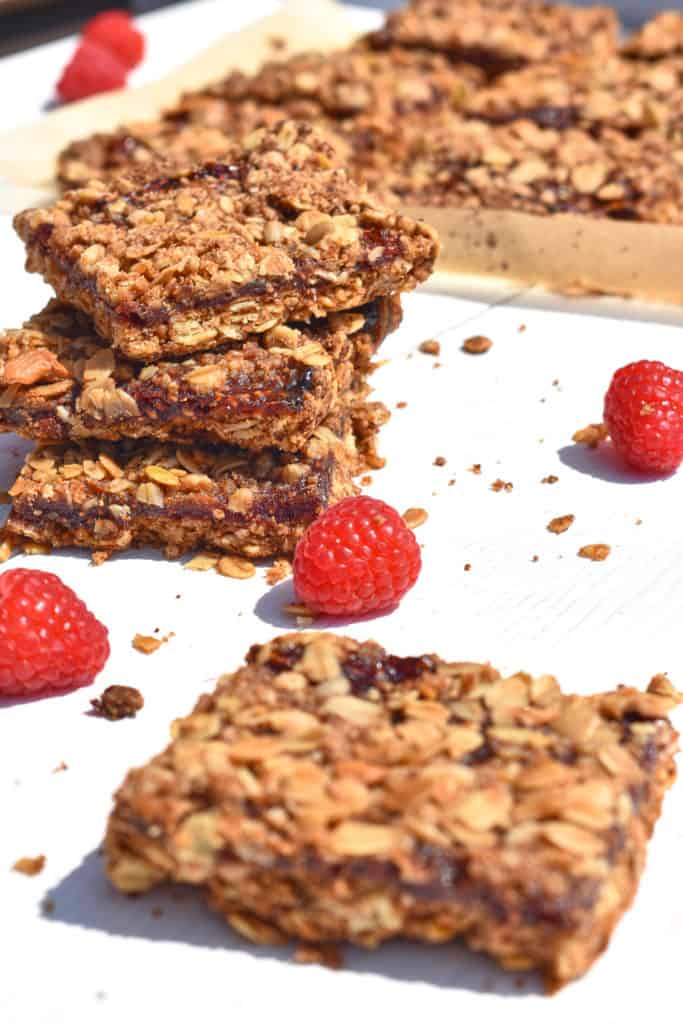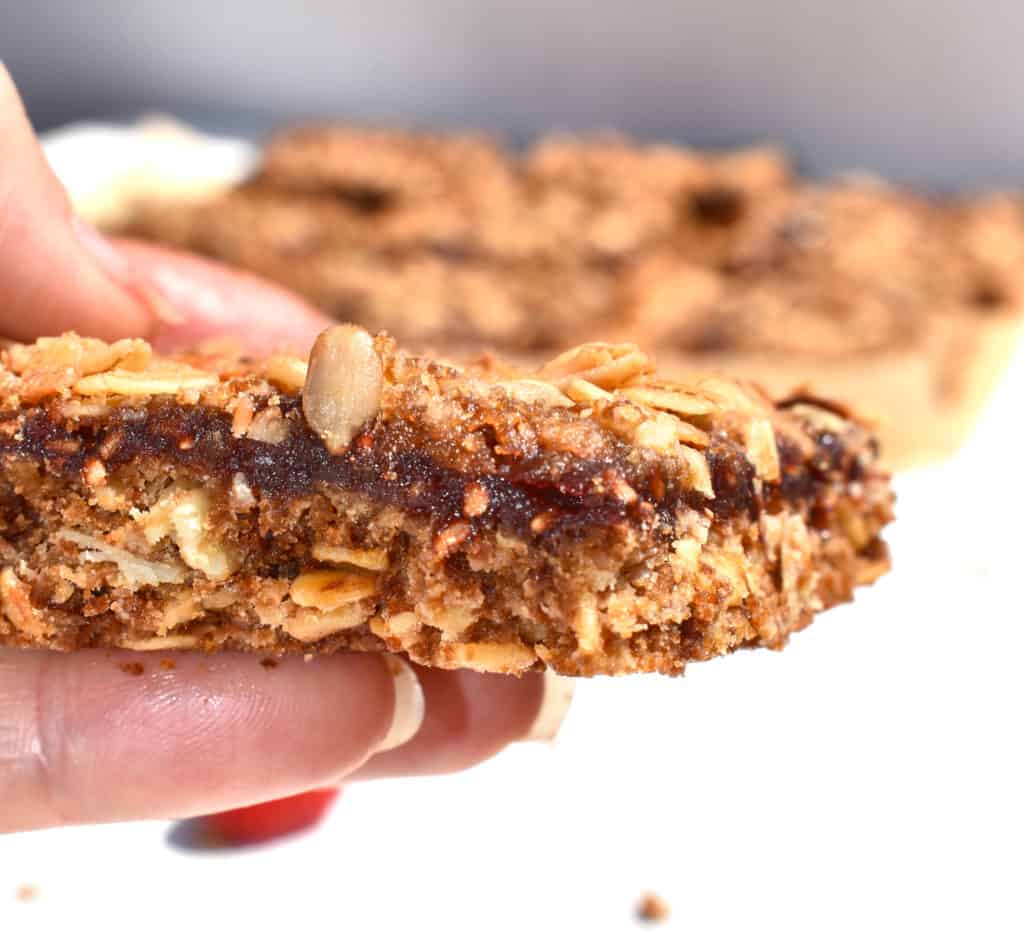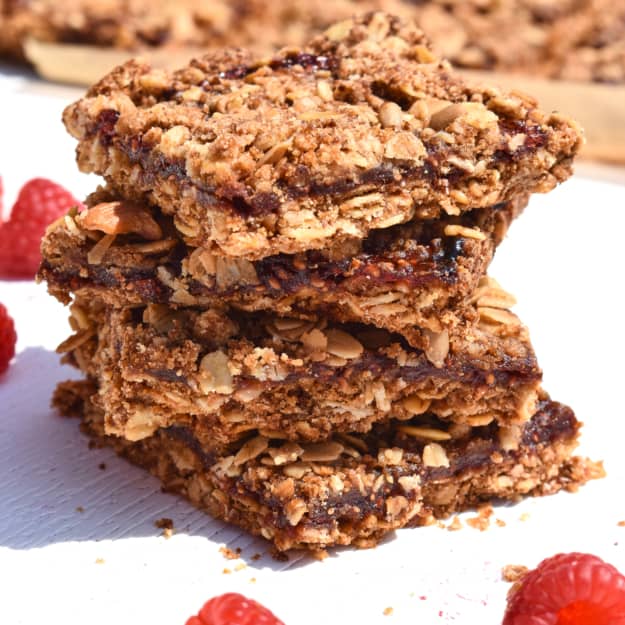 Jammy Raspberry Oat Bars
These homemade jammy raspberry oat bars are true sweet crumbly goodness! They are simple to make and utilize fresh raspberries for the jam. Extra thick whole grain oats give them a fantastic texture, and organic palm sugar is used as the sweetening agent. They are perfect for eating as a snack, breakfast, or with vanilla ice cream for a heavenly dessert.
Ingredients
Raspberry Jam
2

pints

fresh raspberries

½

lemon, juiced

⅓

cup

palm sugar

2

tbsp

pectin
 Oat Bars
1 ½

cups

AP flour

1 ½

cups

extra-thick rolled oats

¾

cup

palm sugar

1

tsp

Kosher salt

12

tbsp (1 ½ sticks)

unsalted butter, melted

¼

cup

toasted coconut granola

Cooking spray for coating the pan
Instructions
 Raspberry Jam
Combine the raspberries, lemon, and palm sugar in a medium saucepot and place over moderate heat.

Bring mixture to a boil, and then reduce to a simmer. Cook for 7-10 minutes until the berries have broken down and the mixture has thickened.

Add the pectin and cook for an additional 1-2 minutes to dissolve.

Allow to cool and reserve for the oat mixture.
Oat Bars
Preheat oven to 350 degrees Fahrenheit.

Spray an 8" X 11" baking dish and line with parchment paper. 

Combine the flour, oats, palm sugar, salt, and butter in a large mixing bowl. The texture should resemble a wet, crumbly sand. 

Press ¾ of this mixture into the baking dish and create a uniformly flat surface. 

Spread the raspberry jam in one even layer over the oat mixture, leaving a 2-centimeter perimeter from the edge of the pan.  

Combine the remaining oat mixture with the coconut oat granola and sprinkle over the raspberry jam. 

Bake in the oven for 25-30minutes until the top is golden brown and the bars have set. 
Nutrition
Calories:
515
kcal
Carbohydrates:
72
g
Protein:
8
g
Fat:
24
g
Saturated Fat:
12
g
Trans Fat:
1
g
Cholesterol:
48
mg
Sodium:
650
mg
Potassium:
337
mg
Fiber:
11
g
Sugar:
22
g
Vitamin A:
595
IU
Vitamin C:
35
mg
Calcium:
95
mg
Iron:
3
mg