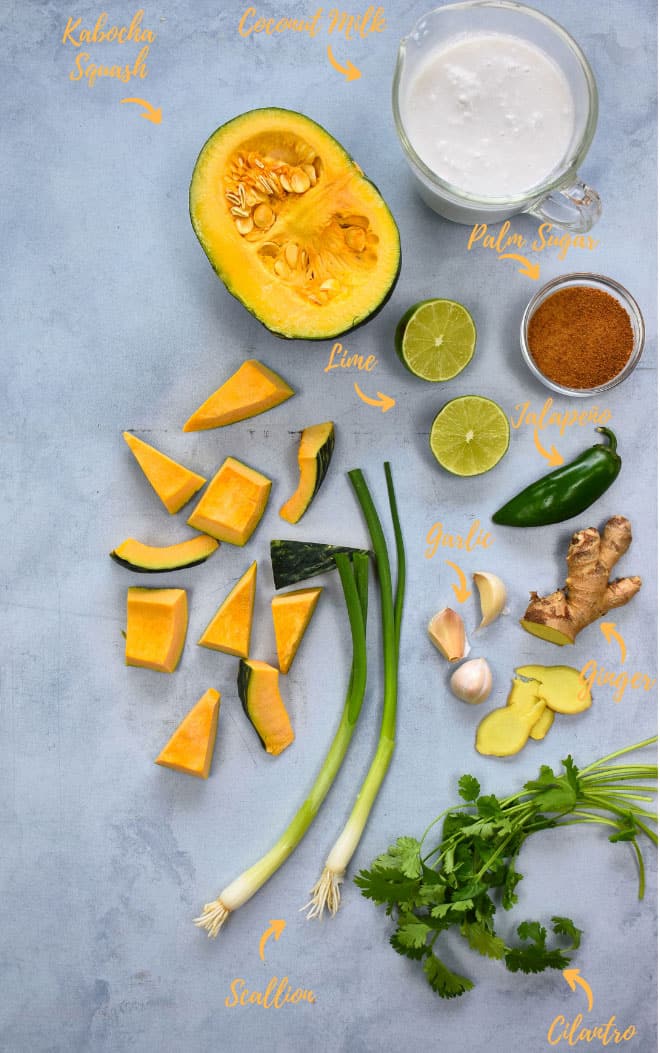 Ingredients are below
Kabocha Squash: This is a winter squash and looks like a small green pumpkin. It is referred to as a Japanese pumpkin, as it is quite popular throughout Japan. The taste of the flesh is sweet and similar to a cross between a sweet potato and Butternut squash. The skin is thin and delicate, and because of this reason, I keep the skin on for this recipe and roast it. This makes the recipe preparation so much easier, and the skin also contains added nutrients for the soup. This squash is also high in vitamin A and beta carotene (this gives it its beautiful bright orange flesh) and is slightly lower in calories overall than butternut squash. It also contains a good amount of vitamin C, vitamin B, iron and is loaded with fiber.
Garlic and Ginger: This combination adds the perfect amount of aromatics to permeate through the fibrous kabocha squash and the thick coconut milk, providing fantastic flavor and subtle heat.
Jalapeño: When slicing the jalapeño, make sure to remove all the seeds. The seeds are the hottest part of the pepper. When you are mincing the pepper, always cut into the pepper with the pepper's rougher part facing up. This makes it easier for the knife to cut through than its shiny exterior and allows you to achieve a better mince. The small amount of jalapeño in this recipe gives a subtle "kick" to the recipe. However, if you prefer your soup to be extra spicy, add the entire jalapeño instead of just half.
Coconut Milk: This non-dairy milk is loaded with a fantastic amount of vitamins and minerals. It is high in saturated "healthy" fats and is touted to reduce high cholesterol due to its high potassium level. The flavor profiles pair wonderfully with the squash, ginger, and jalapeño and make this soup a complete Vegan delight.

Palm Sugar: This is one of my preferred sweetening agents, as it is unrefined sugar. This sugar has both a low glycemic index and low fructose levels. It contains antioxidants, minerals, is unrefined, and contains no chemical breakdown alterations or artificial ingredients. It is pure and simple! A small amount of sugar is added to this recipe to round out the flavors and heighten the roasted kabocha squash's, natural sweetness. I absolutely love the contrast of the slightly sweet soup with the addition of fresh lime juice! It makes this soup completely addictive and swoon-worthy!
Scallions: I love using green onion for their color and delicacy. They add beautiful color, a pop of texture, and flavor as garnish.
Lime Juice: The lime is crucial in this recipe to offset the pureed squash and coconut milk thickness. Citrus is a "brightening agent" and adds depth and vibrancy to this soup. The acid cuts through the soup and contrasts wonderfully with the soup's sweet elements. The lime juice is what elevates the finished product of this soup.
Cilantro: The cilantro sprigs for garnish gives this soup a lovely freshness and herbaceous quality.
Kosher Salt: Using a high-quality Kosher salt is an absolute MUST for cooking! It will provide a better final product! The salt helps to bring out the vegetables' natural sweetness and flavor.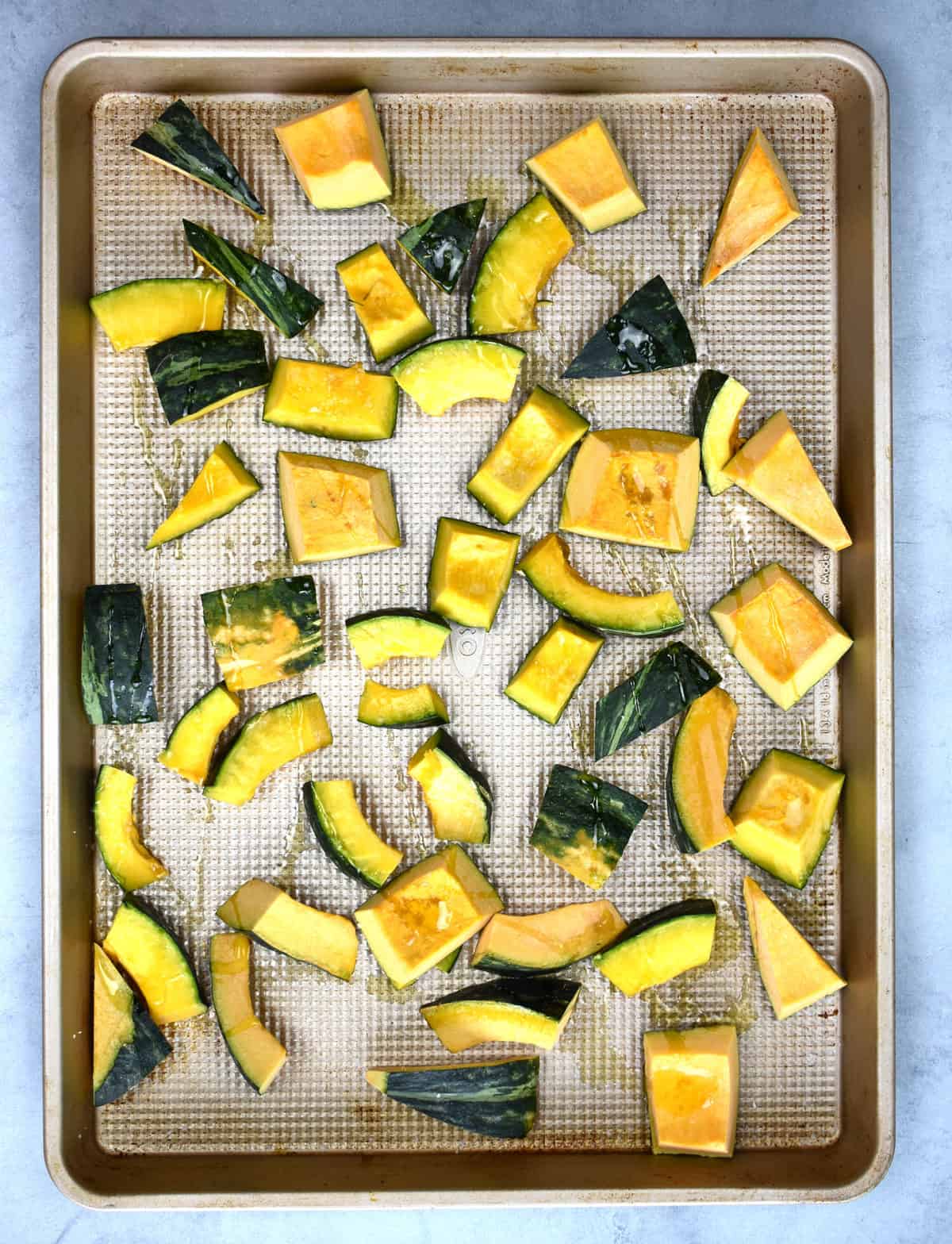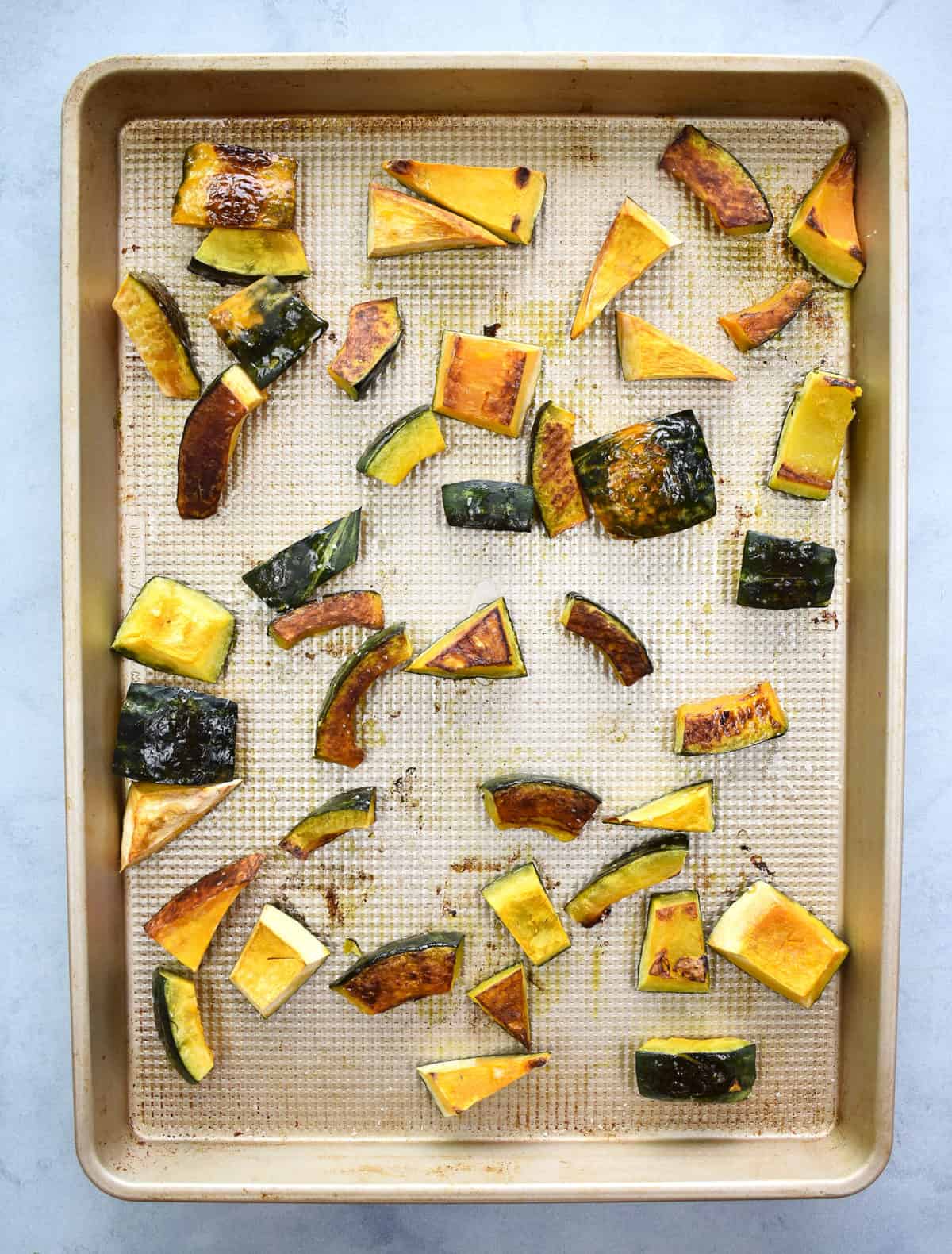 Above on the left is the raw Kabocha squash cubed and tossed with oil, and salt. On the right, is the roasted squash after 15-20 minutes.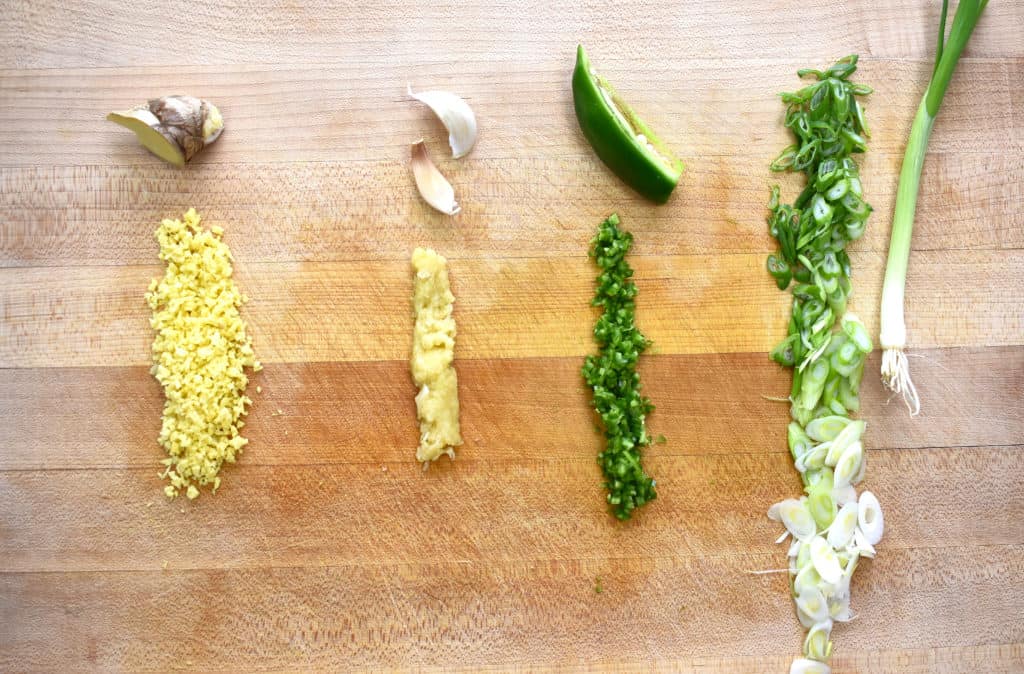 Above is the minced ginger, garlic, jalapeño, and thinly sliced scallions.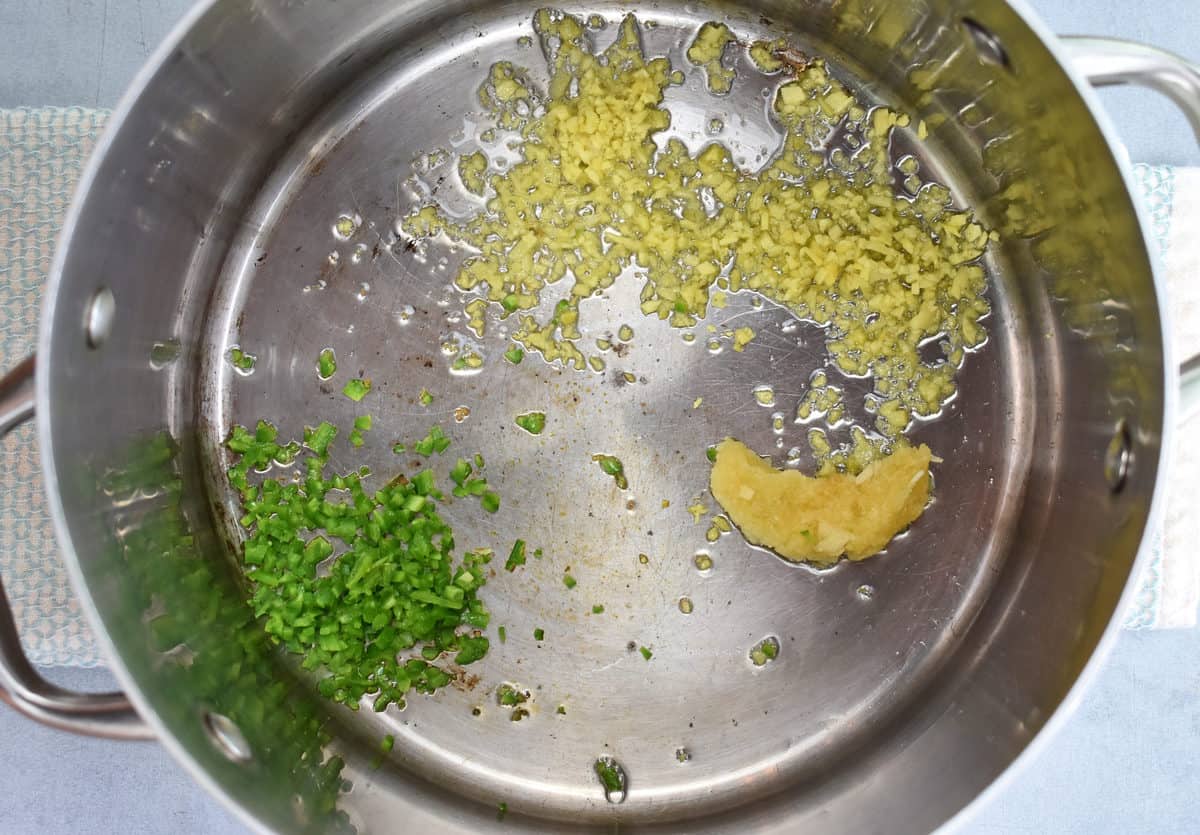 A tablespoon oil is used to coat the pan over moderate heat, and the ginger, garlic, and jalapeño are added to sauté.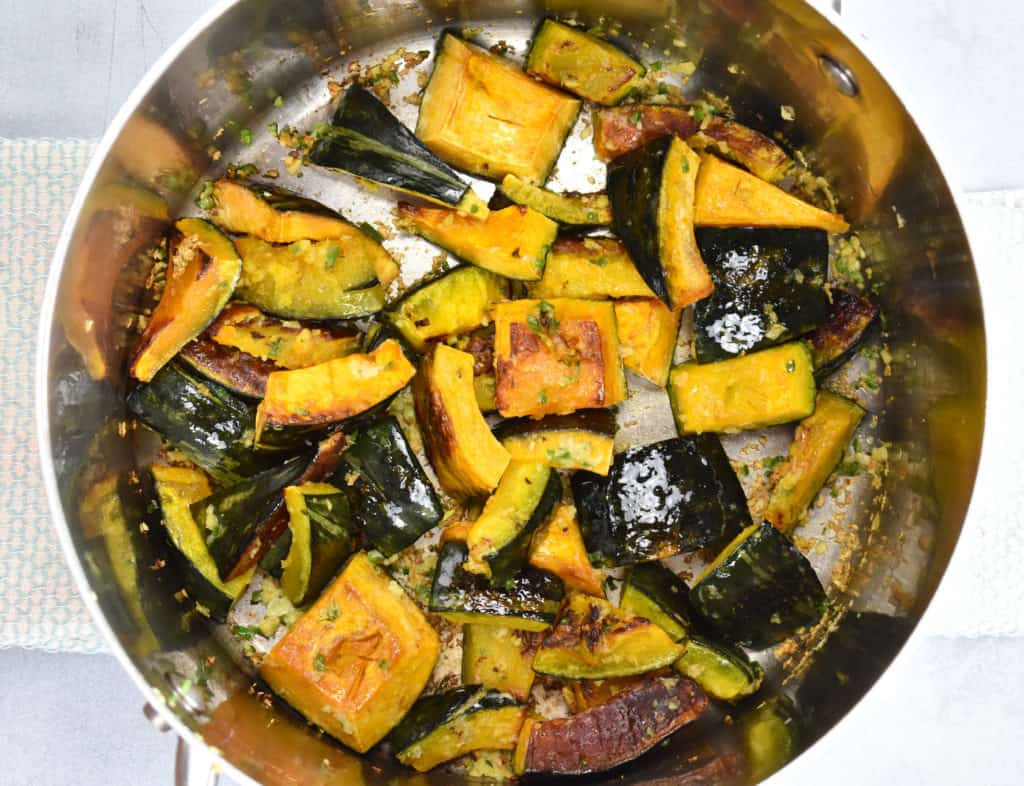 The roasted Kabocha squash is added to the vegetables and mixed together to combine.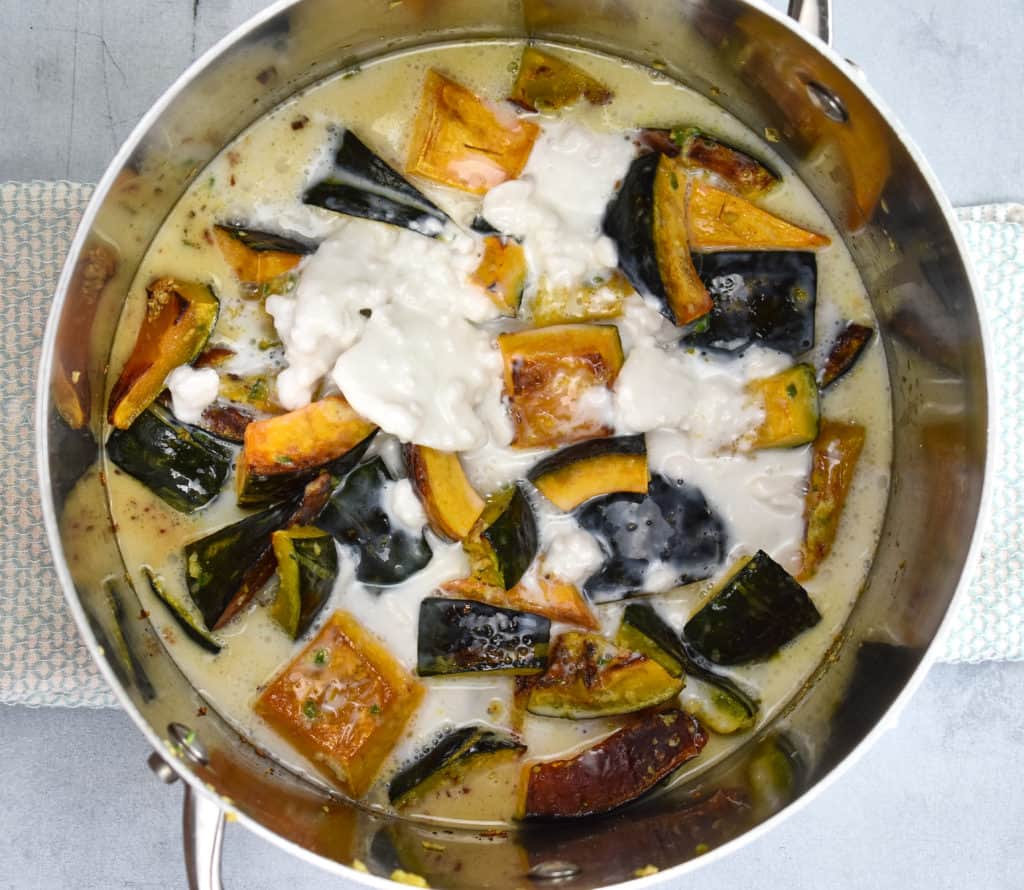 The coconut milk is added and the mixture is taken off the heat.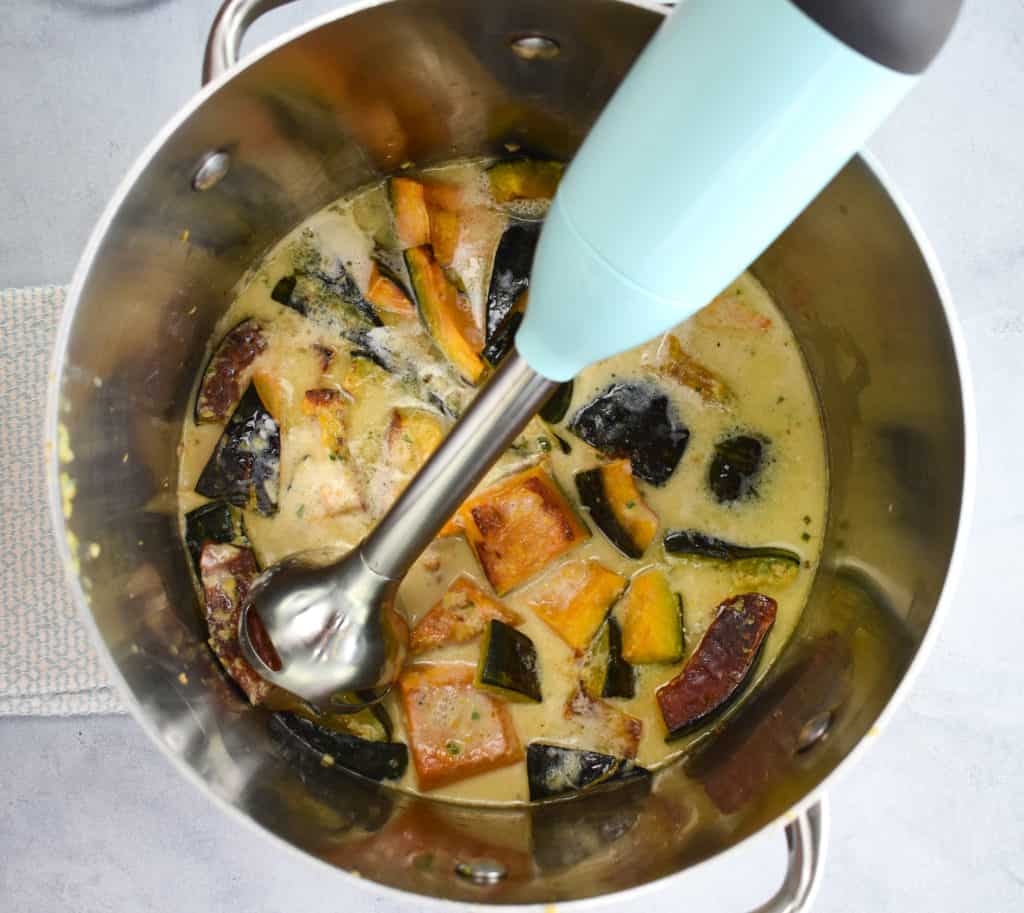 An immersion blender is used to purée the soup until smooth. The soup is then returned to moderate heat and brought to a roiling simmer. The palm sugar is added and salt is added to season to taste. Ladle the soup into bowls and serve with lime juice, scallions, and the cilantro sprigs as garnish.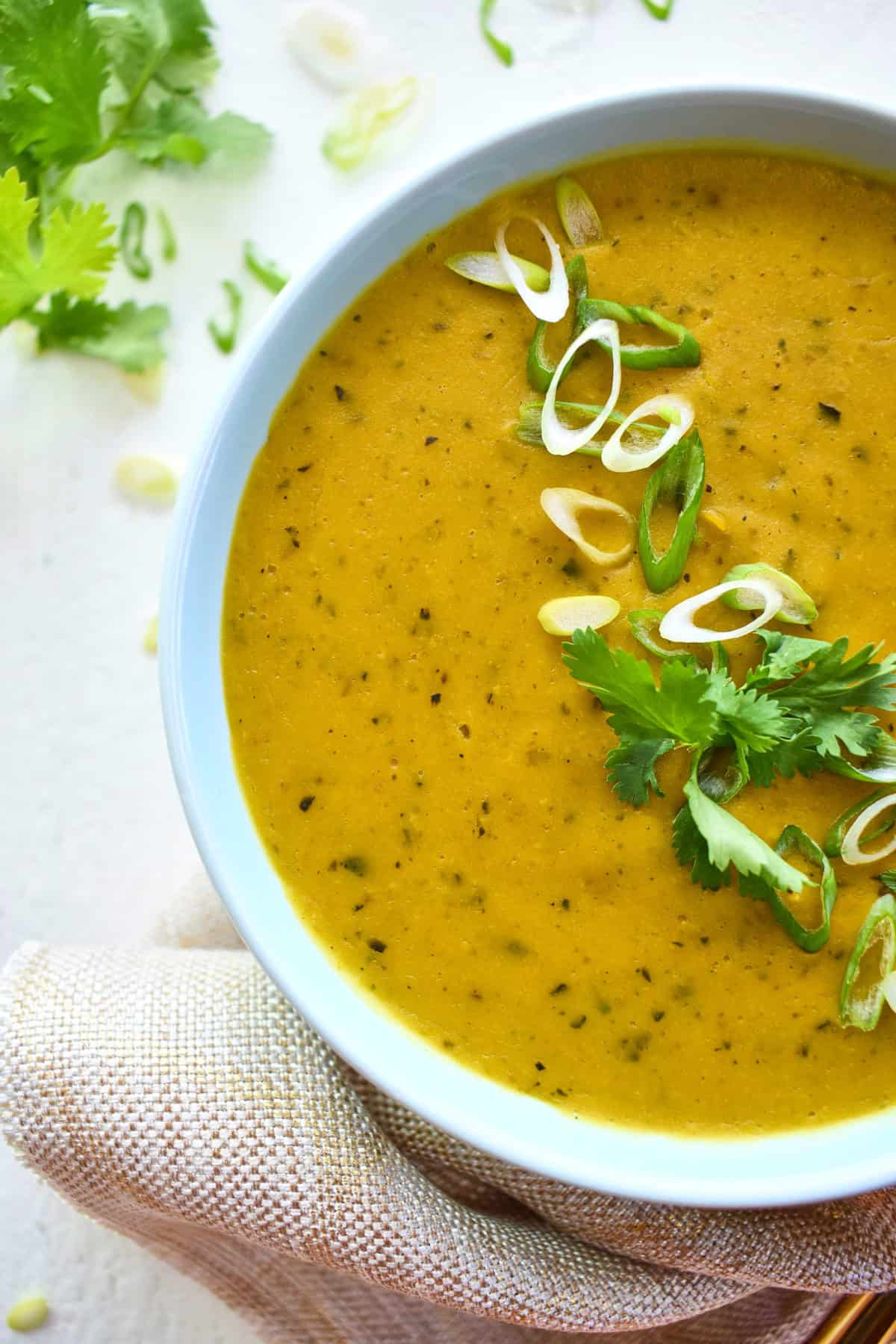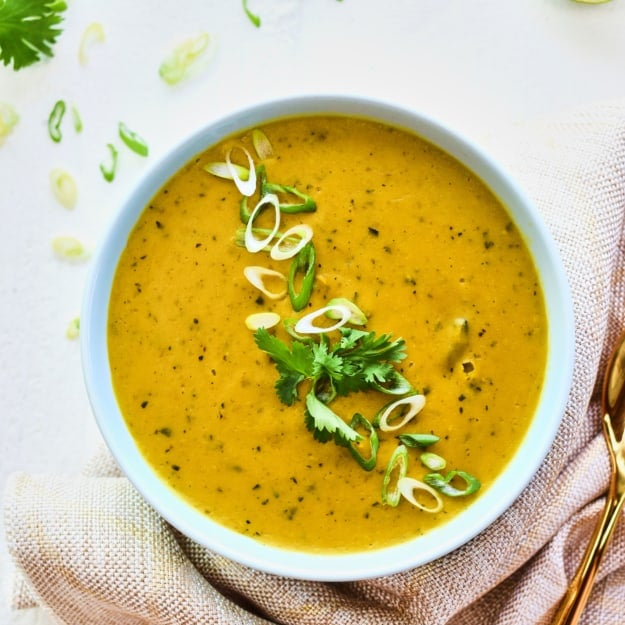 Coconut Ginger Kabocha Squash Soup
This vegan soup is incredibly healthy, satiating, and deliciously creamy and flavorful! It is made with sweet roasted kabocha squash added to garlic, ginger, jalapeno, and coconut milk and then pureed until smooth. Fresh lime juice, scallions, and cilantro provide the perfect garnish that really elevates this soup to the next level. This soup is incredibly easy to make, deliciously sweet, and equal parts spicy and acidic. It's the kind of soup that satisfies all dietary restrictions and is pleasing to all. Kabocha squash also touts amazing health benefits, making this soup the antidote for those chilly winter months.
Ingredients
Kabocha Squash Soup
1

Kabocha squash, deseeded (skin left on), and cubed

2

tbsp

coconut oil or vegetable oil, divided

3

large cloves garlic, minced

1-

inch piece

ginger, peeled and minced

½

jalapeño, seeded, and minced

2

cans (27oz)

coconut milk

3

tbsp

palm sugar

1

lime, juiced

2

scallions, minced

Cilantro sprigs for garnish

Kosher salt to taste
Instructions
 Kabocha Squash Soup
Preheat oven to 375 degrees.

Arrange the cubed squash on a baking sheet and toss with one tablespoon oil, and sprinkle with salt.

Roast for 15-20 minutes, until the squash cubes are tender and golden brown. If you insert a paring knife, you should be able to pull it out of the flesh with little to no resistance.

Heat a large soup pot over moderate heat and coat with the remaining tablespoon of oil. Allow for the oil to glisten, and add the garlic, ginger, and jalapeño. Sauté for 1 minute until the elements have softened.

Add the roasted squash and the coconut milk and turn off the heat. With a hand blender, puree the mixture until smooth. (You can also use a blender or Vitamix).

Return the soup to the heat and allow it to come to a roiling bubble. Add the palm sugar, and season to taste with salt, and take the soup off the heat.

Serve each bowl with a teaspoon of fresh lime juice and scallions and cilantro as garnish.
Notes
If you want your soup to be slightly chunky, you can leave out 1-2 cups before you puree. 
Also, if you are impartial to the squash skin, you can remove it before roasting. 
Any sugar can be substituted for palm sugar. 
Nutrition
Calories:
367
kcal
Carbohydrates:
62
g
Protein:
5
g
Fat:
16
g
Saturated Fat:
12
g
Sodium:
58
mg
Potassium:
1680
mg
Fiber:
8
g
Sugar:
23
g
Vitamin A:
6327
IU
Vitamin C:
73
mg
Calcium:
155
mg
Iron:
3
mg