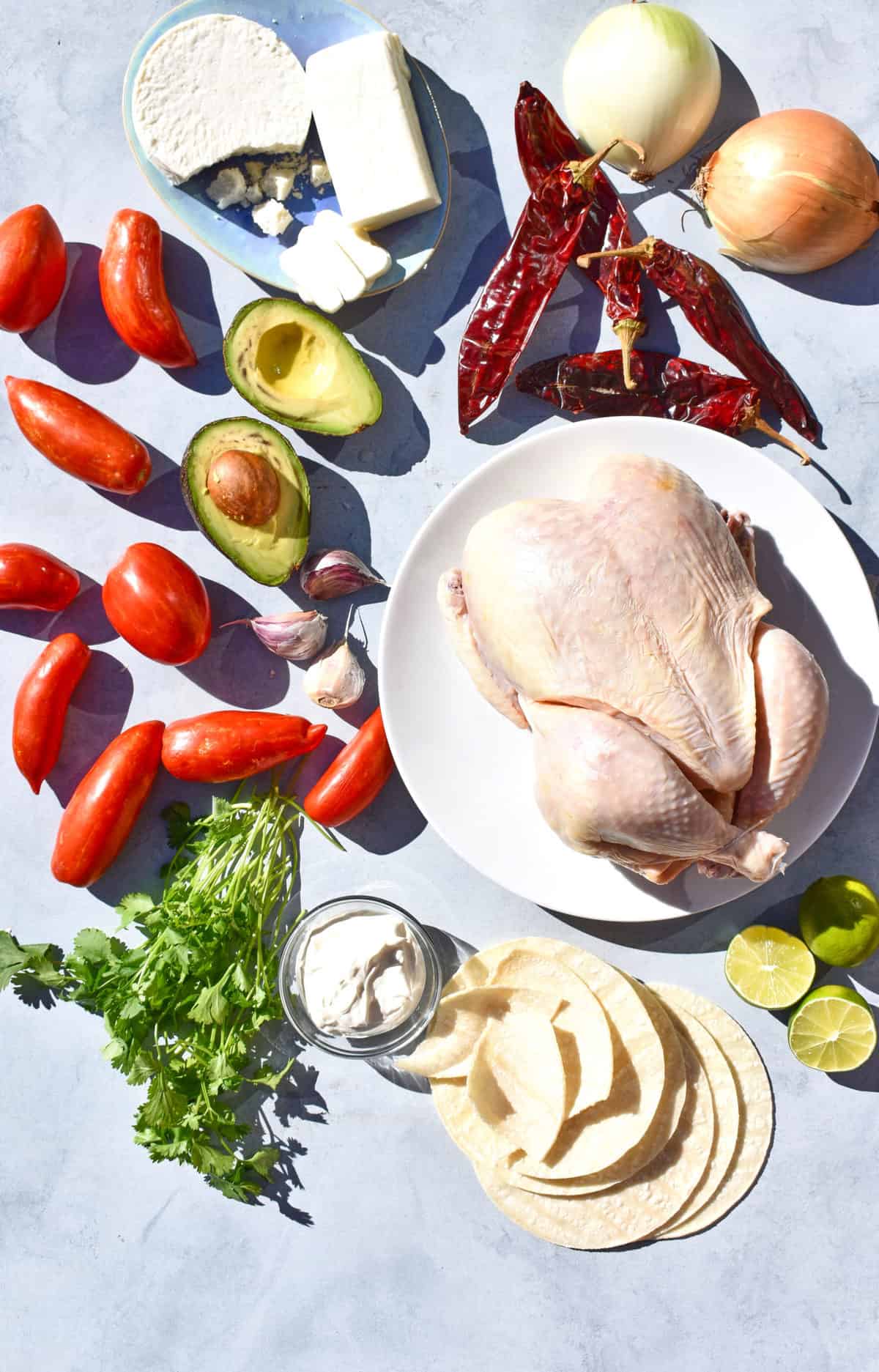 MAKING THE CHICKEN STOCK
Using a whole chicken to make chicken stock is my absolute favorite way to make any chicken soup base!
Depending on the flavor of your soup you are making, you can utilize this same technique and simply change some of the aromatics.
In this recipe, we are using garlic, onion, and cilantro stems for a Mexican flavor.
However, if you wanted to make a universally classic stock, you could use garlic, carrot, celery, onion, and parsley stems. This combination will work with just about any chicken soup you want to make!
By using a whole chicken, you can utilize the meat, bones, and skin for a multitude of purposes.
Meat:
You will most likely have some leftover shredded chicken from this recipe. However, the beauty of this is that you can utilize it for other recipes or simply have some extra chicken on hand for lunches.
I always keep my chicken separate from the broth because I don't like it to overcook in the broth. This often happens when people are reheating the soup.
By keeping the chicken separate, it also makes plating super easy!
Skin:
Often, I will save the skin from the chicken and then render it for another recipe. For example, rendered chicken fat is fantastic with anything potato. It's excellent for making latkes or another type of root vegetable pancake.
ROASTING THE VEGETABLES TO MAKE THE SOUP BASE
I love roasting the vegetables for the soup base because it enhances the flavor and makes the soup a bit richer.
All the vegetables also develop a bit of a sweetened flavor from roasting, which I love for this soup.
The roasted limes are sensational as well. This is a secret trick that makes the broth heavenly.
ADDING HEAT TO YOUR SOUP BASE
The rehydrated ancho chilies will give the base a bit of kick. However, if you are looking for a tad bit more spice, you can always add some jalapenos to the roasting tray or add thinly sliced jalapenos as garnish to your soup.
KEEPING ALL YOUR GARNISH SEPARATE
We already discussed the importance of keeping the shredded chicken separate from the broth. These same principles are the same for the rest of the garnish.
If you add cubed Oaxaca into the bubbling broth on the stove, it will form cheese strings inside your pot and become a mess when reheating.
The avocado is best slightly warmed and on top of soup bowls. This, too, would become messy and wouldn't work well in the pot of bubbling broth.
The tortilla strips would turn to mush, and the Cotija would again melt into the soup.
I love to dollop the crema individually because it adds to the presentation and the soup takes on a different consistency with it mixed in.
The cilantro would also turn brown and bruised if left in a pot of bubbling soup.
I strongly advise you to keep all of your garnish separate from soup broth for all the reasons above.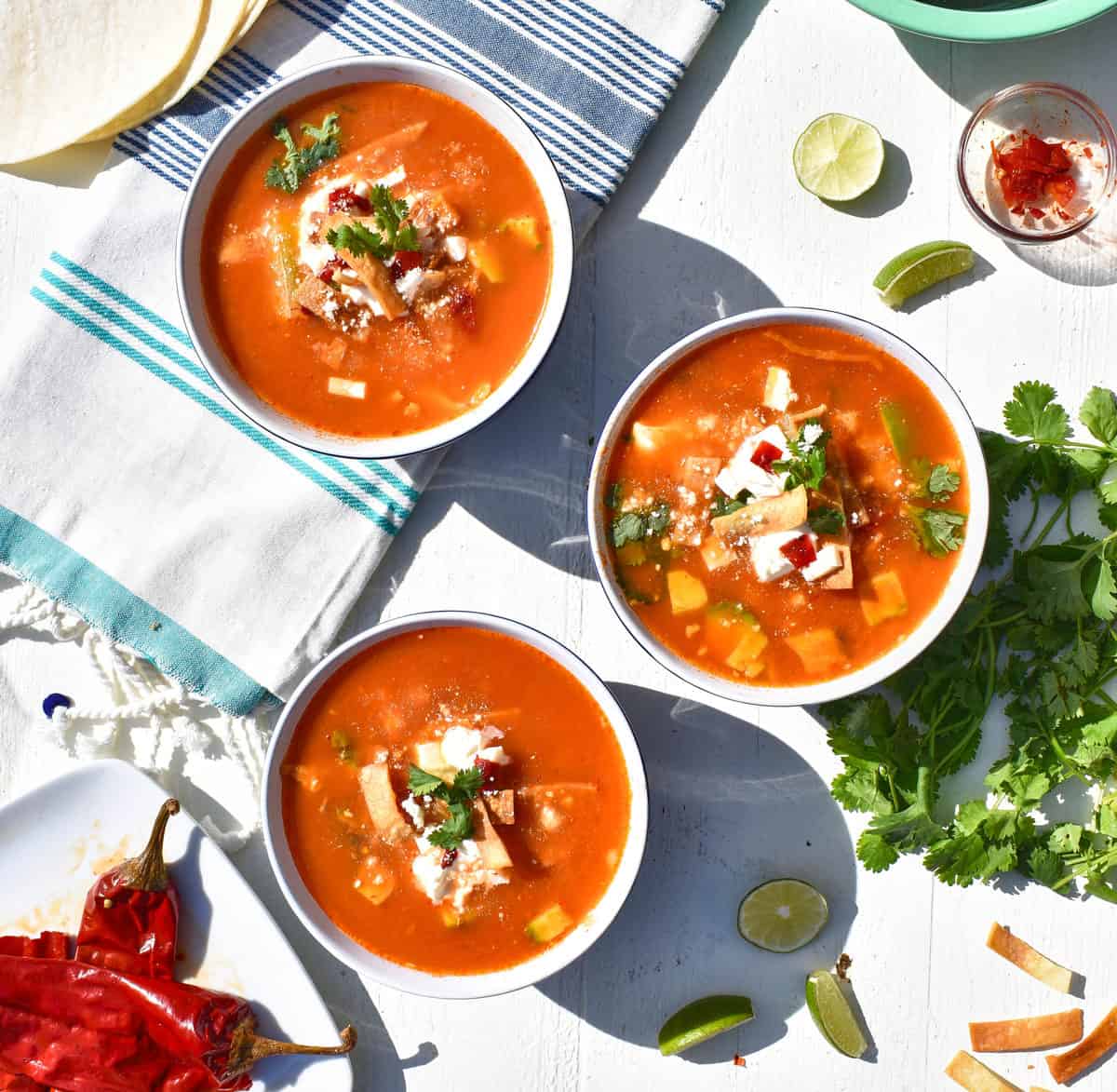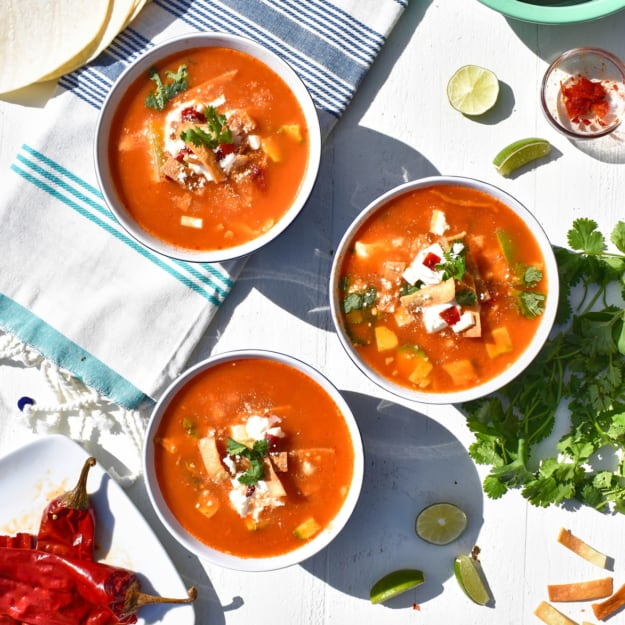 Chicken Tortilla Soup
This tortilla soup is one of my ultimate favorites! The whole chicken is used to make the broth and then shredded, so every part of the soup is completely homemade from start to finish! The broth is reinforced with roasted tomatoes, onions, garlic, and soaked chilies and then spiked with lime juice with a dollop of crema for decadence. The soup is topped with gooey Oaxaca cheese, cubed avocado, crispy fried tortilla strips, cilantro sprigs, and a sprinkling of Cotija. You won't be able to have just one bowl. Make a large batch, and enjoy this comforting and hearty soup all week long.
Ingredients
Chicken Broth
1

5-8 lb.

whole chicken, (giblets removed)

3

cloves

garlic, skin removed and crushed

1

yellow onion, peeled and halved

1

bunch cilantro stems
Soup Base
7-8

Roma tomatoes, halved

3

cloves

garlic (keep the skin on)

1

yellow onion, peeled and halved

2

limes, halved

4

dried ancho chilies

Kosher salt
Fried Tortilla Strips
10

corn tortillas, cut into 11/2 inch strips

1/2

cup

vegetable oil
Assemblage
Reserved shredded chicken

5

oz

Oaxaca cheese, cubed

1

avocado, cubed

Reserved fried tortilla strips

5

oz

Cotija cheese, crumbled

8

oz

crema

Cilantro sprigs and lime wedges for garnish
Instructions
Chicken Broth
Place the chicken, garlic, onion, and cilantro stems in a large soup pot and fill with water just enough to cover the chicken.

Place the pot over moderate heat and cook for about 30-45 minutes. Your chicken should be fully cooked through (this will depend on the size of your chicken)

You can check if your chicken is cooked through by pulling it out of the water and pulling the thigh bone from the breast. If the juices run clear (no blood or pink flesh), the chicken is done. While the stock is cooking, periodically skim the surface with a ladle to remove impurities.

After the chicken is cooked, carefully remove it from the water and place it on a cutting board to cool slightly.

Strain the broth into a clean bowl and discard the vegetables. Reserve.

While the chicken is still hot, rub off the skin (this should be very easy to do) and separate the meat from the bones. Shred the chicken and reserve.
Soup Base
Preheat oven to 350 degrees Fahrenheit 

Line a sheet tray and evenly spread out the tomatoes, garlic, onion, and limes. Drizzle with olive oil and sprinkle with salt. 

Place in the oven to roast for 20-25 minutes until the vegetables' bottoms are slightly caramelized. 

While the vegetables are cooking, place the chilies in a medium-sized mixing bowl and cover with boiling water and place a plate on top (this helps rehydrate them and lock in the steam). Reserve. 

Place the roasted vegetables in a blender, and squeeze in the roasted limes. Add the rehydrated chilies and blend until smooth. Season to taste with salt. 

Place the pureed mixture into a large cleaned soup pot, add the reserved chicken broth, mix it, and bring it to a boil. Reduce the heat, and season to taste with salt. 
Fried Tortilla Strips
Line a plate with paper towels. 

Place vegetable oil in a large 12-inch sauté pan over moderate heat. 

Allow for the oil to shimmer and add the tortilla strips. Cook until the strips are golden brown, about 2-4 minutes, and quickly remove them and place them on the paper towel-lined plate. Sprinkle with salt and reserve. 
Assemblage
Place two heaping tablespoons of shredded chicken and cubed Oaxaca into individual bowls and top with hot soup broth. 

Garnish with avocado, fried tortilla strips, cotija cheese, a dollop of crema, cilantro, and lime wedges. 
Nutrition
Calories:
419
kcal
Carbohydrates:
27
g
Protein:
11
g
Fat:
32
g
Saturated Fat:
18
g
Cholesterol:
37
mg
Sodium:
494
mg
Potassium:
394
mg
Fiber:
5
g
Sugar:
5
g
Vitamin A:
788
IU
Vitamin C:
18
mg
Calcium:
193
mg
Iron:
1
mg