You can decorate your crispy egg whites with any vegetables that you desire. I used a classic nod to spring with asparagus, peas, and Summer squash.
The key to achieving the perfect color and consistency of the asparagus and fresh peas is blanching!
Blanching: Elements that are submerged in boiling water for a short amount of time to "par-cook," until tender. Once removed from the boiling water, it is best to shock the elements in cold or iced water to stop the cooking process completely. In doing this, it will maintain and uphold the element's vibrancy and natural texture.
The Three VERY ESSENTIAL Notes For Blanching:
1) Your water must be "salty like the sea." You should taste your salted water before it comes to a boil, and it should resemble seawater. The salt acts as a "cooking agent," cooking the vegetable from the inside out.
2) Do not overcrowd your water. Blanch your ingredients in batches at a rolling boil. If you dump in too many elements at once, the heat of your water will lower, and it will defeat the purpose of blanching.
3) If you are blanching in batches, allow for your water to come back up to a rolling boiling before you submerge the next round or vegetable.
Asparagus: I was able to find purple asparagus, but any color will work. When I sliced the asparagus, I did so on a bias, which is simply an angle. This angle creates a slightly fancier aesthetic. Make sure when slicing to keep the very tip of the asparagus intact.
Peas: You can find freshly shucked peas in the springtime at your local farmer's market and sometimes even sold in bags at your nearby organic supermarket. You can also be a real rockstar and shuck your peas.
Summer Squash: I love using this delicate vegetable because it is just as delicious raw as it is cooked. Its subtle sweetness comes out when it is seasoned with salt, and it has a wonderful crisp and also spongy texture. I chose to keep it very easy and call for it to be shredded in the recipe. You can also shave it with a vegetable peeler or julienne it into matchstick pieces. The key is to keep it thinly sliced in any form, so that it is delicate, holds seasoning, and folds into the whole composition of the dish. Big chunks would not be a delight to chew!
Parmigiano- Reggiano: Using real Parmigiano Reggiano is soooooo important! This cheese has a crystalized nutty texture and buttery finish. Other Parmesan, which does not come from the Parma region in Italy, tastes flat, dull, and sometimes waxy. By using the purest and best possible ingredients, you heighten your dish and add depth and pop with every bite!
Farm Eggs: Buying beautiful fresh farm eggs will also make a grand difference in making this dish. You can tell when you are buying a fresh egg when:
you crack the egg, and the yolk is a vibrant orange/yellow.
The yolk is slightly raised and holds a dome-like shape.
Using fresh eggs will give you a richer taste. I especially advise it, as in my recipe, I do not cook the yolk. Like I stated in the recipe below, you can choose to cook your yolk more if desired.
To do this, after you have cooked the egg whites and transferred them to a plate, you can coat the same pan with additional olive oil and carefully slide the yolk into the pan. Cook the yolk to your desired consistency, and gently slide it onto your whites.
Crème Fraîche: To me, crème fraîche is one of the perfect staple pantry items because it adds creamy luxuriousness to just about any dish, is tart, and keeps forever! I find it to be a bit more versatile than sour cream because you can also add sugar to it and have it be part of a sweet dish as well. In this dish, I paired it with the pop of lemon zest and juice, the nuttiness of the Parmigiano-Reggiano, and added some freshness with dill. Make sure to season it with salt and pepper for the perfect rounded bite.
Lemon: Lemon is another ESSENTIAL in my kitchen. You will never find me without these babies. Citrus acts as a "brightening agent," we say in the chef world. It helps spike tastes, and "pick it up," so you have more complexity and a rounded finish. I tend to go heavy on my lemon consumption. So, play around and adjust the acid levels to your liking.
Dill: This is a beautiful herb that has a delicate and subtle taste. It is perfect for this end of spring spread and is entirely likable for all, in my opinion. I have never met anyone who has opposition to dill. Also, if you are trying to recreate this garden sunrise, save some dill springs to decorate your whites with your other vegetables. It makes the perfect grass!
Ingredients Listed Below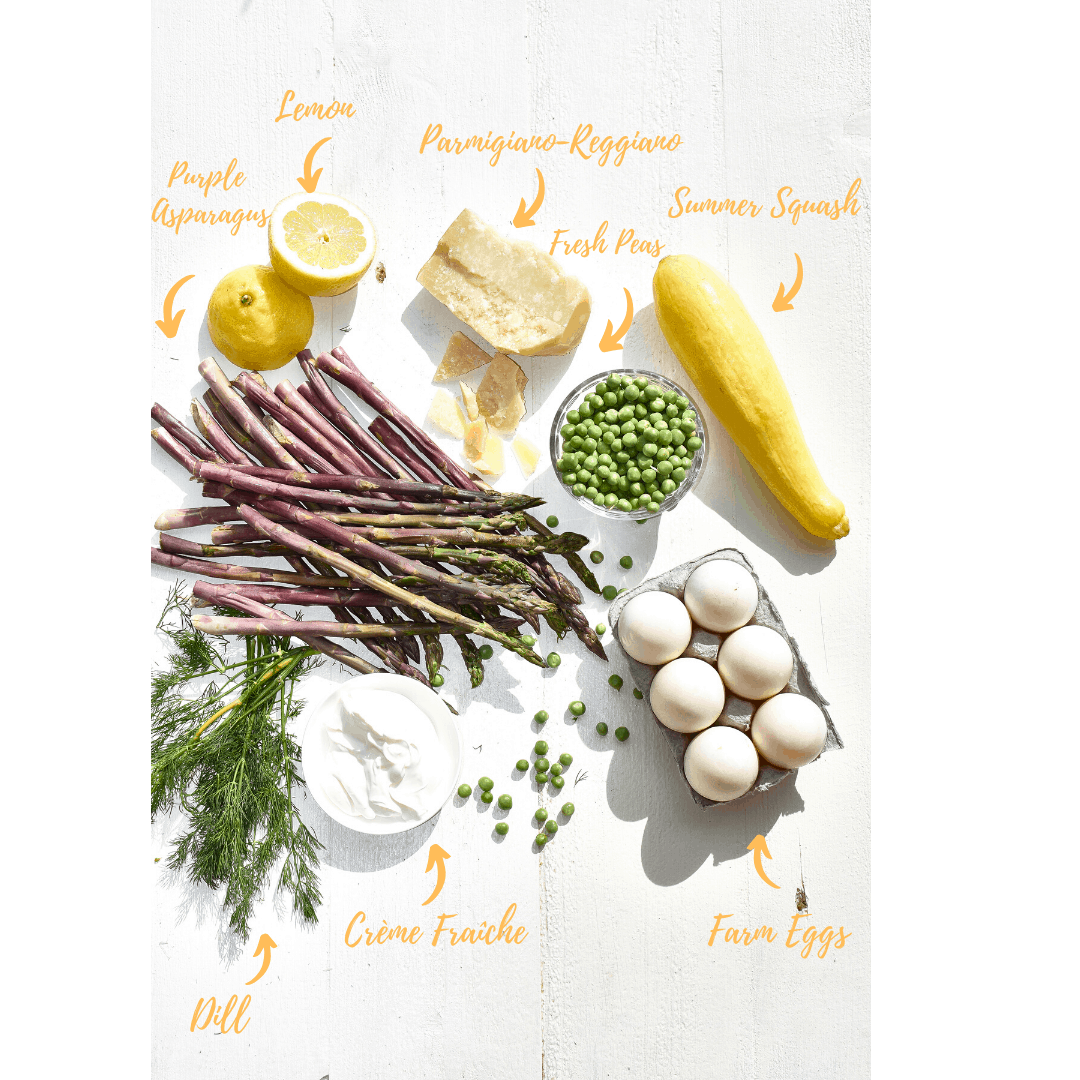 This dish is perfect for Sunday brunch or can be a fun activity to do with children. I love it because I am still indulging in a lovely egg dish adorned with a creamy herbed spread and lots of delicious veggies, but the eggs are made in minutes.
Be sure to cook your whites with good quality olive oil and leave them in the pan long enough to achieve the crispy edges like mine below. The crispiness is a real game-changer.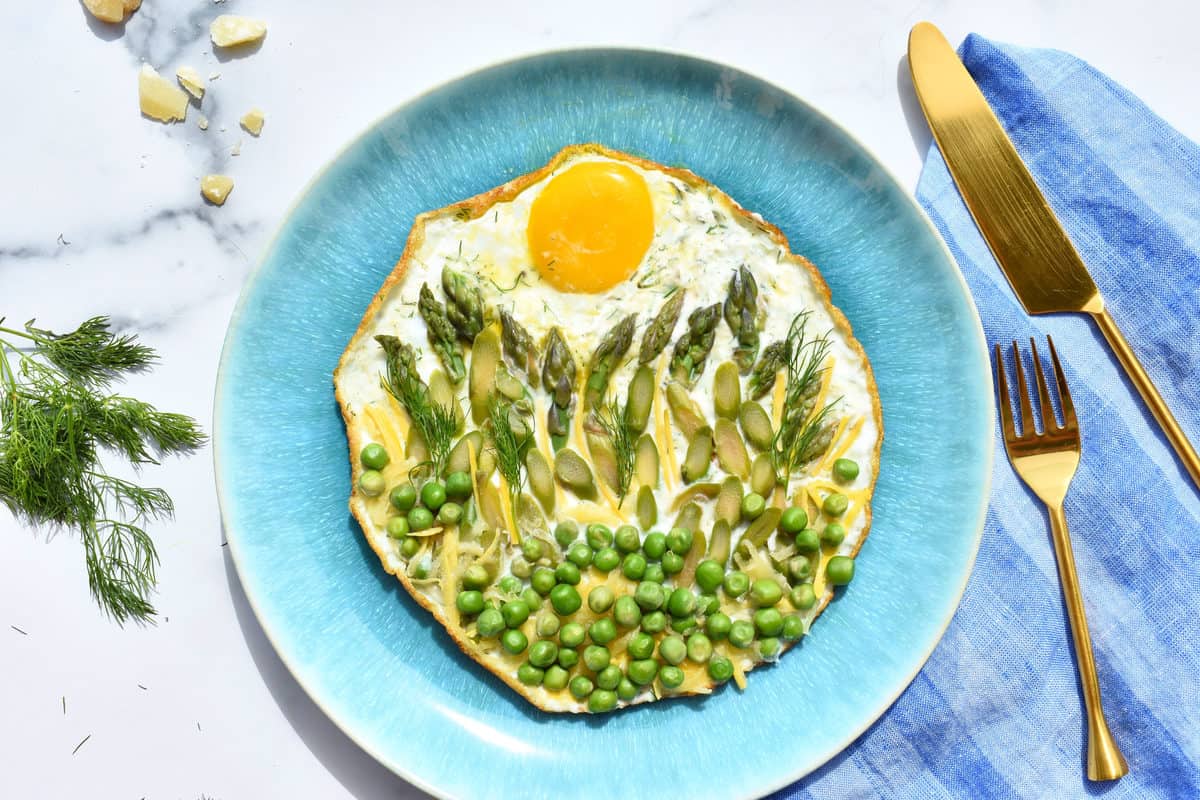 This dish is so simple, beautiful, and extravagant for a weekend breakfast spread or brunch!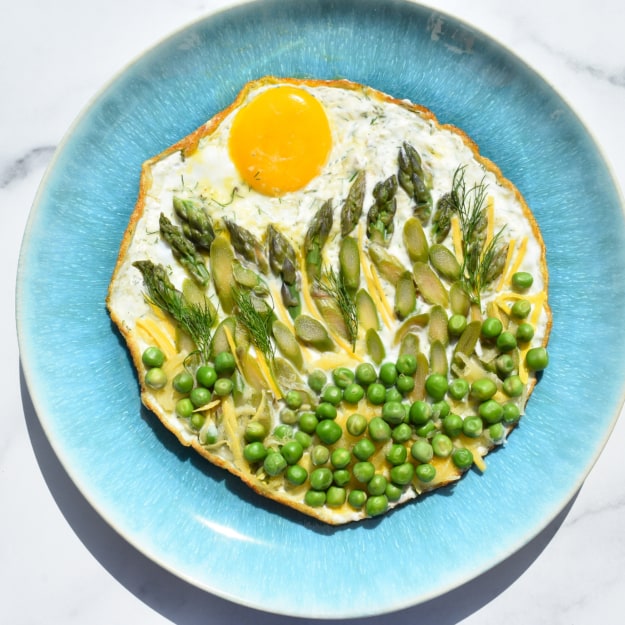 Crispy Fried Egg Sunrise
I love this crispy veggie egg dish because it is so simple and completely guilt-free! The fried whites take minutes to cook, and they are topped with a divine lemony herbed crème fraîche. The blanched asparagus and peas add the perfect crunch and texture, and the Summer squash is enjoyed raw. The egg yolk adds ideal richness and is divine when broken into the veggies and cream.
Ingredients
Crispy Egg Base
3

eggs, separated, one-yolk reserved

1

bunch asparagus, (I used purple, but you can use any color)

1

cup

fresh shelled peas

½

Summer squash, shredded

Salt and pepper to taste.
Lemon Dill Crème Fraîche
½

cup

crème fraîche

1

tbsp

fresh dill, minced

2

tbsp

Parmigiano Reggiano, finely grated

1

tbsp

lemon zest

1

tbsp

lemon juice

salt and pepper to taste
Instructions
Crispy Egg Base
Slightly whisk the egg whites and season with salt and pepper. Reserve.

Bring a large pot of water to a boil and season it, so it tastes, "salty like the sea."

Once the water has reached a rapid boil, add the asparagus and blanch for 30-60 seconds until the vegetable is slightly cooked, but is still crispy. Immediately, shock the asparagus in an ice water bath or cold water to stop the cooking process.

Have the water come back up to a boil and blanch the peas for 10-20 seconds. Again, scoop them out with a strainer and immediately shock them in an ice bath or cold running water.

Slice this asparagus as you please and discard the rough stalks. Reserve.

Coat a 10" non-stick sauté pan with olive oil and place over moderate heat.

Add the egg whites and tilt the pan until all the surface area is taken up by the yolks. Cook for 2- 3 minutes, until the edges of the egg are slightly browned and crispy, and the whites are cooked through.

Slide the egg base onto a plate.

Spread 2 tablespoons of the lemon-dill crème fraîche onto the egg whites.

Decorate with the cut asparagus, blanched peas, raw shredded Summer squash, and top with one reserved egg yolk.
Lemon Dill Crème Fraîche
Combine all ingredients andseason to taste with salt and pepper. Reserve.
Notes
NOTE: If you like your yolk to be more cooked, you can coat the sauté pan with a touch more oil and cook it separately until you have achieved your desired consistency. Just be careful when sliding it onto your crispy egg whites!
Nutrition
Calories:
593
kcal
Carbohydrates:
31
g
Protein:
32
g
Fat:
39
g
Saturated Fat:
19
g
Trans Fat:
1
g
Cholesterol:
558
mg
Sodium:
450
mg
Potassium:
1024
mg
Fiber:
10
g
Sugar:
15
g
Vitamin A:
2968
IU
Vitamin C:
90
mg
Calcium:
383
mg
Iron:
5
mg