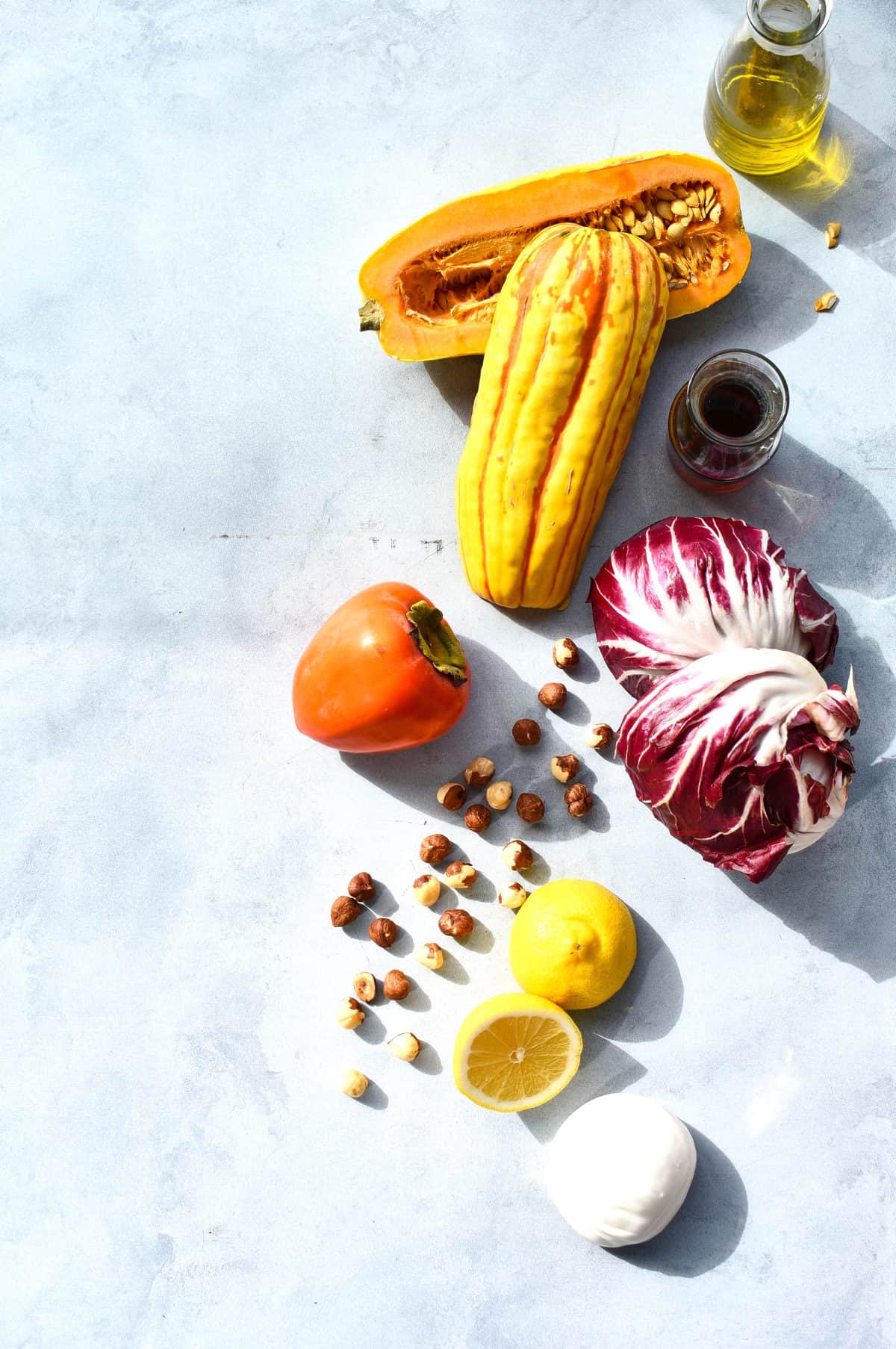 Ingredients are below
Delicata Squash: This is a winter squash and is nicknamed "sweet potato squash" because of its sweet flavor. Its name is derived from its delicate skin, as it looks like it is beautifully hand-painted in stripes. Because the skin is so thin and delicate, there is no need to peel it. The flesh is deliciously sweet when roasted, and It is high in beta-carotene, low in calories, and is loaded with vitamin C.
Persimmon: Persimmons are in season from September through December. These beautifully orange globes are one of the oldest cultivated fruits in Asia. They are sweet when fully ripe but have a sour aftertaste as they contain soluble tannins. These tannins make your mouth feel slightly chalky and dry. Persimmons are rich in fiber, vitamin C, beta-carotene, iron, manganese, along with a slew of powerful antioxidants.
Radicchio: This vegetable is known as an Italian chicory. It has a slightly spicy and somewhat bitter taste and is lovely when paired with sweet elements. The beautiful purple leaves with white veins are high in cichoric acid. This compound helps your body regulate your glucose and insulin levels.
Olive Oil: Because this is a composed salad, the olive oil gives the radicchio and persimmon a nice glossy coating. A very high-quality olive oil is advised for this recipe, as it is primarily used as a finished agent.
Lemon: The lemon works as a brightening agent, helping to cut through the radicchio's bitterness and add an acidic contrast to the sweet roasted squash and raw persimmons.
Hazelnuts: These nuts add an exceptional crunch and toasted finish to the salad. They have a sweet and rounded flavor, as they are considered to be a "healthy fat." They are loaded with essential nutrients and protein and vitamins. They contain vitamin E, vitamin B6, folate, zinc, potassium, phosphorus, magnesium, copper, Thiamin, manganese, and fiber. They are also rich in antioxidants, which help protect our bodies from oxidative stress, which is an imbalance between antioxidants and free radicals in our bodies.
Burrata: Burrata is mozzarellas ostentatious and decadent cousin. The outer shell is thin, while the inside is a mixture of cream and torn strings of mozzarella. It melts into this salad for a heavenly texture and decadence.
Kosher Salt: Using a high-quality Kosher salt is an absolute MUST for cooking! It will provide a better final product! The salt helps to bring out the vegetables' natural sweetness and flavor.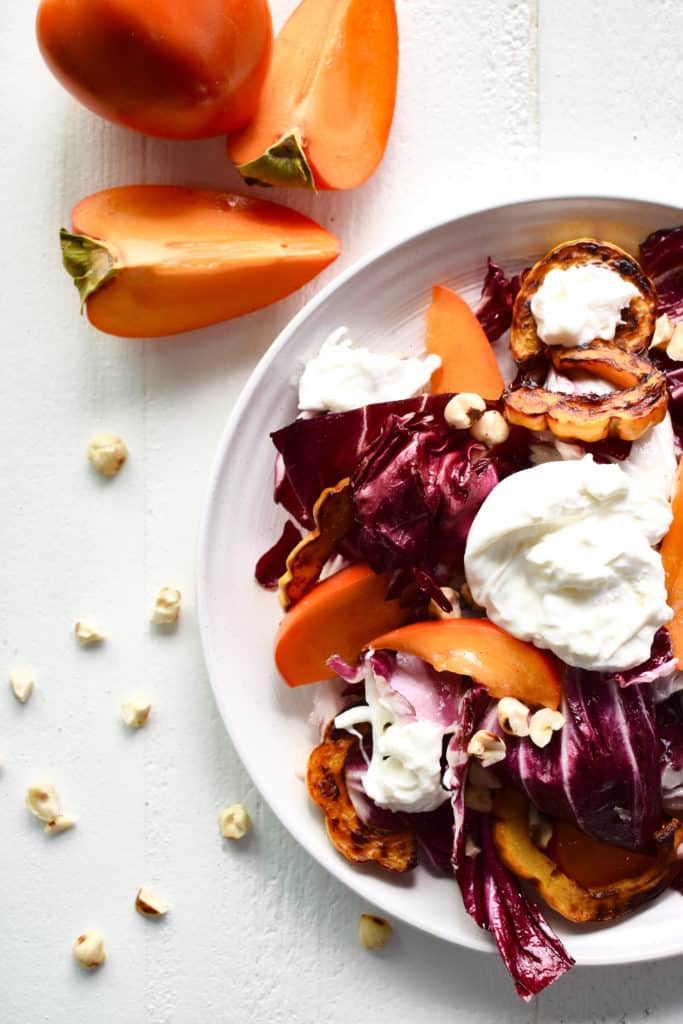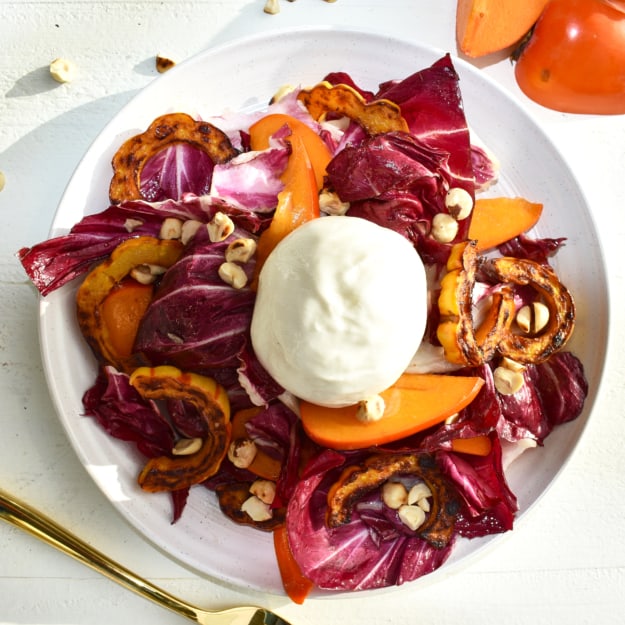 Roasted Delicata Squash, Persimmon, and Burrata Salad
This salad has everything from a vast array of textures, colors, and, most of all, flavor! Delicata squash is roasted until sweet and then folded into lemony and crisp radicchio, tangy sliced persimmons, crunchy toasted hazelnuts, and topped with heavenly creamy burrata. This salad is perfect for those chilly Fall and Winter months when persimmons are in season, and you are looking to impress with a simple but substantial salad for any gathering. The colors in this salad speak for themselves…it is so beautiful; it will become your newest addition to the holiday spread!
Ingredients
Salad
1

Delicata squash, split in half lengthwise with seeds and innards scooped out

1

persimmon, sliced into thin wedges

1

head

radicchio, leaves torn into 2-3 inch pieces.

2 ½

tbsp

olive oil

½

lemon, juiced

¼

cup

hazelnuts, toasted and roughly chopped

1, 4

oz

burrata ball

Olive oil to coat the squash

Kosher salt to taste
Instructions
Salad
Preheat oven to 350 degrees Fahrenheit.

Line a baking sheet with parchment paper or a silicone mat.

Slice the squash into ½ inch thick half-moons, place in a mixing bowl, and drizzle with olive oil and salt to coat.

Lay the coated squash in one even layer on the baking sheet and roast in the oven until slightly browned and tender, about 12-15 minutes.

Combine the persimmon and radicchio into a large mixing bowl and coat with the 2 tablespoon olive oil and the lemon juice. Season to taste with salt and pepper. Fold in the roasted Delicata squash.

Assemble on a plate or platter and sprinkle the toasted hazelnuts, and top with the burrata.
Nutrition
Calories:
650
kcal
Carbohydrates:
59
g
Protein:
19
g
Fat:
45
g
Saturated Fat:
13
g
Cholesterol:
50
mg
Sodium:
42
mg
Potassium:
1615
mg
Fiber:
7
g
Sugar:
7
g
Vitamin A:
3639
IU
Vitamin C:
110
mg
Calcium:
513
mg
Iron:
5
mg