The Ingredients Are Below
Squash Blossoms: You will find squash blossoms sold either male or female. The female squash blossoms have a thicker, more engorged stem. The male squash blossoms have a thinner stem. Only the female blossoms will eventually produce squash, but both blossoms can be eaten. Whether you're preparing the male or female blossoms, the inner stamen should be removed before they are filled.
Ricotta: This smooth and thick cheese is perfect for a filling. I used whole milk ricotta in this recipe, but you can substitute for a lesser percentage.
Parmigiano Reggiano: I like to add the Parmigiano to the Ricotta to give it an extra bite and nutty finish. This flavor helps cut through Ricotta's density, giving the filling a bit more balance and structure.
Garlic: Because the garlic is raw in the filling and not sauteed, using a smaller amount is recommended, as it is quite potent. That is why the recipe calls for two small cloves, minced. If you feel like you can take a bit more "kick," you can add more.
Basil: The basil adds a lovely herbaceous quality to the filling and a delicacy to the blossoms.
Anchovies: The minced anchovies in the filling are subtle, but make a huge difference! Again, using a high-quality anchovy is highly recommended. They add a distinct umami flavor that cuts through the cheese's thickness and creamy density.
Lemon Juice: I like to add lemon juice to the filling to help "spike" the filling and add brightness.
Salt: Using a high-quality Kosher salt is an absolute MUST for all cooking and baking! It will provide a better final product!
Eggs: I like to use the most organic eggs or fresh farm eggs that I can find.
Panko Breadcrumbs: I love the texture that these breadcrumbs give the blossoms. They become extra crunchy and golden brown when seared in the pan.
Olive Oil: The olive oil is used for searing in this recipe, so you don't want to use a super high-quality virgin olive oil. Instead, you want to use a good quality olive oil that has a higher smoking point.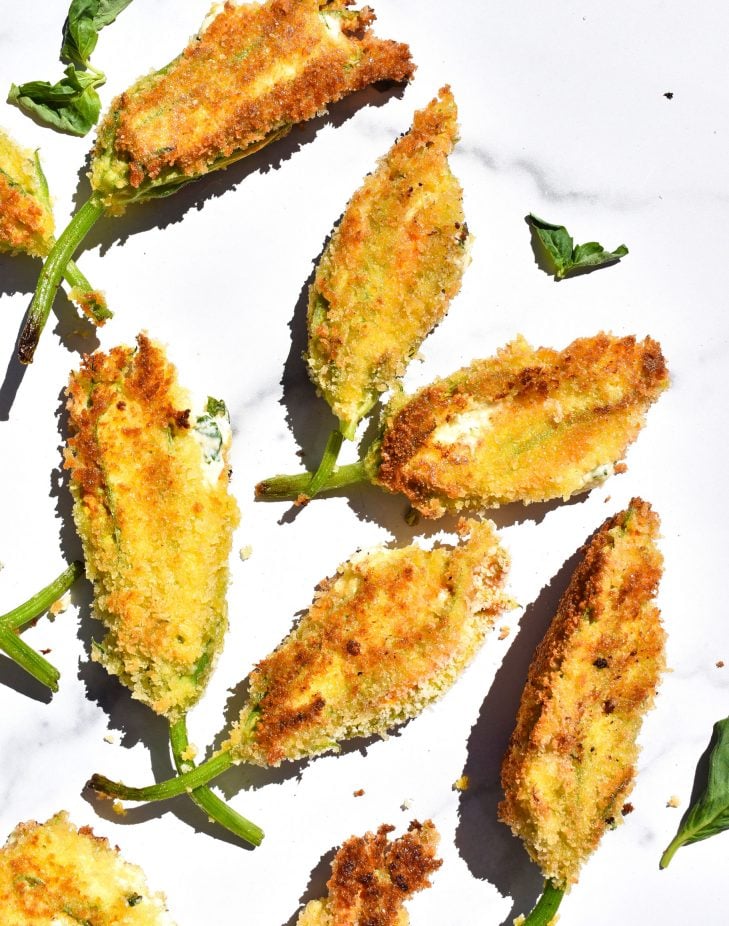 PREPPING THE SQUASH BLOSSOMS TO FILL
The squash blossoms are incredibly delicate, and it is somewhat challenging to fill them.
The filling stays in much better if the leaves are still held together and not torn.
However, it is essential to remove the inner stamen before filling.
I used tweezers to pull out the stamen. This seems to be the easiest and safest way.
DREDGING THE STUFFED BLOSSOMS
I like to place the eggs and panko in shallow bowls that are best for dredging.
It is ESSENTIAL to keep one hand wet (for the eggs) and one hand dry (for the panko).
Because the blossoms are so delicate and fragile, the dredging needs to be a quick process. With too much handling, the blossoms will fall apart before searing.
SEARING THE BLOSSOMS
I used a 12″ sauté pan to sear my blossoms and did so in three rounds.
It's important not to crowd the blossoms in the pan because you need ample room to flip them carefully. That is why I recommend searing them in three separate rounds.
While the blossoms are searing, some breadcrumbs will fall off and scorch the pan a bit.
To get the best possible product, I recommend wiping the pan clean after each set of blossoms cook and coating the pan with new oil before searing the next round.
Trust me, your blossoms will be golden brown and perfect if you take the time and care in these extra steps.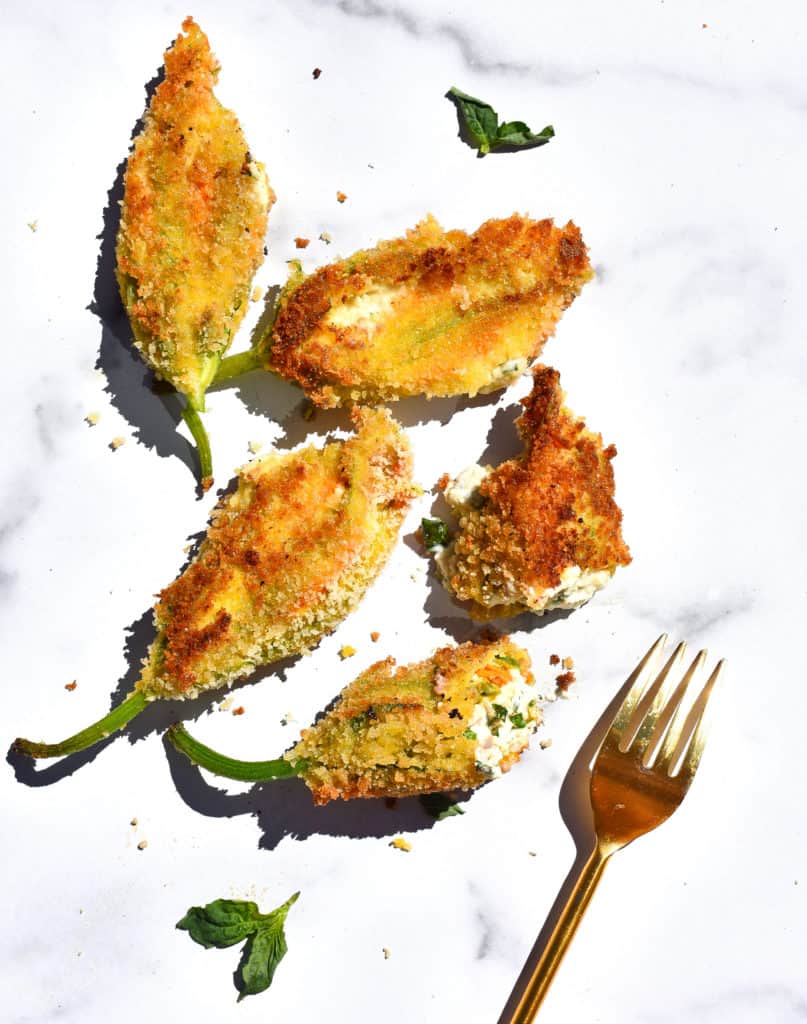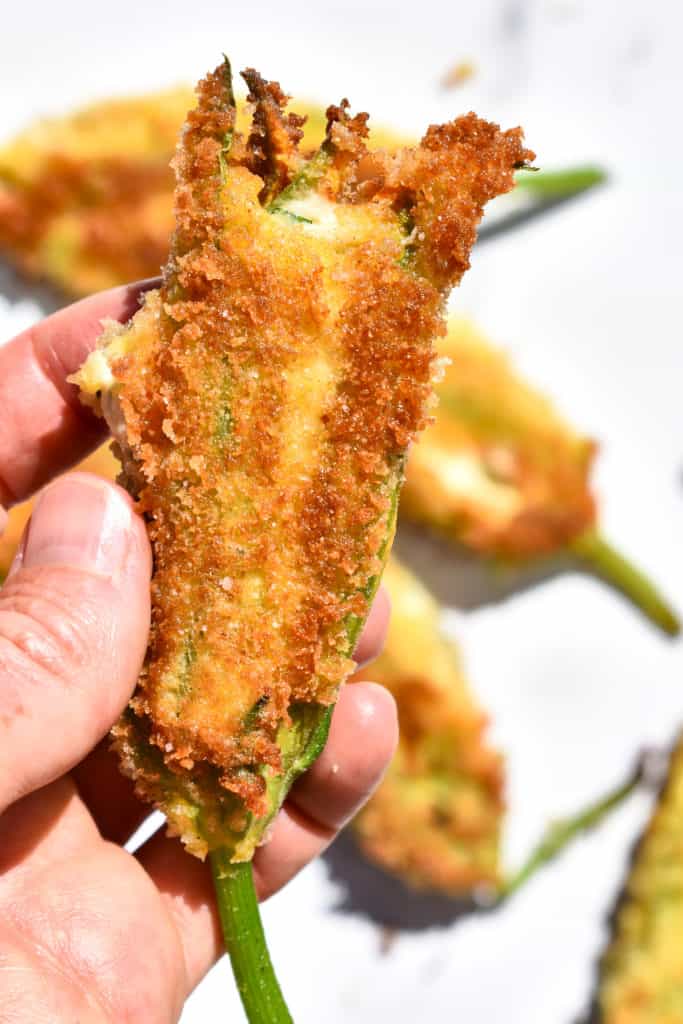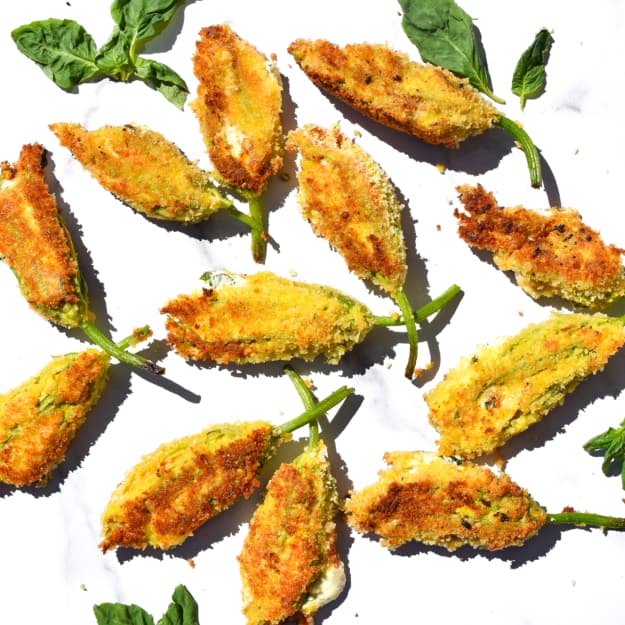 Stuffed Squash Blossoms
These delicately crispy squash blossoms are stuffed with Ricotta, Parmigiano Reggiano, cheese, garlic, basil, and anchovies, and a splash of lemon juice. They are lightly coated with panko breadcrumbs and pan-seared until crispy! These delicate blossoms are perfect to have as appetizers or side dishes at any summer soirée or gathering. Your guests will not be able to eat just one!
Ingredients
Filling
16 to 18

squash blossoms

12

oz

ricotta

3

tbsp

Parmigiano Reggiano, finely grated

2

small cloves

garlic, minced

½

cup

basil, chiffonade

10

anchovies, minced

1

tsp

fresh lemon juice

Salt and pepper to taste
Coating andAssembly
Stuffed squash blossoms

5

eggs, lighlty beaten

2

cups

panko breadcrumbs

9

tbsp

olive oil, separated

Salt to taste
Instructions
Filling
Carefully remove the inside stamen from the squash blossoms, being careful not to tear the blossom leaves. Reserve.

In a large mixing bowl, combine the Ricotta, Parmigiano, garlic, basil, anchovies, and lemon juice. Season to taste with salt and pepper.

Place the filling into a piping bag or large gallon plastic bag and cut the tip to about 1 centimeter wide.

Pipe the filling into each squash blossom, being careful again to not tear the blossom leaves. Reserve.
Coating and Assembly
Delicately dredge each squash blossom into the beaten eggs and then into the panko to coat. Repeat with all the squash blossoms unti they are all coated in the egg and panko.

Note: while dredging, try to keep on hand dry and onehand wet. This will make the process much cleaner and easier. 

Heat a large sauté pan and coat with 3 tablespoons of olive oil. Allow for the oil to become hot and shimmery and add 1/3 of the squash blossoms.

Cook the blossoms on this first side (without touching) until they become browned and golden, about 4 minutes.

Flip the blossoms over and cook on the second side for an additional 1-2 minutes. Take the blossoms out of the pan, place on paper towels to drain off excess oil, and reserve.

Wipe the pan clean and repeat this process with the second and third addition of the squash blossoms. Before placing new blossoms in the pan to sear, three fresh tablespoons of oil should be added. 

Sprinkle the finishedblossoms with salt and enjoy.
Nutrition
Calories:
437
kcal
Carbohydrates:
17
g
Protein:
16
g
Fat:
34
g
Saturated Fat:
9
g
Trans Fat:
1
g
Cholesterol:
171
mg
Sodium:
294
mg
Potassium:
197
mg
Fiber:
1
g
Sugar:
2
g
Vitamin A:
683
IU
Vitamin C:
2
mg
Calcium:
222
mg
Iron:
2
mg