Below are the ingredients
Apricots: This dessert is the perfect Spring treat, as apricots are in prime season in May and June!
I am drawn to their exquisite color and texture and feel like they are a match made in heaven with toasted pine nuts.
Pine Nuts: The Mediterranean variety is quite prevalent in Greece, so these fragrant nuts are widely used in both sweet and savory dishes.
The Greeks believe that the combination of fruit, nuts, and honey is an aphrodisiac.
Honey: I used sage honey in the preserves, which is another traditional Greek element. Sage runs wild in the mountainous fields in Greece and has a beautiful potency.
The summers are usually dry and hot and are a perfect climate for Sage, thyme, and Oregano to grow wild.
Honey also has a long entrancing relationship within the Greek identity and culture. Some of the best honey in the world is produced in Greece.
In Greek mythology, the first beekeeper was thought to be the demigod named Aristaeus, who learned beekeeping from the nymphs that raised him. It was thought that he invented the beehive and a place for bees to produce their work.
It was noted that this demigod was nursed with honey from these nymphs, and they created ambrosia, the nectar of the gods that provided longevity and immortality.
Water: The water in the syrup is just there to slightly cut the thickness of the honey and make a more liquidy syrup.
Palm Sugar: This is one of my preferred sweetening agents, as it is unrefined sugar. This sugar has both a low glycemic index and low fructose levels. It contains antioxidants, minerals, is unrefined, and contains no chemical breakdown alterations or artificial ingredients. It is pure and simple!
Coconut Milk: This non-dairy milk is loaded with a fantastic amount of vitamins and minerals. It is high in saturated "healthy" fats and is touted to reduce high cholesterol due to its high potassium level.
Millet: This ancient grain is high in fiber and rich in antioxidants such as phosphorous, magnesium, and folate. These antioxidants work to reduce stress and provide anti-inflammatory properties.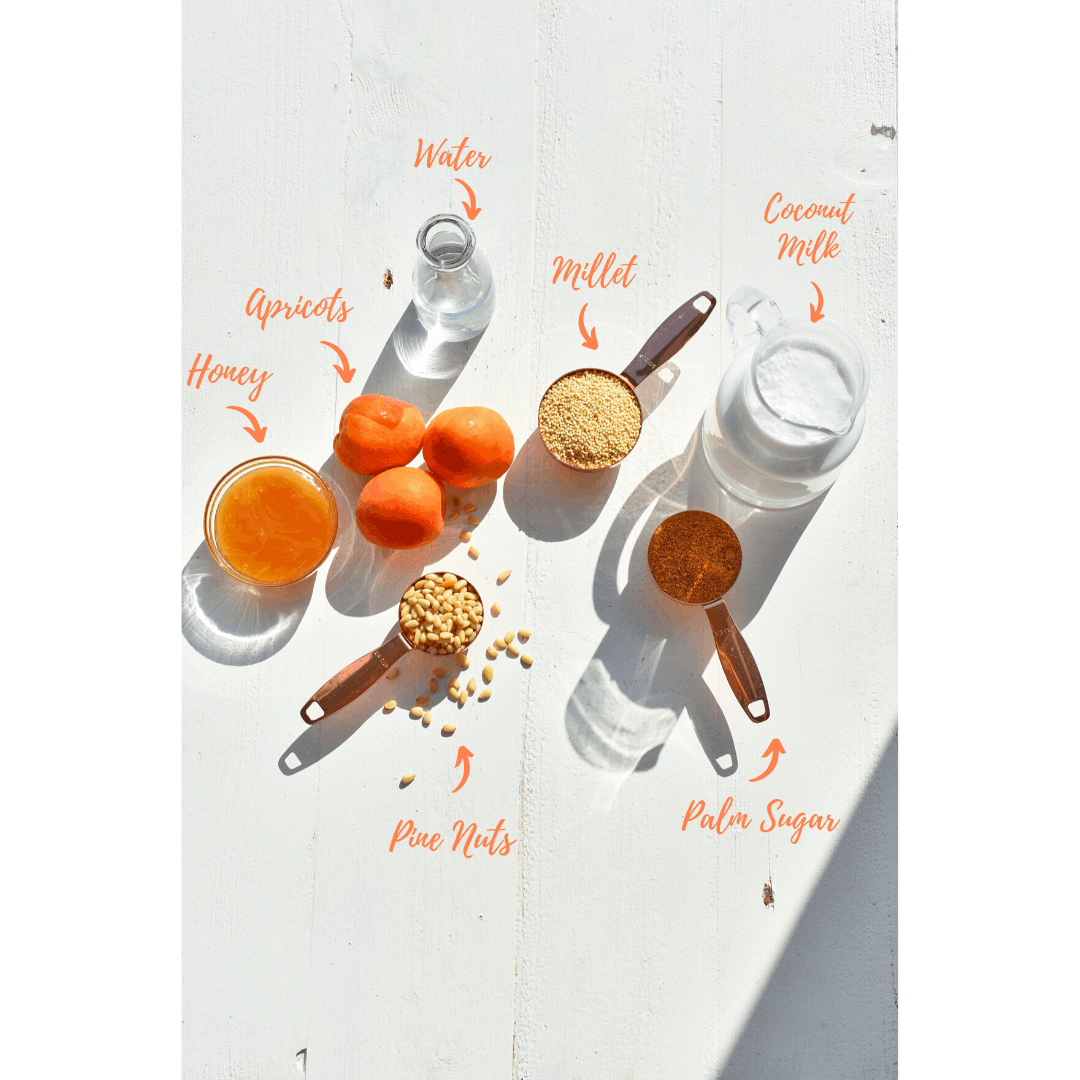 This pudding has such wonderfully vibrant colors! It's perfect for making a large batch and then placing in tiny cups and serving at your favorite springtime party or brunch! It will transport your guests to the cliffs on the Greek Islands, eating this treat, and feeling the ocean spray against their skin:)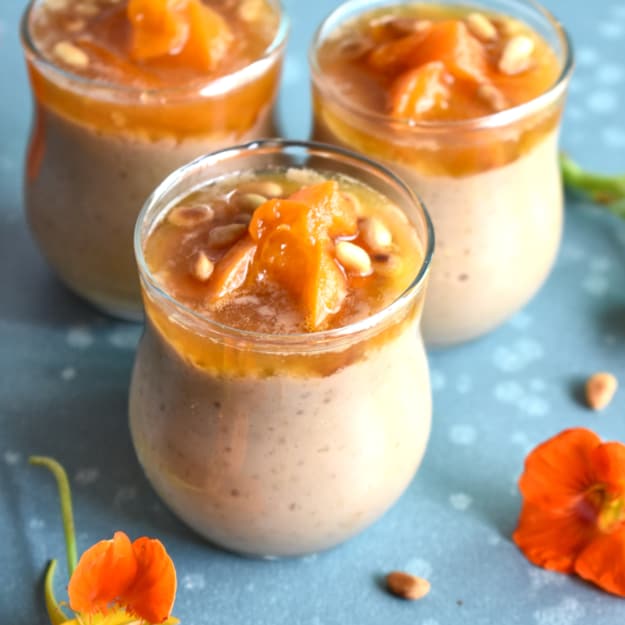 Warm Millet Rice Pudding with Glazed Apricots and Toasted Pine Nuts
This delicious treat is derived from the Classic Greek Rice pudding traditionally made with whole cow's milk. This pudding is its healthier non-dairy cousin! The ancient grain of millet is usedinstead of rice and coconut milk instead of cow's milk. The warm and creamytexture paired with the sweet honey glazed apricots and the toasted pine nuts is sensational!
Ingredients
Millet Rice Pudding
½

cup

millet

3

cups

coconut milk (full fat is recommended)

⅓

cup

palm sugar

¼

cup

pine nuts, toasted
Glazed Apricots
3

Apricots, pitted and sliced

½

cup

honey

¼

cup

water
Instructions
Millet Rice Pudding
Place the millet in a wide saucepan over moderate heat and toast dry for 1-2 minutes until nutty and fragrant.

Add the coconut milk and palm sugar and bring mixture to a boil.

Reduce the heat to a low simmer and cover. Cook for 20-30 minutes until the millet has bloomed, and all the liquid has been absorbed.

Serve warm with the glazedapricots and finish with the toasted pine nuts.
Glazed Apricots
Combine the apricots,honey, and water into a medium saucepan over moderate heat.

Allow the mixture to come to a boil and immediately reduce the heat to a low simmer.

Cook for 7-8 minutes, allowing the apricots to break down and the syrup to thicken.

Reserve to top the rice pudding. 
Nutrition
Calories:
447
kcal
Carbohydrates:
49
g
Protein:
5
g
Fat:
29
g
Saturated Fat:
22
g
Sodium:
35
mg
Potassium:
375
mg
Fiber:
2
g
Sugar:
31
g
Vitamin A:
339
IU
Vitamin C:
3
mg
Calcium:
27
mg
Iron:
5
mg