Below are the ingredients
Sweet Corn: If you can find locally grown sweet corn, you will have a fantastic start on making this salad! It will taste that much better. When you grill the corn, it gives off a mesquite taste that is quite lovely in a salad instead of just steamed corn. Sometimes I feel like people don't eat corn because they don't want to munch it on the cob and get it in their teeth. This salad takes all the work out for the eater.
The safest and best way to cut corn off the cob: Place the corn flat on the cutting board and slice off one side of the cob. Next, lay this flat side down on the cutting board. Now, you have a flat surface to work, where the cob won't slip out from your hands. Repeat this process with the next three sides, each time the corn lay flat on the cutting board. After all sides have been sliced, you can lightly score down the sides of the corn cobs with your knife to scrape away any lines of corn you missed. This way of cutting should ensure no knife slips/ injuries!
Cherry Tomatoes: I like to use assorted cherry tomatoes for this salad to give it that extra burst of color! It's important when slicing the tomatoes in half, to slice them in half, lengthwise. Slicing this way will ensure that the seeds will stay inside both halves and not spill out.
Red Onion: I think I'm obsessed with red onion. It seems to be my color of choice for all salads. I find that when I slice it super thin and mix it with acid, it creates a sweet taste.
Pro-tip for storing onions in the refrigerator: When I'm using a portion of onion for a dish, I always store the remaining onion in a plastic container in my fridge. This helps preserve the onion's shelf-life, and the strong smell doesn't permeate into my fridge. Stored this way, I end up using the onion for up to 5 days in my refrigerator before it gets old and waxy.
Arugula: Arugula is lovely in this salad because it has that pepper-bite that pairs beautifully with the Ricotta Salata cheese. I'm also a huge fan because it usually comes in packaged boxes that are pre-washed and cleaned. This is one less step I can eliminate in the salad making process.
Ricotta Salata: This cheese is not as well-known as regular ricotta, but it's so versatile and delicious! It's soft, creamy, and holds its shape enough for it to be grated. However, it is so delicate that it almost melts into the salad. It has a sweet and mild taste, so it's perfect for any finicky eaters.
Basil: This pungent herb is fantastic when broken down and pulsed into a vinaigrette. In the summers, I have so much growing in my garden; this recipe is perfect for taking advantage of the bounty. Remember, to reserve some basil leaves for garnishing the salad as well.
Garlic: Depending on how spicy you like your vinaigrette, I tend to use a little raw garlic, taste it, and add more if desired. Raw garlic is so strong; I think one large clove is the perfect amount for this vinaigrette. In the recipe, I also call to mince the garlic before adding it to the food processor. I like to do this because often, when I throw in whole cloves, I find the garlic doesn't break down properly, and I'm left with chunks.
Anchovies: This is the secret ingredient in the vinaigrette that gives it a wonderful umami flavor. Most people will not even be able to detect the taste, so don't worry if it might scare away eaters. Instead, the anchovies dissolve into the vinaigrette when pulsed in the food processor. They give the vinaigrette a beautiful spiked, salty depth that pairs fantastically with the creaminess of the Ricotta Salata.
Red Wine Vinegar and Olive Oil: Using good quality olive oil and vinegar are essential for delicious salad making! Once you start focusing on this, you will be able to taste a difference. When you use weak quality vinegar, it tends to taste harsh and almost spicy. Poor quality olive oil tastes bitter and flat.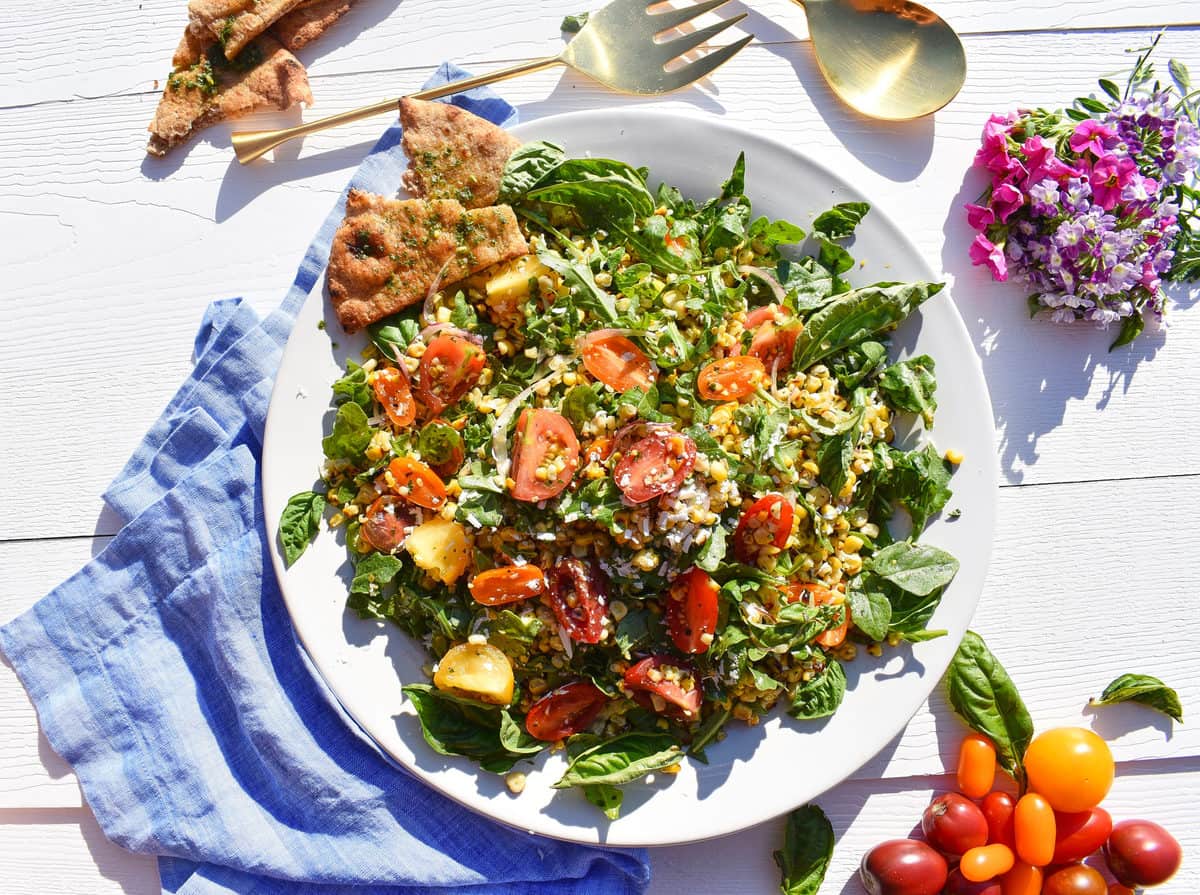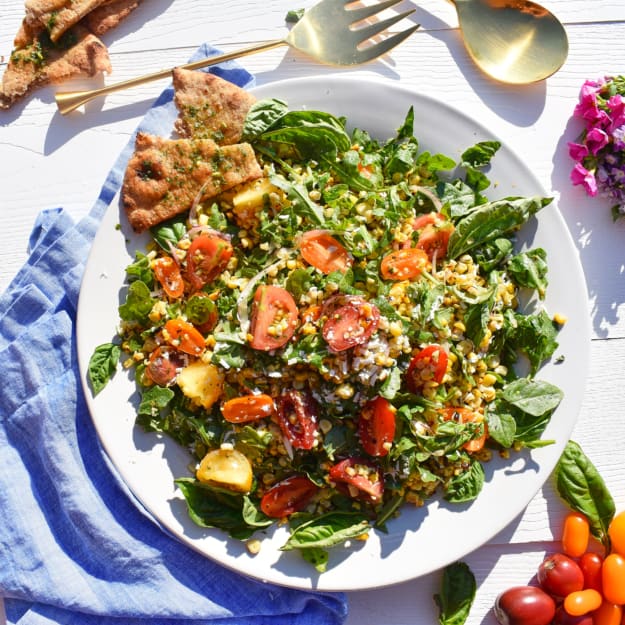 Grilled Corn, Tomato, Red Onion, Arugula, and Ricotta Salata Salad with Basil Vinaigrette
I love this Italian salad, as it's simple and perfect on a hot summer day! The grilled corn adds a touch of sweetness that complements the basil vinaigrette's acidity and herbaceousness that takes minutes to make. The Ricotta Salata almost melts in into the salad and adds a lovely creamy note. This salad is lovely for any summer soirée and goes with just about any protein and spread!
Ingredients
Salad
4

ears

sweet corn, grilled

2

cups

assorted cherry tomatoes, sliced in half

¼

cup

red onion, thinly sliced

2.5

oz

arugula (about 3 cups)

¼

cup

Ricotta Salata, grated

Basil leaves for garnish
Basil Vinaigrette
2 1/2

cups

basil leaves, stems removed

1

clove

garlic, minced

2

anchovies

1/4

cup

red wine vinegar

3/4

cup

olive oil

Salt and pepper to taste
Instructions
Salad
Cut the kernels off the corn cobs and place in a large mixing bowl.

Add the cherry tomatoes, red onion, and arugula and mix to combine.

Make the vinaigrette. Drizzle in half and toss to combine, (depending on how "dressed" you like your salads). If you have extra vinaigrette place on the side and drizzle on pieces of toasted bread.

Top the salad with the ricotta and garnish with basil leaves.
Basil Vinaigrette
Place the basil, garlic, anchovies, and red wine vinegar in a food processor and pulse to combine. 

Slowly drizzle in the olive oil with the motor running to thicken and emulsify the vinaigrette. 

Season to taste with salt and pepper. 
Nutrition
Calories:
417
kcal
Carbohydrates:
6
g
Protein:
4
g
Fat:
43
g
Saturated Fat:
7
g
Cholesterol:
9
mg
Sodium:
31
mg
Potassium:
321
mg
Fiber:
1
g
Sugar:
3
g
Vitamin A:
1646
IU
Vitamin C:
23
mg
Calcium:
102
mg
Iron:
2
mg