Please note, as an Amazon Associate, I earn from qualifying purchases, and some links below are affiliate links where I will earn a commission if you purchase through these links. I have used all the products listed below and recommend them because they are quality products and companies I trust.
I'm obsessed with this Japanese Cucumber Salad-Sunomono Salad Recipe because it's quick, simple, delicious, and pairs with just about anything! It's made with five simple ingredients and is super easy to complete in fifteen minutes. What could be better?! Cucumbers and red onion are thinly sliced, coated with sesame oil and a splash of rice vinegar, and tossed with toasted black sesame seeds. This salad will make you think you're dining at your local Japanese restaurant.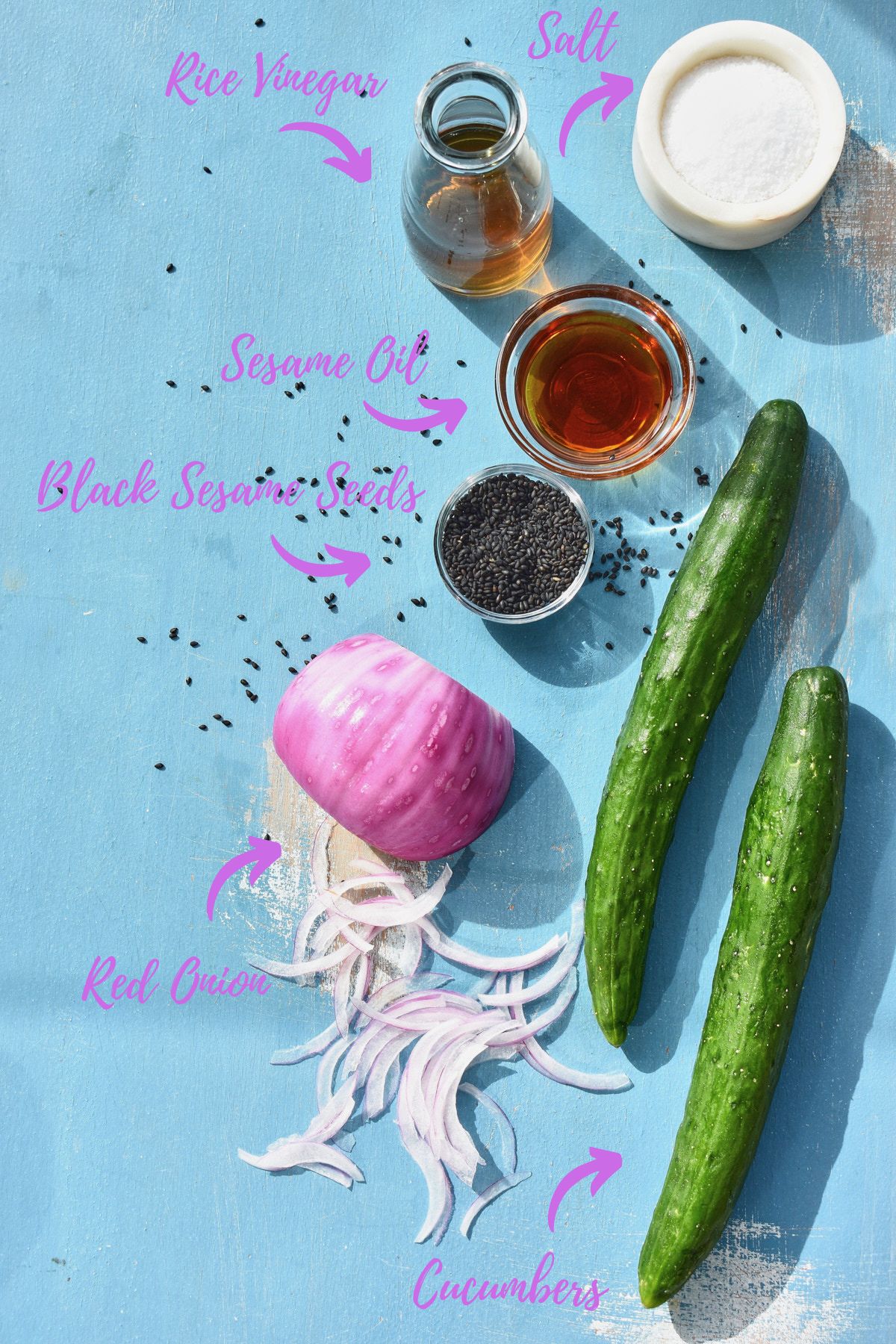 Japanese Cucumber Salad Ingredients
What you'll need to make this recipe:
Japanese Cucumbers: These cucumbers are long and skinny with a fantastic crunch. However, any cucumber will work for this salad.
Red Onion: Thinly sliced onion adds the perfect sweetness with the vinegar.
Sesame Oil: I always use toasted sesame for a deeper flavor.
Rice Vinegar: This adds such a soft amount of acid to pickle the cucumber and onion.
Black Sesame Seeds: I like using black seeds for color, but white seeds would be great, too.
Kosher Salt: I only use kosher salt in all my recipes. It's simply the best!
Find the full recipe with ingredients and directions below.
Recipe Directions
Use a Japanese mandolin or a sharp knife to slice the cucumbers into paper-thin rounds. Place your red onion on the cutting board and lob off the blossom end. Place the onion flat on the cutting board and cut directly through the root, creating two halves.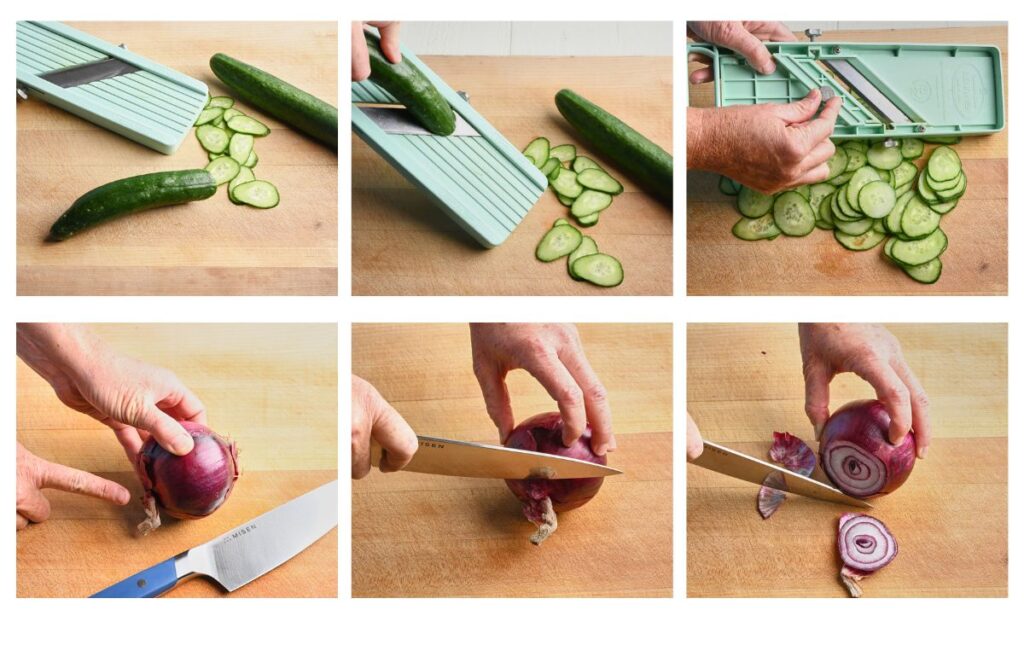 Peel off the skin of both red onion halves and discard. Place one half with the flat side on the board and cut it in half again, slicing directly through the root. Lob off the root end of one-quarter of the onion. Take the remaining onion, place it in an airtight container, and reserve it for another use. (Note: Keeping the onion in an airtight container helps prevent the smell from permeating the rest of your refrigerator.)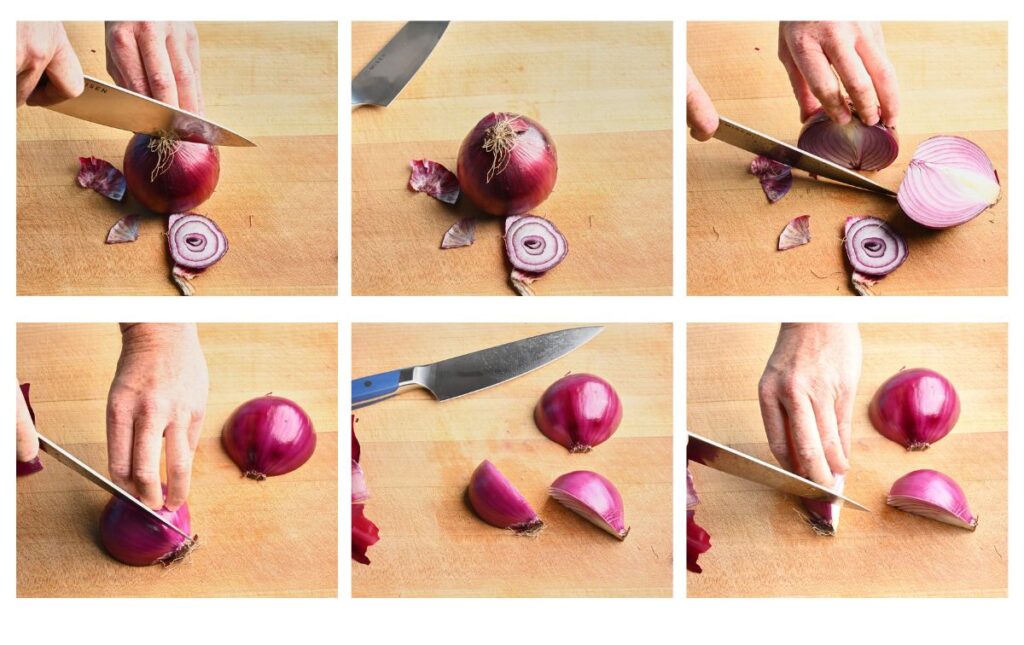 Place a quarter of the onion on the mandolin and slice it into paper-thin paper pieces. Again, if you do not have a mandolin, slice the onion as thin as possible with your knife. Place the sliced cucumber and onion in a large glass or stainless-steel mixing bowl. Add the measured sesame oil, rice vinegar, black sesame seeds, and salt.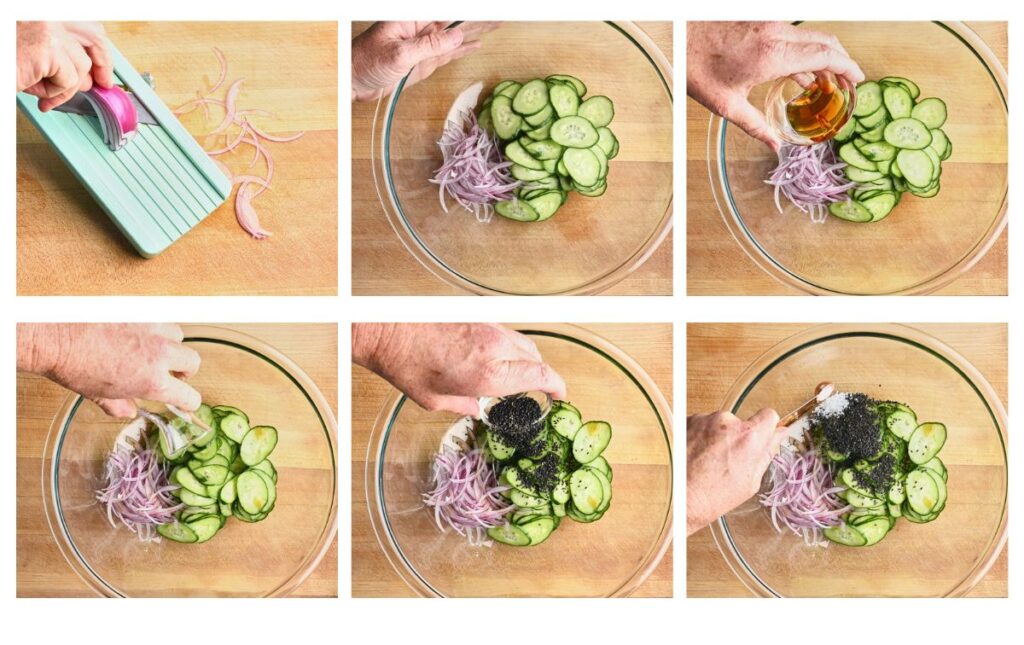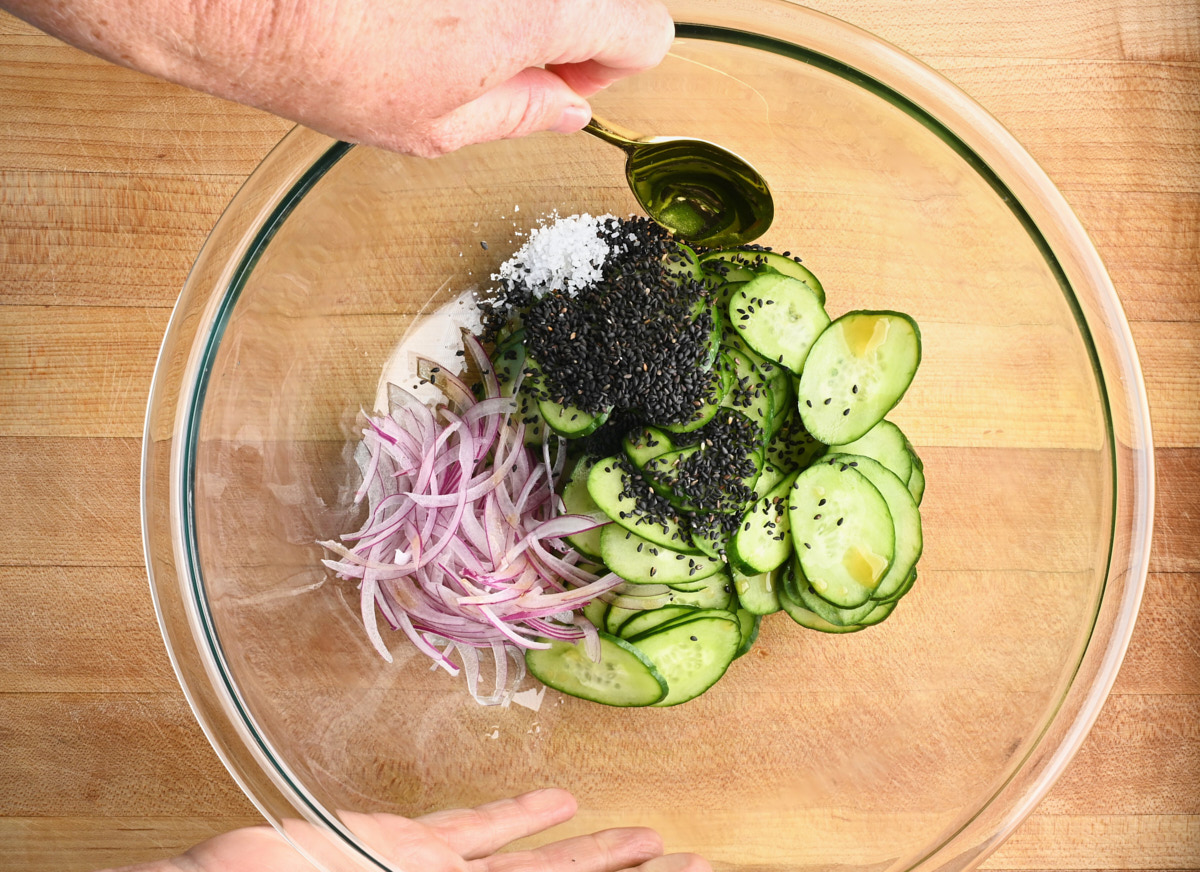 Use a large spoon to mix until well combined. Serve and enjoy.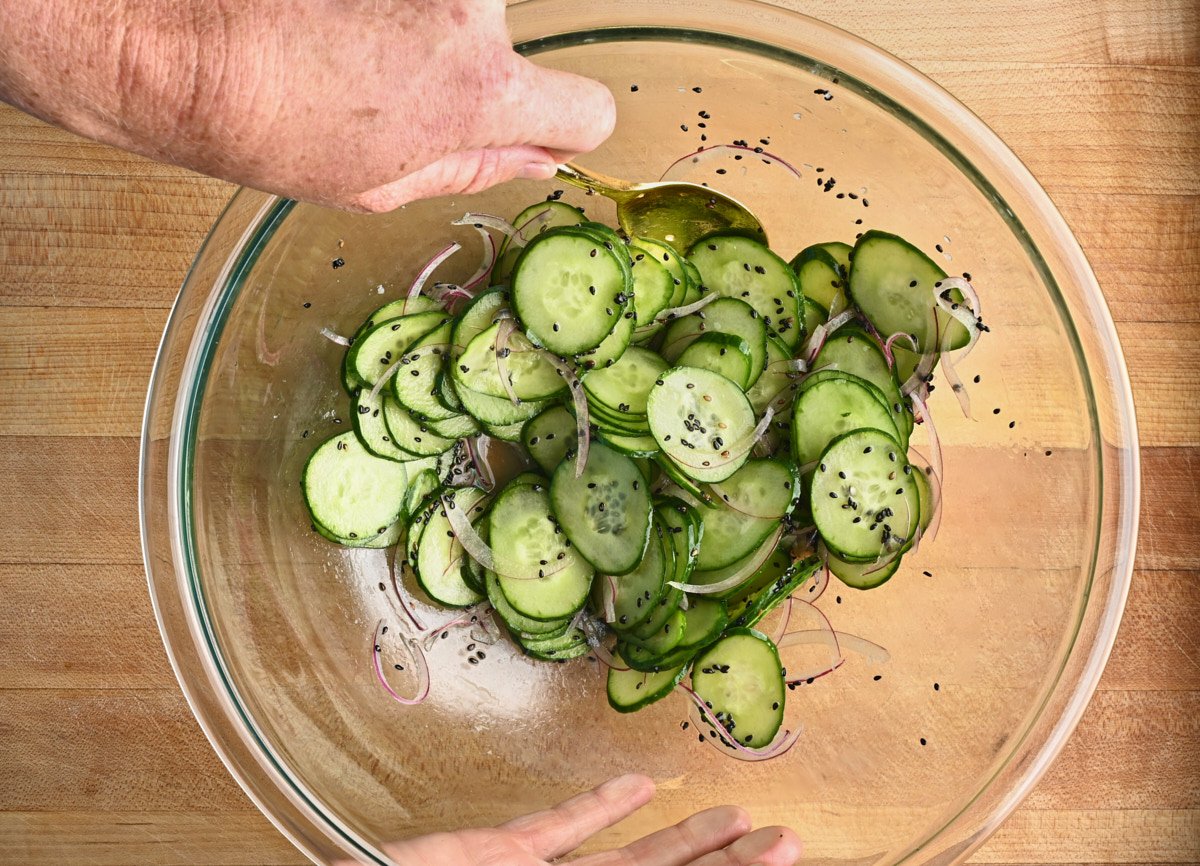 Japanese Cucumber Salad FAQ
What is Japanese Cucumber Salad-Sunomono Salad?
This cold salad is what is called a "quick pickle. Food is submerged in a salted vinegar solution for immediate or fast consumption. Cucumbers and red onion are thinly sliced and tossed in this salad with sesame oil, rice vinegar, salt, and toasted black sesame seeds. The vinegar and salt act as the "pickling" agents, breaking down the cucumbers and onions to bring out their natural sweetness to create a crisp crunch.
Do you peel cucumbers for cucumber salad?
This recipe uses Japanese cucumbers with very thin skin, so I prefer not to peel them. The skin gives the salad more texture and color. If you use Persian Cucumbers, English cucumbers, Hot House cucumbers, regular cucumbers, or any cucumber, I would leave the skin on and make thin slices. 
How to slice a cucumber for this salad.
I like to use a Japanese mandolin to slice the cucumber and red onion super thin. I prefer this tool over a food processor because I get perfectly uniform slices. However, you can use a very sharp knife as well. If you invest in a mandolin, I also highly recommend using it for these other delicious and simple salads: Persimmon Salad, Corn Salad, Brussel Sprouts Salad, and Farro Salad. You can pair these salads with your favorite grilled chicken or other protein, and they'll be the star of your next dinner party or soiree! 
How does adding salt to cucumbers affect their taste?
Salting cucumbers acts as a "cooking agent," breaking down the cucumber to extract water content. I like to slice my cucumbers first, add them to a small bowl with salt, let them sit for twenty minutes, and then squeeze out the water before adding them to the rest of my salad ingredients. Don't forget to discard the excess water before adding it to the salad. I also use this same salting cucumber technique in this delicious Cucumber Tomato Salad. The salt helps to bring out the vegetables' natural sweetness and flavor. 
What is the difference between a cucumber and a pickle?
A cucumber is a raw, untouched vegetable, while a pickle is a cucumber stored in a flavored brine solution of water, sugar, and vinegar to change its taste and texture. 
Variations
Suggested Meal Pairings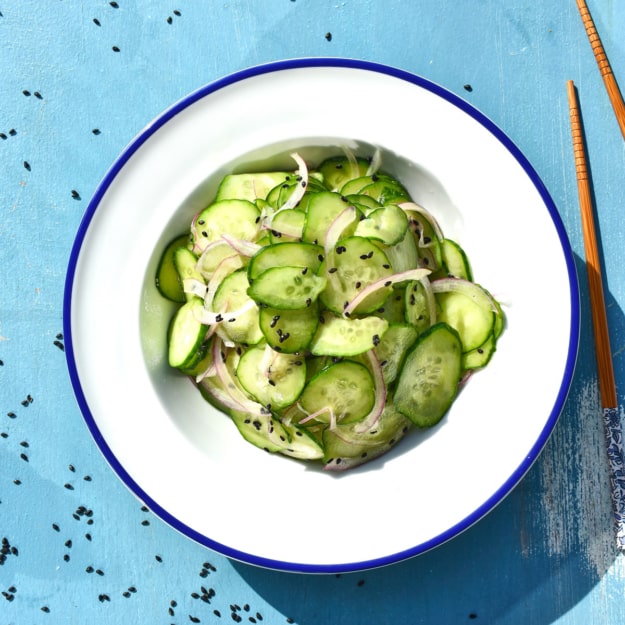 Japanese Cucumber Salad (Sunomono) Recipe
This Asian-inspired Japanese cucumber salad is one of my absolute favorites because it's outrageously easy to make, has a beautiful texture, and pairs with any protein!
Instructions
Combine all ingredients in a large mixing bowl.

Season to taste with salt.
Notes
Using a mandolin is the easiest and quickest way to make this salad. 
Using a mandolin to slice the cucumber thinly and red onion is the easiest and quickest way to get perfectly uniform, thinly sliced vegetables. 
I like to use a Japanese mandolin. It is one of my most prized and essential kitchen tools. I practically use it every day! 
You must be careful and methodical when using such a tool not to harm your fingers, as all mandolins are incredibly sharp. 
My advice is to work slowly and get comfortable with the tool. 
If you are uncomfortable using a mandolin, you can work with the same precision and care to achieve a similar result with a knife. 
Because you only use one-quarter of the red onion, it's best to slice through the root to keep all the layers intact. 
It is instructed above to take the onion and lob off the blossom end. Then, place the onion on the flat side down and slice directly through the root. Place the one-half flat side down, and slice directly through the root again to make a quarter. You are using this one quarter for the salad and will slice off the root end of the quarter to slice it on the mandolin. 
However, the onion half and other quarter piece of onion still hold the root. Thus, keeping the root intact will hold all the layers and flavor together and help when cutting the onion for future use! 
Buy already toasted sesame seeds.
I always keep toasted sesame seeds (black and white) in my pantry!! It saves you time, hassle, and fear of burning them in your toaster oven. You can usually find them pre-toasted in most Asian markets. Trust me; they are a complete game-changer for your panty!
Nutrition
Calories:
139
kcal
Carbohydrates:
13
g
Protein:
3
g
Fat:
9
g
Saturated Fat:
1
g
Polyunsaturated Fat:
4
g
Monounsaturated Fat:
4
g
Sodium:
298
mg
Potassium:
480
mg
Fiber:
2
g
Sugar:
6
g
Vitamin A:
316
IU
Vitamin C:
9
mg
Calcium:
92
mg
Iron:
1
mg