Below are the ingredients
Flour: Using a good quality flour is essential for all baked goods. I always use King Arthur flour, which is made right near my hometown in Norwich, VT.
Baking Powder: There is very little chemical leavening agent in this recipe. The baking powder is used to help make these biscuits rise in addition to the folding process of the dough.
Salt: Kosher salt is a must for all baking and cooking! It is iodine-free and is of higher quality than regular table salt. Also, the coarseness of the grain creates a better platform for the baking process.
Maple Sugar: The maple sugar gives these biscuits an alternate sweetness that makes them completely heavenly! If you can find a locally made maple sugar, that is best. However, sometimes you can even source this product in regular organic supermarkets. If you are unable to source maple sugar, you can always substitute with cane sugar or palm sugar.
Unsalted Butter: I only use unsalted butter for baking and cooking! Don't get me wrong; salted butter is quite delicious. However, I only use it for already baked and cooked items. In the baking process, you want FULL control over your addition of salt, and it needs to added in the correct place for optimal results.
Buttermilk: Buttermilk gives these biscuits a wonderfully slightly sour tastes that complements the sweetness of the maple sugar. It makes these biscuits moist, but also flaky in the best possible way. If you do not have buttermilk, you can always add a teaspoon of lemon juice to whole milk to achieve a similar product.
Heavy Cream and Maple Sugar or Turbinado Sugar: I like to brush the top of my biscuits with heavy cream and sprinkle with sugar. The fat in the cream allows for the biscuit to brown in the oven and the sugar creates a perfectly textured golden crust.
Strawberries: There is no better combination than cream and berries! You could substitute strawberries with any other berry, as long as you follow the same instructions and procedures.
Lemon Juice: The lemon juice is in the strawberry jam cuts the sweetness of the berries. It gives the jam the perfect touch of acid that works to break down the berries and complement the sugar component in the jam.
Maple Sugar: Again, I used maple sugar as my sweetening agent for the jam. If you are unable to find maple sugar, you can always substitute for cane or palm sugar.
Pectin: The pectin helps to thicken the jam so you are not left with a syrupy sauce.
Heavy Cream and Maple Syrup: I wanted to keep with the theme of this recipe and make a maple whipped cream. If you've never made maple whipped cream, you absolutely MUST!! My family is so addicted, it's the only kind of cream I make these days:)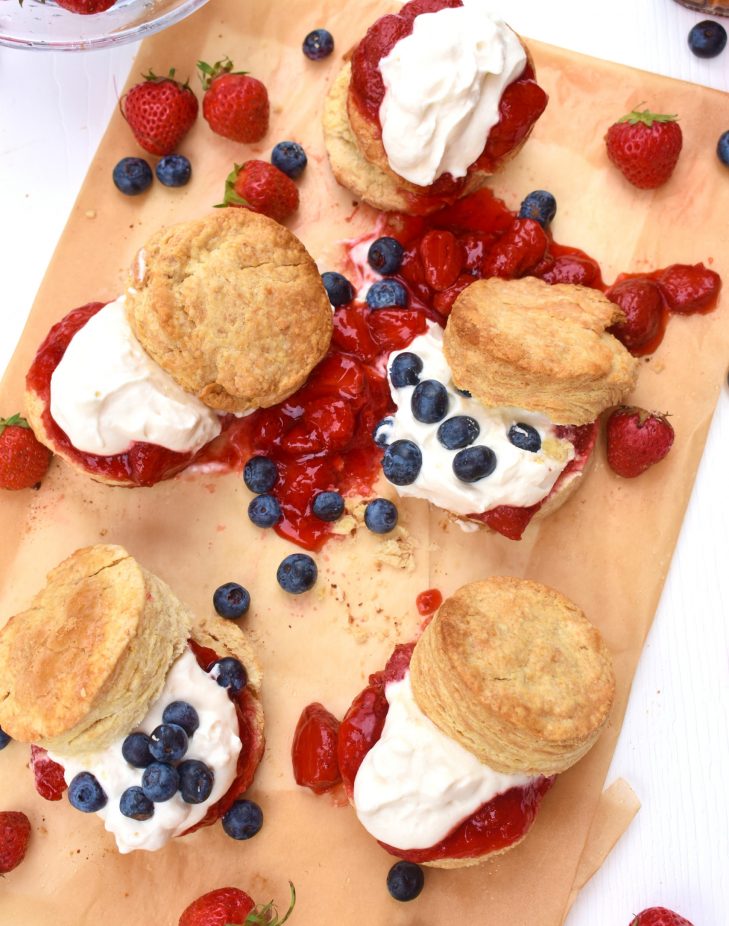 The Essentials in Biscuit Making:
It is crucial to sift your dry ingredients together, so you are not left with any clumps of baking powder or salt. Have you ever tasted a baked good and gotten a sour taste of leavening agent?…it is not pleasant.
You want to use COLD butter and cut it into the dry mixture. The goal is to have pebble-like pieces of butter incorporated into your dough and not have the butter melt in. This will become crucial for the next steps.
Once your butter is cut into your dry mixture, you want to knead it into a ball just until a rough dough is achieved. At this stage, you do not want to over knead the dough.
Once you have a ball shape, wrap the dough in plastic wrap and place it in the refrigerator for 20-30 minutes. This is KEY! You want the butter in your dough to be as cold as possible before making bookends (kneading) and baking. Butter is made up of fat and milk solids. The milk solids will turn into steam and evaporate when the biscuits are cooking in the oven. This steam will help make the biscuits rise and give them the "puff and fluff" inside the oven. If you're butter is melted and warmed, the butter has no ability to work its magic in the oven!
To achieve the perfect layered biscuits, I use the "bookend" folding method which I learned from Southern experts when I lived and worked in Charleston, SC. After your dough has been chilled, you take a rolling pin and floured surface and roll your dough into a large square or rectangle. One side at a time, fold over a side to the center of the square, like you are turning the page of a book. Roll the dough flat again, and repeat with a second side of the square. Repeat this process 4-5 times, each time giving the dough a quarter turn, so it does not stick to the bottom of your work surface.
Roll the dough flat again about 1 1/2 inch thick and use a biscuit cutter to cut out the rounds. Make sure you do not twist the cutter and only move it up and down! Twisting will seal off portions of the dough and the biscuits will not rise properly.
Place your biscuits on a lined sheet tray. FOR EXTRA perfect biscuits, I place the cut biscuits back into the refrigerator and allow the butter to chill again for an additional 30 minutes before baking to ensure that my butter is super cold.
Right before baking, brush the biscuits with heavy cream and sprinkle sugar on top.
Bake in the oven until golden brown and slightly crispy on top!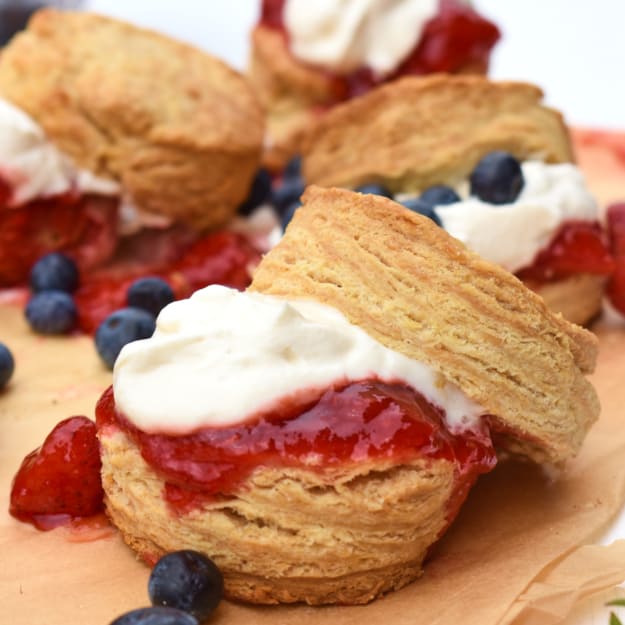 Maple Strawberry Shortcake Biscuits
If you want the ultimate beginning of summer recipe, these biscuits should be at the top of your list! These biscuits have amazing flaky layers, are crumbly, have the perfect amount of sweetness, and develop a beautiful golden crust in the oven. I use Pure NH maple sugar for the biscuits and maple syrup for the whipped cream that give this recipe a delightful sweet spin:) Try making them at the height of strawberry season for pure perfection!
Ingredients
Maple Biscuits
4

cups

flour

4

tsp

baking powder

1 ½

tsp

salt

3

tbsp

maple

1.5

cups

3 sticks unsalted butter, cubed

⅔

cup

buttermilk

4

tbsp

heavy cream

Maple sugar or Turbinado sugar
Strawberry Jam
3

cups

fresh strawberries, halved

1/2

lemon, juiced

1/3

cup

maple syrup (or organic cane sugar)

2

tbsp

pectin
Maple Whipped Cream
2

cups

heavy cream

1/4

cup

maple syrup
Instructions
Maple Biscuits
Preheat oven to 400 degrees.

Sift the flour, baking powder, salt, and sugar together into a large mixing bowl.

Cut in butter using a pastry cutter or two forks until mixture resembles coarse meal.

Add the buttermilk 1 teaspoon at a time, just enough to bring the dough away from the sides of the bowl.

Gather dough into a ball, and place on floured work surface. Using floured hands, knead slightly form soft dough.

Cover the dough with plastic wrap and refrigerate for 20-30 minutes.

Place dough on floured work surface and make 4-5 bookends.

Roll out flat to a 2-½ inch thickness.

Cut out dough with a 3" biscuit cutter. (ONLY CUT UP AND DOWN-DO NOT TWIST)

Place biscuits on a lined baking sheet and brush the tops with the heavy cream and sprinkle the maple sugar or turbinado sugar over the tops.

Bake for 12-18 minutes until the biscuits are golden brown.

Cool on a wire rack.
Strawberry Jam
Combine the strawberries, lemon juice, and sugar in a medium saucepan and place over moderate heat. 

Cook the mixture for 7-10 minutes, until the strawberries have broken down and the mixture becomes syrupy. 

Reduce the heat to a simmer, and add the pectin. Continue to cook for 1-2 minutes, to allow the pectin to dissolve. 

Allow the mixture to cool and serve with the warm biscuits.
Maple Whipped Cream
Using a cold stainless steel bowl, whisk the cream until soft peaks.

Add the maple syrup  and continue to whisk until the cream is slightly firm.

Serve with biscuits and strawberry jam. 
Nutrition
Calories:
1190
kcal
Carbohydrates:
107
g
Protein:
12
g
Fat:
81
g
Saturated Fat:
50
g
Trans Fat:
2
g
Cholesterol:
247
mg
Sodium:
948
mg
Potassium:
422
mg
Fiber:
4
g
Sugar:
30
g
Vitamin A:
2786
IU
Vitamin C:
48
mg
Calcium:
331
mg
Iron:
5
mg