Below are the ingredients
Graham Crackers: I like to buy whole cookies that you then pulse in a food processor. That way, I can repurpose the cookies for all treats and snacks. You can also get a more organic brand such as Annie's in the whole cookie form. However, if this step is too difficult for you, you are more than welcome to buy pre-pulsed crumbs. This recipe is also a no-bake crust! So, you just have to mix the graham crackers with the melted butter, palm sugar, and salt, press this mixture into your sprayed springform pan, and refrigerate until the filling is ready.
Unsalted Butter: I only use unsalted butter for baking and cooking! Don't get me wrong; salted butter is quite delicious. However, I only use it for already baked and cooked items like a warm scone or perfect piece of toast. In the baking and cooking process, you want FULL control over your addition of salt, and it needs to added in the correct place for optimal results.
Palm Sugar: This is one of my preferred sweetening agents, as it is unrefined sugar. This sugar has both a low glycemic index and low fructose levels. It contains antioxidants, minerals, is unrefined, and contains no chemical breakdown alterations or artificial ingredients. It is pure and simple! Note: Because palm sugar is used in this recipe, it gives the filling a slight caramel tint.
Heavy Cream: The cream is whipped in this recipe, adding the airy lightness to the filling. You must fold the cream into the cream cheese mixture so that you do not break/disturb these molecules that you have just taken the time to make.
Folding: Lightly incorporating one mixture into another, by stirring "up and over," lifting one mixture over another, rather than vigorously stirring.
Raspberries: There is no better combination than cream and berries! You could substitute raspberries with any other berry, as long as you follow the same instructions and procedures.
Salt: Kosher salt is a must for all baking and cooking! It is iodine-free and is of higher quality than regular table salt. Also, the coarseness of the grain creates a better platform for the baking and cooking process.
Eggs: These are fresh farm eggs. The yolks are supremely vibrant orange-yellow and make your final product oh so delicious! In this recipe, I only use the yolks. They act as a binding agent, creating a glue or hold that allows the filling "to set" in the fridge and not completely collapse. The yolks also have a high-fat content, that adds body to the filling without weighing it down. Be sure to have them at room temperature before starting the recipe. Note: the eggs are "cooked" in this recipe, as you whisk them with the Palm sugar. The sugar acts as a chemical agent that breaks down the proteins in the yolks. Whisk the mixture until you achieve a pale, frothy /ribbon-like texture. You are on the right track when you can note this change of color and composition.
Lemon: I utilized both the juice and the zest in this recipe. The juice is in the raspberry sauce to cut the sweetness of the berries. The zest is in the filling to create brightness and round out the cream.
Cream Cheese: It is best to leave your cream cheese out at room temperature before starting this recipe. It will make it easier to whip it to a fluffy mixture with the palm sugar, mascarpone, sour cream, and lemon zest.
Sour Cream: There is a minimal amount of sour cream in the recipe, only 1/4 cup. It balances the cream cheese to give the filling that classic tart cheesecake taste.
Mascarpone: I could place mascarpone in every treat I eat! It's smooth, slightly sweet, and oh so heavenly in every way, shape, and form. It gives this filling a different texture that more resembles a tiramisu without the espresso flavor.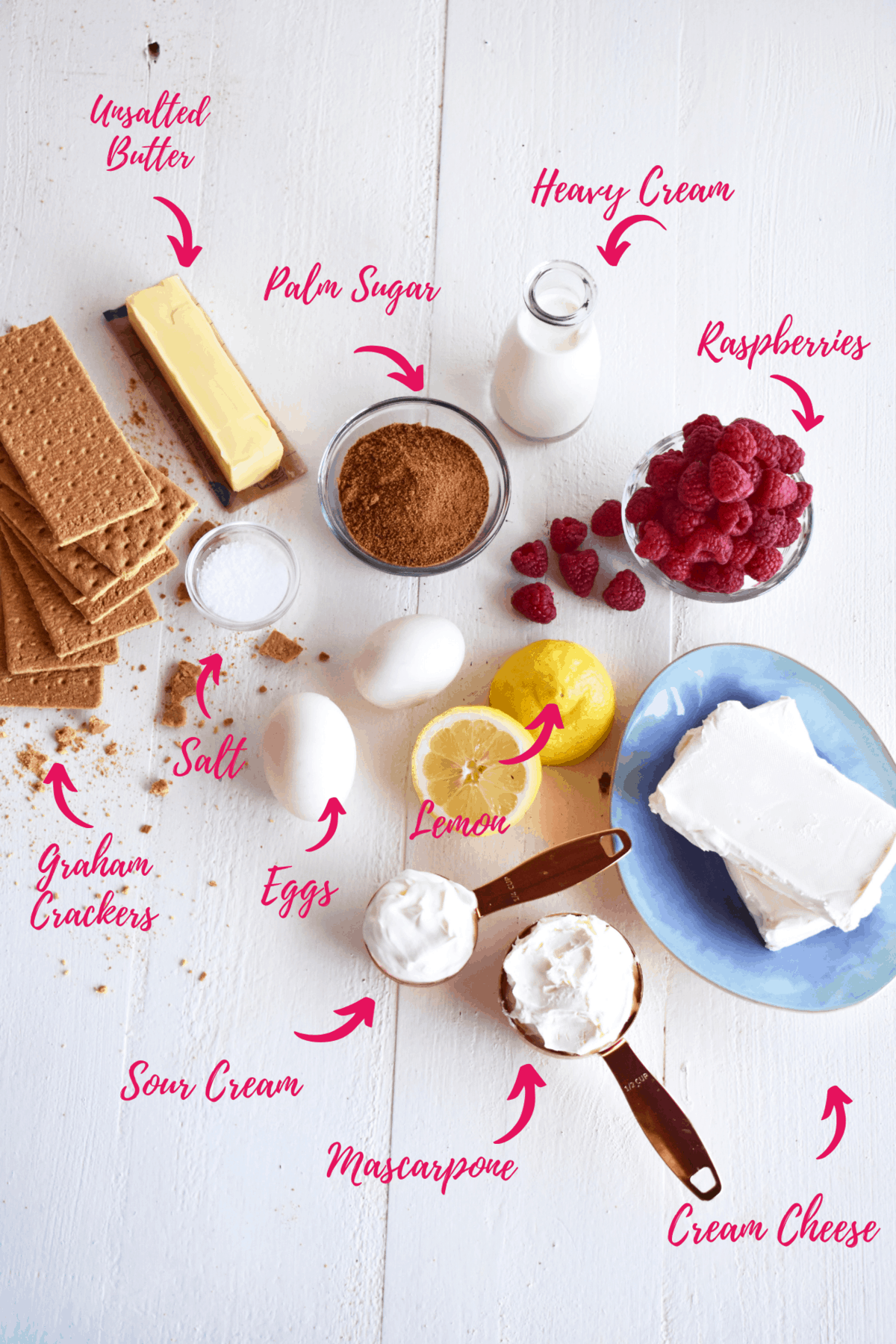 Feel free to decorate your cake any way you desire! I added fresh blueberries and mint to create some additional color and texture.
You will most likely have extra raspberry sauce after you dot it on top of the filling. This sauce is the perfect extra accouterment to serve your guests with every slice!
It is best to eat this dessert, and not to let it sit in the refrigerator for days or place in your freezer. It won't hold for too long, as it's quite delicate. So, eat with friends and family and enjoy the moment:) It is so good, I dare you to have just one serving:)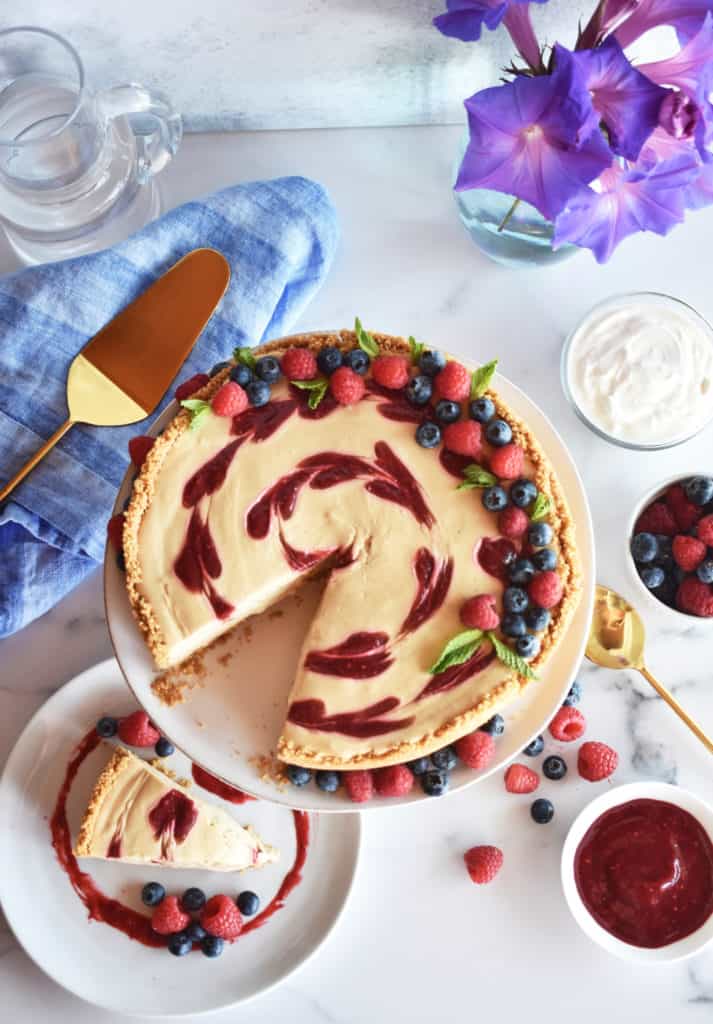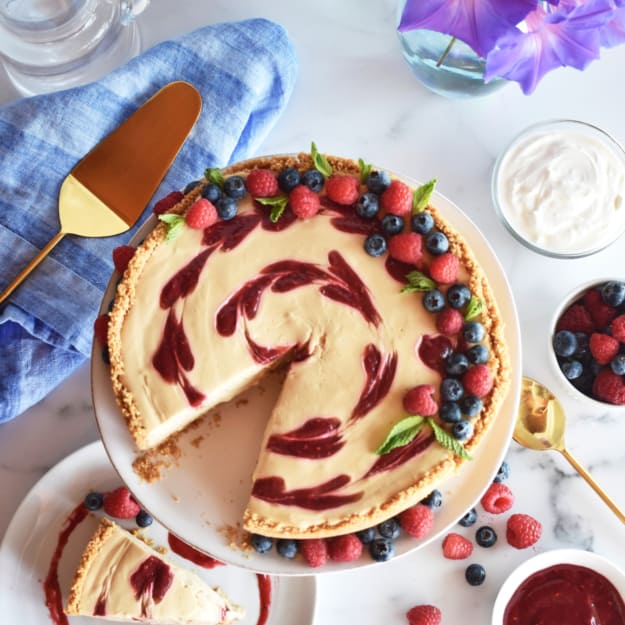 No-Bake Raspberry Mascarpone Cheesecake
This recipe has traditional cheesecake flavors, with an anything but conventional texture! Unlike most cheesecakes, this recipe is sensationally delicate and weightless. Because of this, you will feel slightly less guilty when eating. However, this cake is so irresistible, you might find yourself eating more than one slice! I love that this is an entirely no-bake, no-fuss recipe.
Ingredients
Graham Cracker Crust
9

oz

graham crackers (a little less than two sleeves)

6

tbsp

unsalted butter, melted

1

tsp

palm sugar

¼

tsp

Kosher salt

Cooking Spray
Raspberry Sauce
12

oz

fresh raspberries

3

tbsp

palm sugar

½

lemon, juiced
Instructions
Graham Cracker Crust
Spray a 9-inch Springform pan with cooking spray.

Pulse the graham crackers in a food processor until the mixture resembles a course sand texture.

Place the crumbs into a large mixing bowl and add the melted butter, Palm sugar, and salt.

Mix just until combined. Press mixture into the Springform pan and use a glass or weighted object to press down the center and push the crust about 1 ½ inches up the side of the pan.

Refrigerate while making the filling.
Raspberry Sauce
Place a small saucepan over moderate heat and add the raspberries, Palm sugar, and lemon juice.

Stir to combine and allow mixture to come to a slight bubble. Reduce the heat, and allow the mixture to cook for an additional 5 minutes to thicken.

Allow the mixture to cool slightly, and then place in a food processor and pulse until smooth.

Place a fine mesh strainer over a bowl and pour in the raspberry mixture.

Using a silicone spatula, work the mixture back and forth, scraping against the sides of the strainer to push out the juice and leave the seeds inside the strainer.
Notes
NOTE: if you do not want ANY seeds in your raspberry mixture, you might have to do this straining and scraping procedure twice.
Nutrition
Calories:
2012
kcal
Carbohydrates:
276
g
Protein:
23
g
Fat:
96
g
Saturated Fat:
47
g
Trans Fat:
3
g
Cholesterol:
181
mg
Sodium:
2358
mg
Potassium:
1060
mg
Fiber:
32
g
Sugar:
102
g
Vitamin A:
2223
IU
Vitamin C:
118
mg
Calcium:
321
mg
Iron:
13
mg