Below are the ingredients
I love how simple and easy these wraps are! They are stored in your pantry and come in a variety of flavors. You can whip up this sandwich in a matter of minutes!
I chose to use the original flavor for this recipe. I thought it would be best to highlight the pesto cream cheese.
Pesto Cream Cheese: I decided to give this wrap some spunk and use pesto cream cheese instead of classic mayonnaise and mustard. I happened to have homemade pesto stored in my freezer and just scooped out a tablespoon and added it to my cream cheese. However, you can always rely on store bought pesto, which should be a staple item in your pantry. I used a 1-2 ratio of pesto to cream cheese with one tablespoon pesto to two tablespoons cream cheese, mixed at room temperature.
6-minute egg: Eggs are ingredients that give your wrap body, texture, and the perfect amount of silkiness and healthy fat. Honestly, when you get to know me, you will realize that I can eat an egg on pretty much any dish… haha. I especially love it in this wrap, with a "jammy" yoke. Of course, you can choose to have your yolk cooked more if you desire. A completely cooked through yolk will be around 8-9 minutes in boiling water.
Perfect 6-minute Egg cooking: Heat a medium pot of water over moderate heat. Allow for the water to reach a boil. Carefully drop in your egg. Set a timer for 6 minutes. When the timer goes off, remove your egg with a slotted spoon or spider and immediately run it under cold water or set it in an iced water bath. This will stop the cooking process. If you don't do this step, the egg remains hot and will continue to cook an additional 9 degrees, and you won't have the "jammy" inside.
Roast Beef: Sometimes, you just crave meat, am I right? I love medium-rare roast beef, and this meat goes sensationally with the pesto cream cheese, the bite of the red onion, and the slightly rich sourness of the Swiss cheese. You could use any deli meat you desire, or opt-out of meat entirely and make this a vegetarian sandwich.
Butter Lettuce: Honestly, I feel like I'm treating myself when I have this leafy green. It's so delicate but rich in taste. I feel like it's the perfect complement to the coconut flavor of this wrap.
Swiss Cheese: I love the slightly sour taste of Swiss cheese with roast beef. They pair so well together, and the hardness of this cheese adds a nice bit of body to this wrap.
Red Onion: Red onion is my absolute favorite. It adds some lovely color differentiation and helps balance the pesto cream cheese. The key to not overwhelm your wrap, is to slice the onion extremely thin. I use a Japanese mandolin to get my perfectly thin slices. If you do not have this tool, I highly recommend it!
Vine Tomatoes: You can use any tomatoes, however, opt for ones that are in season and ripe. It will make all the difference.
Making the sandwich
The key to holding your wrap together is plastic wrap!
Here's what you need to do to succeed:
Place two-three long sheets of plastic wrap on your cutting board and overlap them slightly, until you have a surface that is about 3 feet wide.
Place your Nuco wrap onto the plastic wrap and start building and layering your sandwich.
Once you've added all the ingredients, use the plastic wrap to fold over your wrap (like you are rolling sushi) and make sure it is very tight. Roll the wrap over the plastic wrap until you have a secured long cylinder.
If you have a lot of plastic hanging from each side, trim the sides until you have about six inches.
Roll the ends of the plastic wrap on each side of the wrap, so you have a tightened rope. Tie the rope off into a knot on either side, as close to the end of the wrap as possible.
Slice your wrap in half and enjoy!
Just make sure when you are eating, you peel away the plastic wrap with every bite.
NOTE: Do yourself a HUGE favor and invest in a restaurant-sized plastic wrap and keep it in your pantry! This will change your life! You can purchase this size at places like Smart and Final, Restaurant Depot, Sam's Clube, Costco, etc.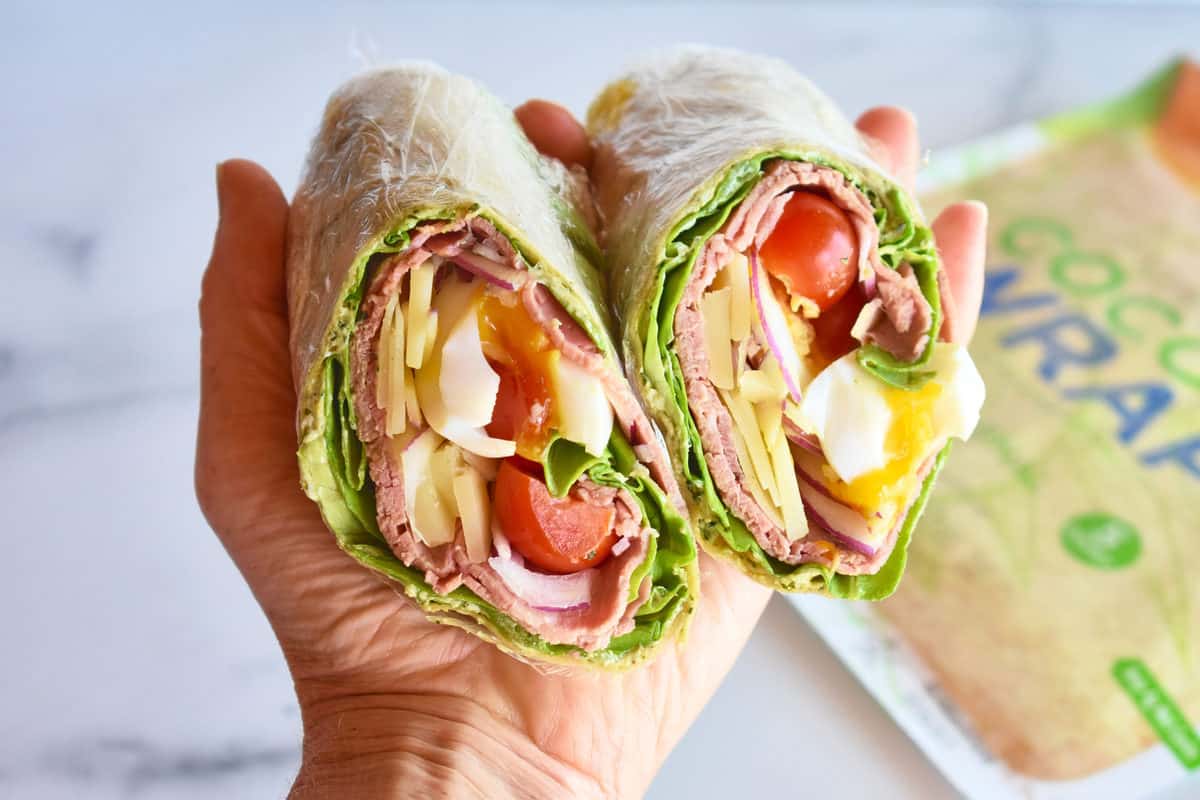 Plate it up and enjoy!
I chose to make a small side salad with my wrap. It is simply, tomatoes, cucumber, and red onion tossed with a little lemon juice, high-quality olive oil, and salt and pepper.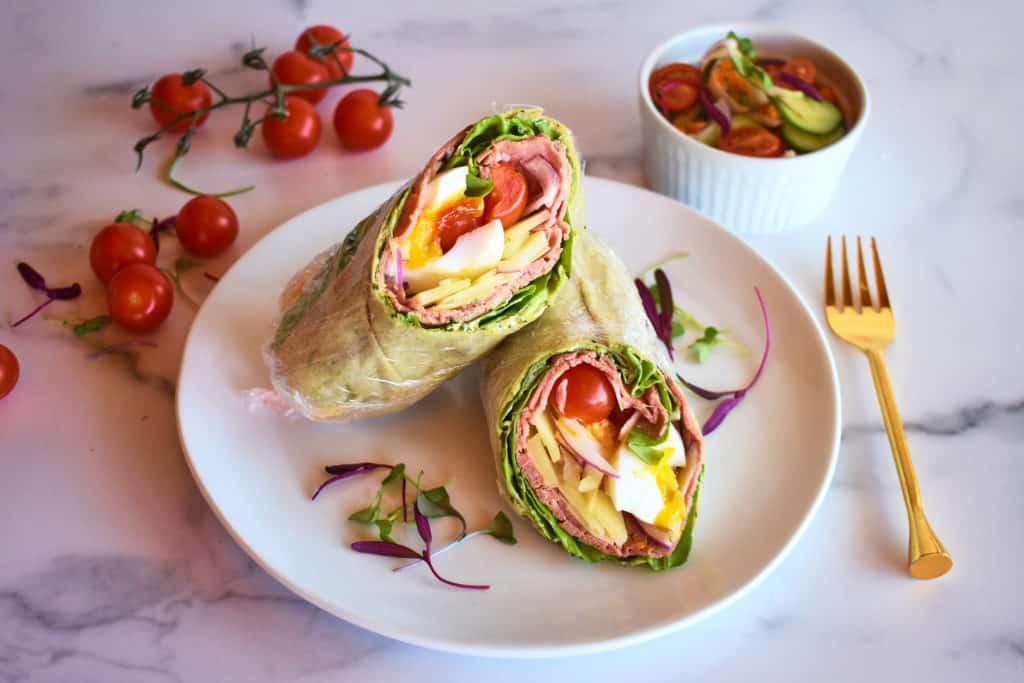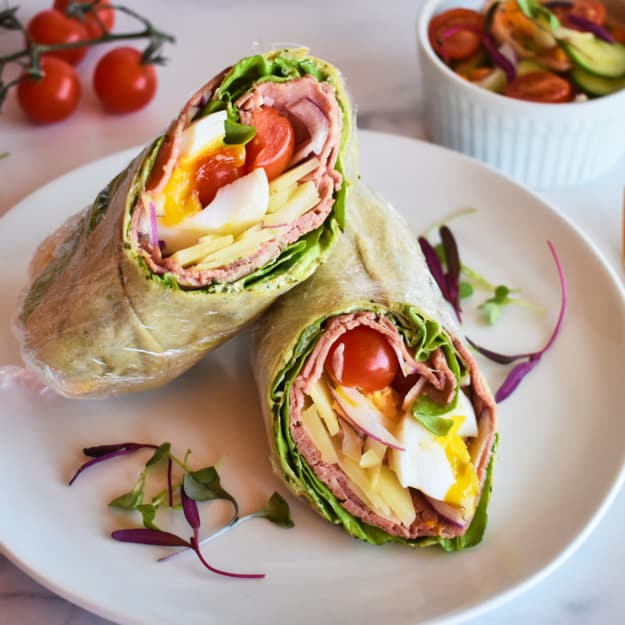 Roast Beef Coconut Wrap
This roast beef wrap is crave-worthy with little to no guilt! It has only 4 grams of net carbohydrates, but is filled with all the decadent pleasures of rare roast beef, a 6-minute egg, Swisscheese, and pesto cream cheese! Make this wrap for your family, a group brunch,or simply for yourself to get you through a long workday. You can vary therecipe and use any deli meat of your choice, but the combination I have listed is stellar! 
Ingredients
Wrap
3

tbsp

pesto cream cheese, (Can be store-bought or combine onetablespoon pesto with two tablespoons cream cheese)

3

leaves

Butter lettuce

4

slices

roast beef

3

pieces

Swiss cheese, thinly sliced

1

six minute

hard boiled egg, thinly sliced into rounds

3

vine tomatoes, halved
Instructions
Wrap
Place 2 large sheets of plastic wrap down onyour cutting board.

Start building your wrap in the order of the ingredients listed.

Use the plastic wrap to roll and secure your wrap tightly. Trim the edges of the wrapped cylinder and roll the plastic wrap into a rope.

Tie the rope into a knot, as tight as you can tothe edge of the wrap.

Slice the wrap in half and enjoy!
6-Minute Hard-Boiled Egg
Place a small pot of water over moderate heat and bring to a boil.

Carefully, drop in your egg.

Set a timer for 6 minutes.

Once the timer has gone off, remove your egg and place it immediately under cold water or an ice bath to stop the cooking process.

Peel the egg once chilled, and slice into rounds. Reserve for the wrap.
Nutrition
Calories:
402
kcal
Carbohydrates:
19
g
Protein:
38
g
Fat:
20
g
Saturated Fat:
10
g
Trans Fat:
1
g
Cholesterol:
264
mg
Sodium:
1999
mg
Potassium:
1360
mg
Fiber:
5
g
Sugar:
12
g
Vitamin A:
5288
IU
Vitamin C:
103
mg
Calcium:
473
mg
Iron:
5
mg