Below are the ingredients
Halloumi Cheese: This cheese originates from Cyprus and is traditionally made with a mixture of goat and sheep milk. It is similar to mozzarella but holds its shape more with a spongier texture. Eaten raw, it can be a bit salty, so it's wonderful to pair with the spicy tomato sauce and the lemon juice. This cheese is a good source of protein, calcium, zinc, and magnesium and contains vitamins A and B.
Marinara: I used a store-bought marinara for this recipe to make life a bit easier. You are welcome, of course, to use a homemade version! Any marinara will be excellent, but I would steer away from chunky versions with many additives. This dish is cleaner with just the sautéed garlic and chili flake.
Garlic: In this recipe, I thinly slice garlic on a Japanese mandolin. As many of you know from my cooking style, this is one of my most favorite tools! Just be careful of your fingers. But thinly sliced garlic is lovely in this recipe because you can see it, and taste it in the sauce.
Lemon: Citrus is a definite must for this recipe! It helps to brighten the sauce and add the perfect amount of acidity that cuts through the cheese's saltiness.
Chili Flake: I love spice and think it works to balance the cheese's salt and texture. Of course, you can choose to omit the chili flake if you prefer a non-spicy version of the sauce.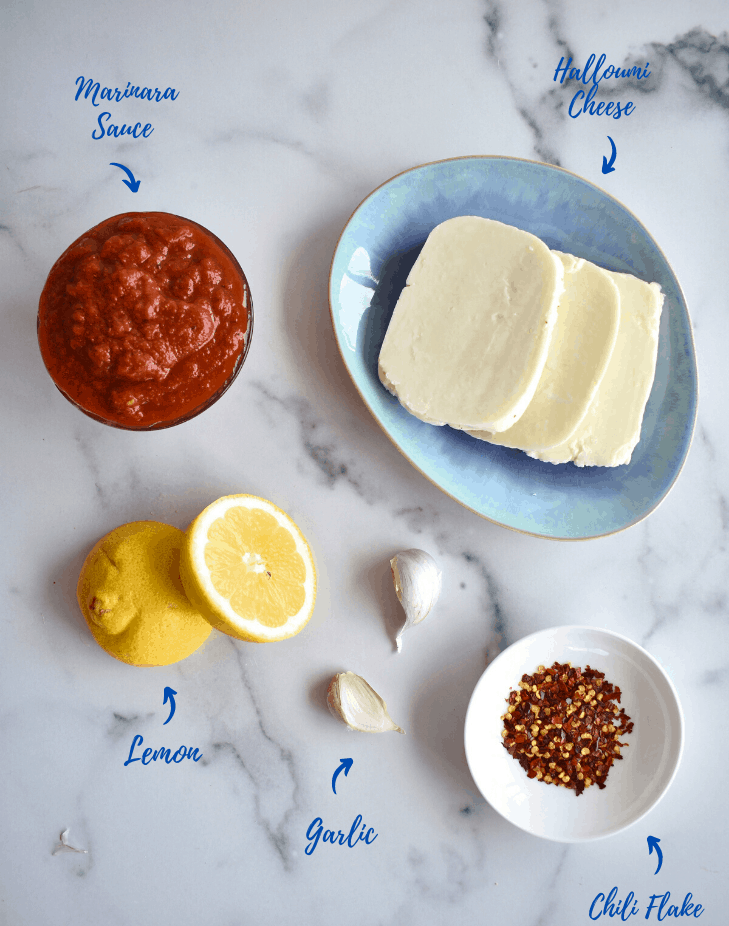 This dish can be made in minutes and will probably be devoured in seconds!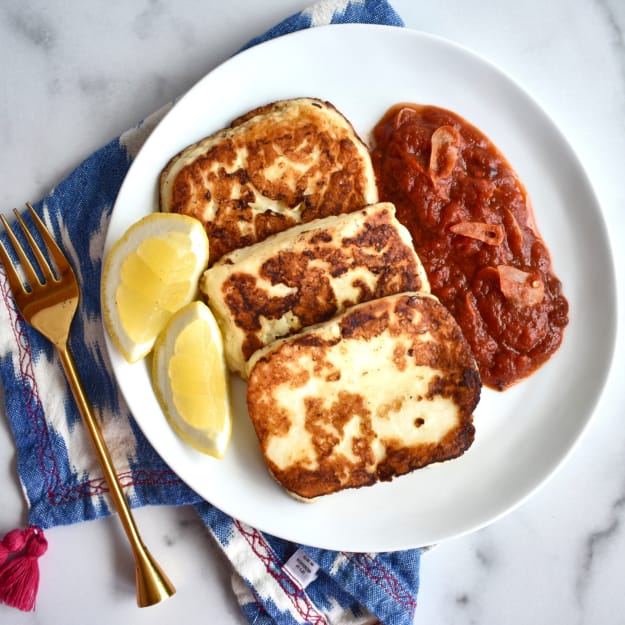 Greek Saganaki: Pan-Seared Halloumi Cheese with a Spicy Tomato Sauce
This fabulous seared Halloumi cheese is like the Greek healthier version of friedmozzarella sticks! Instead of the cheese oozing like mozzarella, Halloumi isspongier and holds its shape. This texture pairs wonderfully with the spicytomato sauce and is perfect to accompany any main dinner menu or served on itsown:) It's also quick, simple, and can be made in ten minutes!
Ingredients
Halloumi Cheese
1

(9oz) package

Halloumi cheese, sliced into thirds lengthwise

1

lemon, sliced into wedges

Olive oil

Salt and pepper
Spicy Tomato Sauce
2

cloves

garlic, thinly sliced

1 ½

cups

marinara sauce

1

tsp

chili flake

Olive oil

Salt and pepper
Instructions
Halloumi Cheese
Dry excess moisture from the cheese and place in paper towels. 

Heat a medium sauté pan over moderate-high heat and coat with oil.

Season the cheese on both sides with salt, and place in the pan. Cook until the first side is golden brown and crispy, about 1-2 minutes. 

Flip the cheese slices, and continue to cook on the second side until browned about 1 minute.

Remove the cheese from the pan and reserve. 
Spicy Tomato Sauce
Using the same pan, coat again with oil and place over moderate heat. 

Add garlic and chili flake and cook for about 10 seconds, andimmediately add the marinara.

Reduce the heat and allow the sauce to cook for about 2 minutes to meld the flavors together. Season to taste with salt and pepper.

Serve with the seared Halloumi and lemon wedges.
Nutrition
Calories:
46
kcal
Carbohydrates:
11
g
Protein:
2
g
Fat:
1
g
Saturated Fat:
1
g
Sodium:
658
mg
Potassium:
476
mg
Fiber:
3
g
Sugar:
6
g
Vitamin A:
736
IU
Vitamin C:
28
mg
Calcium:
34
mg
Iron:
2
mg