The Ingredients Are Below
Bok Choy: I love Bok Choy because it's filling, crunchy, smooth, and delicate. Blanching the vegetable first preserves the color, vibrancy, and the vegetables' integrity as it's only cooked for a minute or two. Bok choy is also loaded with vitamins and nutrients. It contains vitamins A, C, B6, K, E, and has large amounts of calcium, manganese, potassium, and iron.
Toasted Sesame Oil: Always buy a toasted sesame oil with a dark brown color for a richer, nuttier flavor.
Garlic: I like to use a Japanese mandolin to slice the garlic thinly. If you don't own a mandolin, you can, of course, use a knife. The thinly sliced garlic allows me to make sure it is not burning in the sauté pan, and I love the texture that it adds to the Bok Choy.
Soy Sauce: I always use low-sodium soy sauce to be healthier. However, any soy sauce will work for this recipe. Tamari is also fantastic!
BLANCHING: Elements submerged in boiling water for a short amount of time to "par-cook," until tender. Once removed from the boiling water, it is best to shock the elements in cold or iced water to completely stop the cooking process. In doing this, it will maintain and uphold the element's vibrancy and natural texture.
The Three VERY ESSENTIAL Notes for Blanching:
1) Your water must be "salty like the sea." You should taste your salted water before it comes to a boil, and it should resemble seawater. The salt acts as a "cooking agent," cooking the vegetable from the inside out.
2) Do not overcrowd your water. Blanch your ingredients in batches at a rolling boil. If you dump in too many elements at once, the heat of your water will lower, and it will defeat the purpose of blanching.
3) If you are blanching in batches, allow your water to come back up to a roiling boiling before you submerge the next round.
Once your turnips are blanched, you can keep them refrigerated until ready to serve.
To Serve: Make sure you have a large heated sauté pan over moderate heat. Coat the pan with sesame oil and wait for the oil to glisten before adding your garlic and Bok Choy. Flip the mixture in the pan and add the soy sauce. Season with salt and chili oil and enjoy:)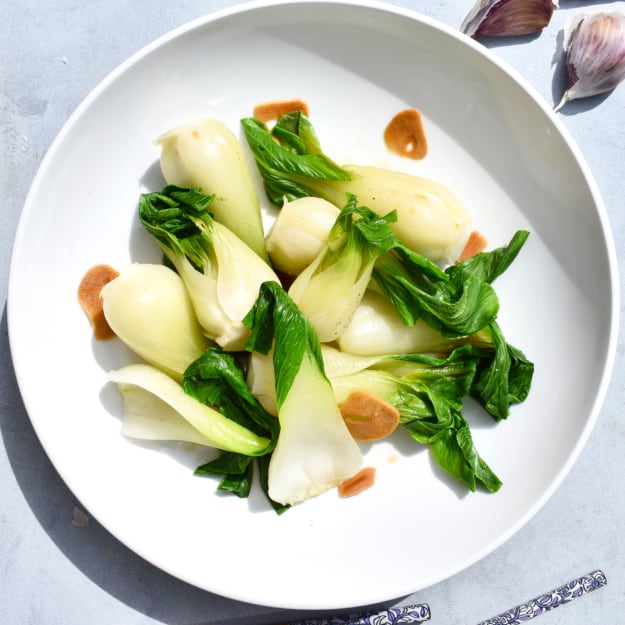 Garlic Sesame Bok Choy
This Bok choy recipe is simple, quick, and deliciously satisfying! The vegetable is blanched, so it is crisp, tender, and vibrant and then sautéed with toasted sesame oil, garlic, and soy sauce for a fragrant Asian flair. Bok choy naturally has a peppery bite, and it becomes silky and glossy as it is coated in the light sauce. This dish is a perfect complement to any protein or main dish, and can all be made in less than 15 minutes!
Ingredients
Bok Choy
2

lbs

baby Bok Choy, regular-sized Bok Choy works as well

2

tbsp

toasted sesame Oil

3

cloves

garlic, thinly sliced

¼

cup

soy sauce.
Instructions
Bok Choy
Place a large pot of water over high heat and season the water, so it tastes "salty like the sea."

When the water comes to a rapid boil, submerge the Bok Choy and cook uncovered for about 1-2 minutes, just until tender, and the Bok Choy still holds its crunch.

Strain the Bok Choy in a colander and immediately run it under cold water or submerge in an ice bath. This will keep the Bok Choy from over-cooking and stop the cooking process.

Heat a large sauté pan over moderate heat and coat with sesame oil.

Add the garlic and Bok Choy and flip one to two times.

Add the soy sauce and continue to cook for an additional 2 minutes, flipping and coating the Bok Choy in the soy garlic sauce.
Nutrition
Calories:
103
kcal
Carbohydrates:
6
g
Protein:
4
g
Fat:
7
g
Saturated Fat:
1
g
Sodium:
958
mg
Potassium:
40
mg
Fiber:
2
g
Sugar:
3
g
Vitamin A:
10093
IU
Vitamin C:
103
mg
Calcium:
256
mg
Iron:
2
mg