Tokyo-turnips are small radish-like turnips. They have a delicious spicy bite when eaten raw and have a buttery taste and crunch when cooked. They have become my new favorite Spring obsession, as they are so cute, and make an excellent accompaniment to any protein or merely part of a large vegetable spread! This recipe pairs well with an Asian meal. You can use any chili oil or sauce you have on hand.
Below are the ingredients.
I like to clean the turnips and leave on a slight piece of the green stem. It makes them beautiful for plating, and all parts of the vegetable are edible.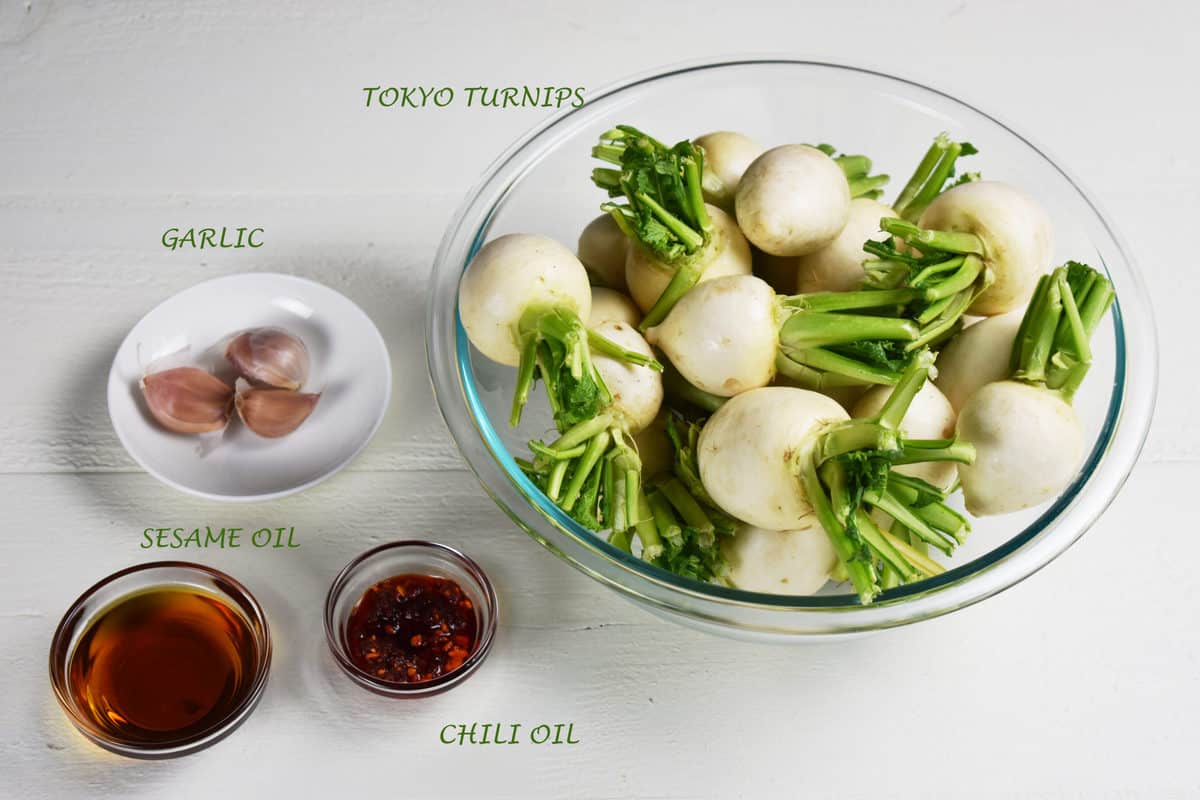 I think it's easiest to slice the turnips in half before blanching. Because you are serving them halved, cooking them in this form allows you to achieve the perfect texture in the blanching process. You can scoop one out of the boiling, salted, water, and taste it to make sure it has the perfect crunch!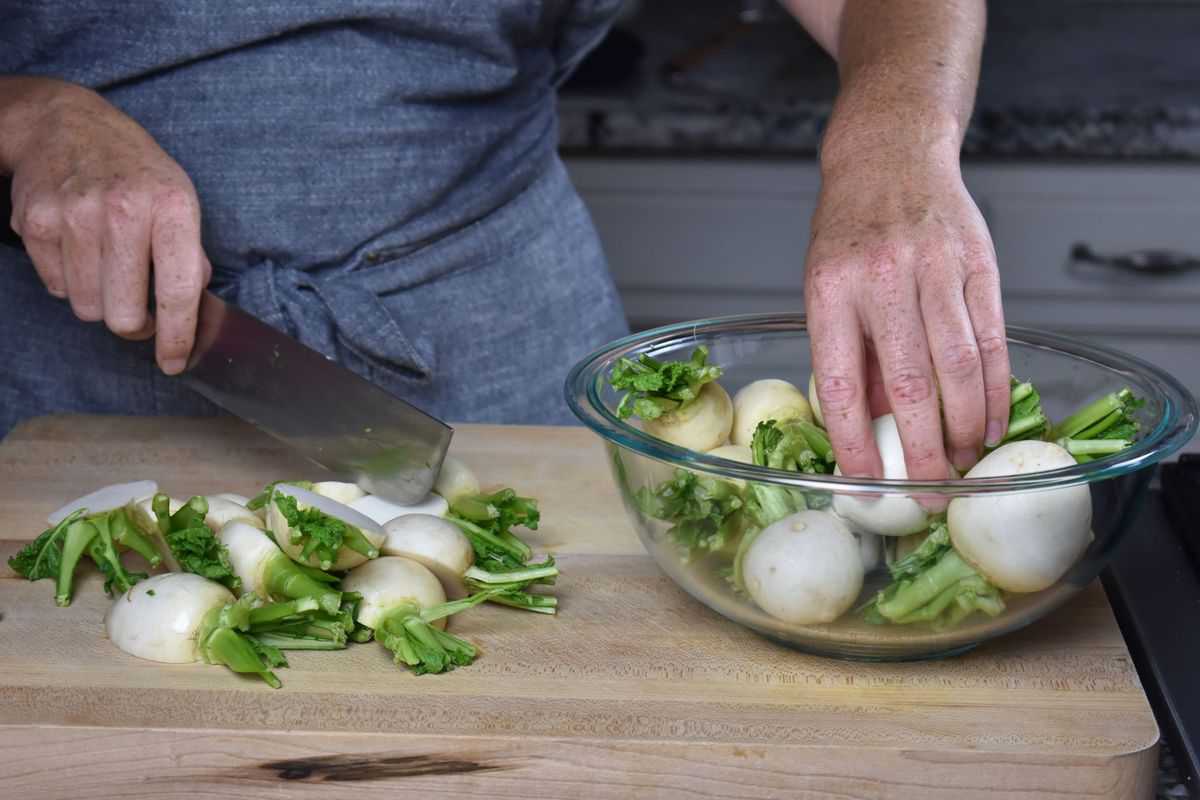 Blanching: Elements that are submerged in boiling water for a short amount of time to "par-cook," until tender. Once removed from the boiling water, it is best to shock the elements in cold or iced water to stop the cooking process completely. In doing this, it will maintain and uphold the element's vibrancy and natural texture.
The Three VERY ESSENTIAL Notes For Blanching:
1) Your water must be "salty like the sea." You should taste your salted water before it comes to a boil, and it should resemble seawater. The salt acts as a "cooking agent," cooking the vegetable from the inside out.
2) Do not overcrowd your water. Blanch your ingredients in batches at a rolling boil. If you dump in too many elements at once, the heat of your water will lower, and it will defeat the purpose of blanching.
3) If you are blanching in batches, allow for your water to come back up to a rolling boiling before you submerge the next round or vegetable.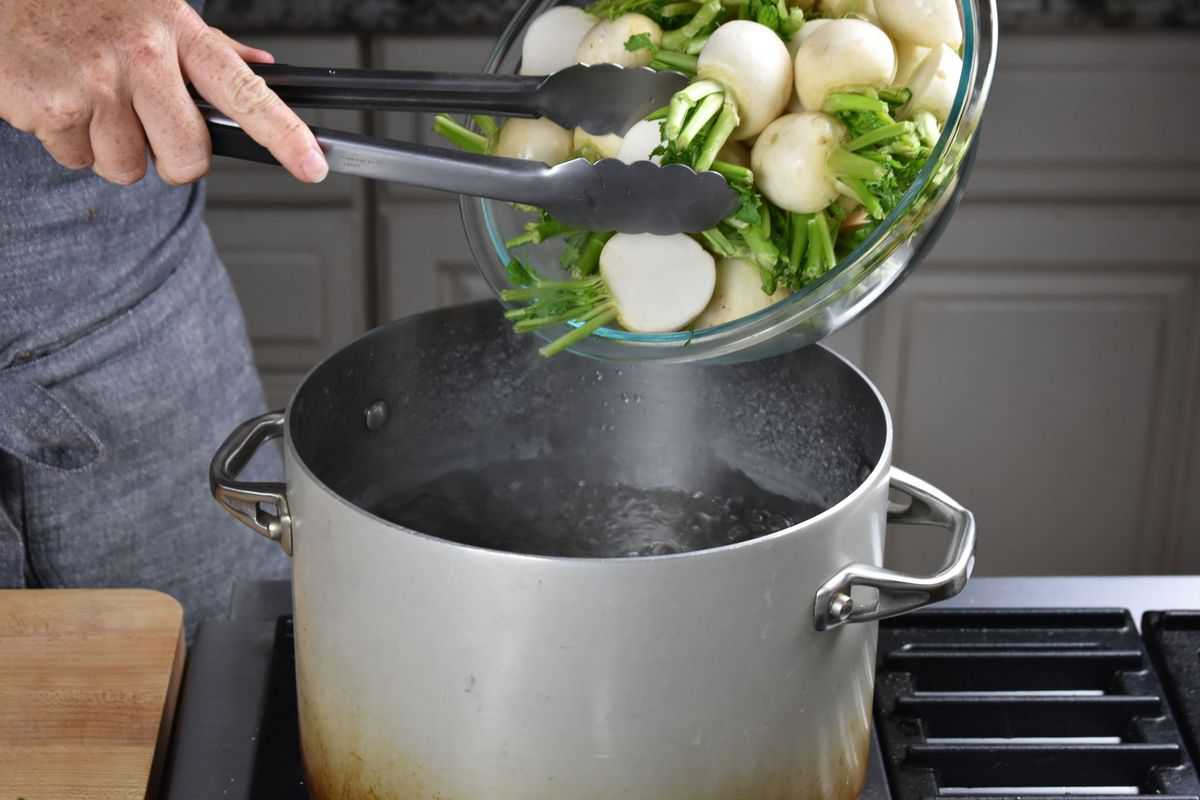 Once the turnips are blanched, you can keep them refrigerated until ready to serve.
To Serve: Make sure you have a large heated sauté pan over moderate heat. Coat the pan with sesame oil and wait for the oil to glisten before adding the garlic and turnips. Flip the mixture in the pan two to three times, allowing the turnips to engage with the heat source long enough to develop a golden-brown color. Season with salt and chili oil and enjoy:)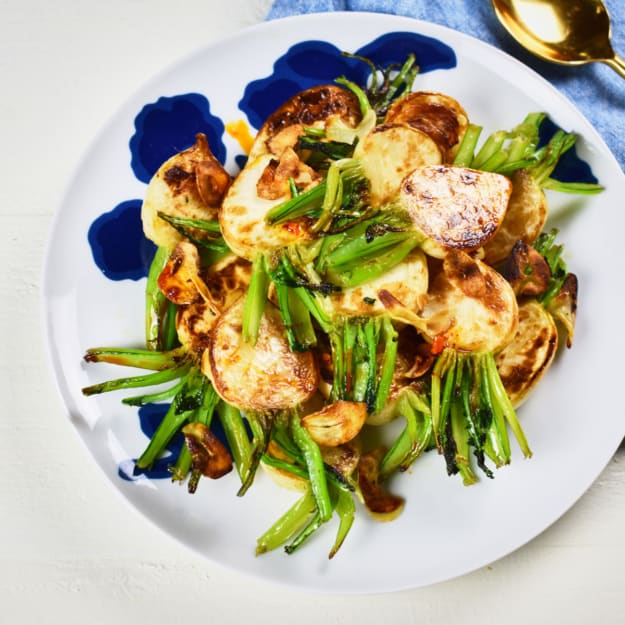 Crispy Sesame Tokyo Turnips
For me, these turnips take a once forgotten and boring vegetable and make them into an in-vogue, and crush-worthy vegetable side! The size of these little cuties and their creamy finish when cooked is truly sensational. When you brown them after blanching, the crispy exterior makes them completely swoon-worthy!
Ingredients
2

pounds

Tokyo turnips

2

cloves

garlic

thinly sliced

Sesame Oil

Chili Oil
Instructions
Place a large pot of water over high heat and season the water, so it tastes "salty like the sea."

When the water comes to a rapid boil, submerge the Tokyo turnips and cook uncovered for about 2-3 minutes, until tender and the turnips still hold their crunch.

Strain the turnips in a colander and immediately run them under cold water or submerge in an ice bath. This will keep the turnips from over-cooking and stop the cooking process.

Heat a large sauté pan over moderate heat and coat with sesame oil.

Add the garlic and turnips and season with salt.

Sear until golden brown on all sides and occasionally stirring, about 3-4 minutes.

Serve the browned turnips drizzled with chili oil.
Nutrition
Calories:
263
kcal
Carbohydrates:
60
g
Protein:
9
g
Fat:
1
g
Saturated Fat:
1
g
Sodium:
609
mg
Potassium:
1733
mg
Fiber:
16
g
Sugar:
35
g
Vitamin C:
192
mg
Calcium:
283
mg
Iron:
3
mg